Cameras
2014 Waterproof Camera Showdown
Looking for a great waterproof camera? These are the best (and worst) you can buy in 2014.
Credit:
More and more, smartphones are pushing out dedicated cameras from peoples' purses and bags. But what happens when you drop your phone, or when a rogue wave sneaks up on you? Adios smartphone. It's good, then, that there's never been a better time to pick up a rugged, waterproof camera.
This year's contenders are some of the best we've ever seen, and one of the options we tested even has interchangeable lenses. We've collected the usual suspects—Canon, Nikon, Panasonic, Fujifilm, Ricoh, Olympus, and Sony all sell cameras with rough-and-tumble credentials, but they're not all created equal. That's why there can only be one true champion of the lot, the waterproof camera that's most worth your hard-earned money.
These cameras can dive, drop, and remain functional even when the mercury drops below freezing. They keep dust and moisture out equally and you can hand them off to anyone in the family without worry. We've put each of these cameras through our standard set of lab tests, no end of abuse out in the field, and written full in-depth reviews. Now it's time to find the answer to one question: Which is the best waterproof camera in 2014?
Meet the Contenders
This year the waterproof category expanded in some interesting ways. Most manufacturers updated their lineups with improved flagship and more affordable low-end options, while Nikon returned to its roots with the first interchangeable lens waterproof camera in decades. Some of the cameras were carried over from last year and were covered in our 2013 roundup, but they remain on the market, sometimes at a reduced price. Here are the new additions for 2014:
Canon PowerShot D30 (MSRP $329.99)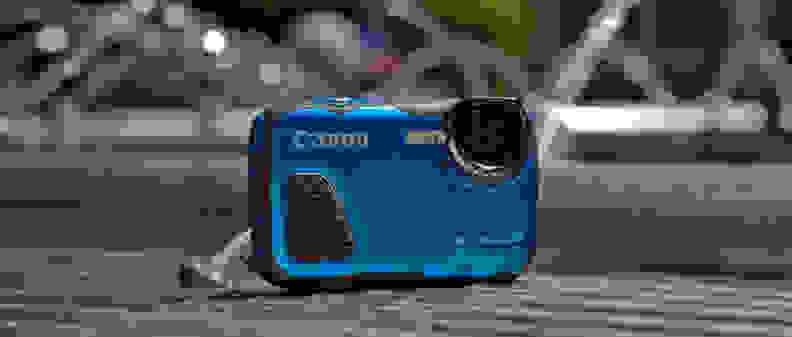 At long last, Canon gave its only tough cam some love. The PowerShot D20 we tested last year was introduced all the way back in early 2012, so it was the oldest by far. Even though the 5x zoom lens, 12.1-megapixel sensor, and Digic 4 processor are unchanged, the new camera has been made tougher than its progenitor, rated for dives as deep as 82 feet—absurd for a point-and-shoot. It also gets a much more austere exterior, eschewing the strange, fish-like shape of the D20 for a much more normal look and feel.
Olympus Tough TG-3 (MSRP $349.99)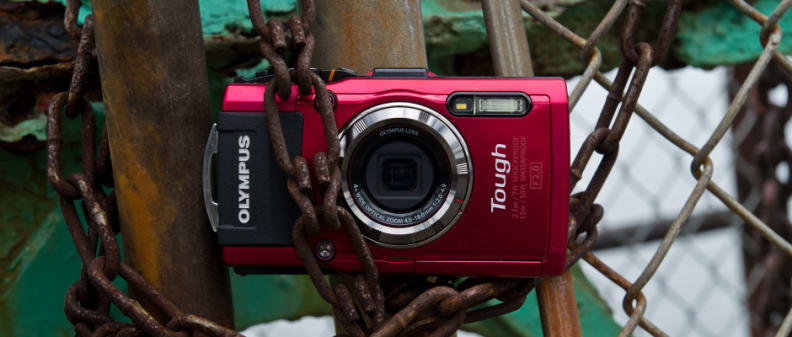 The sequel to our overall winner in last year's roundup, it brings a great batch of features along with a few tweaks to arrive at what looks like an even better package. It has better GPS integration and WiFi connectivity, taking crucial steps forward over last year's model. The Olympus also plugs into a mini system of converters and adapters, making it a bit more versatile than some of the cameras on this list.
Nikon Coolpix AW120 (MSRP $349.95)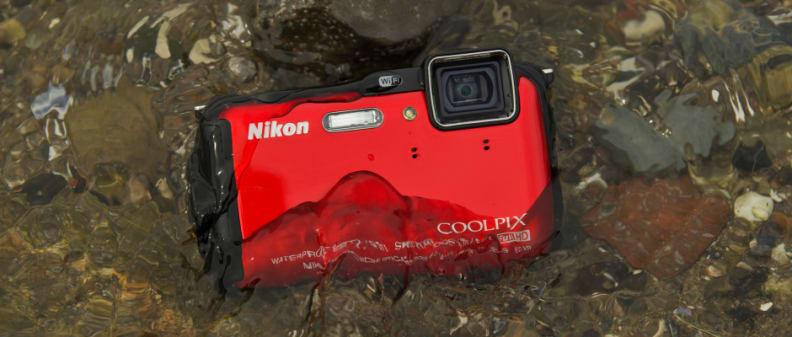 If the AW120 looks a lot like an AW110, then you'd be correct. While it may look like a warmed-over version of last year's tough Nikon, there's one important improvement—a new lens gives this camera a new lease on life, adding a max aperture of f/2.8 on the wide end. It carries on the Nikon tradition of including on-board maps, making GPS a bit more useful than on competing cameras.
Ricoh WG-4 (MSRP $379.95 as tested)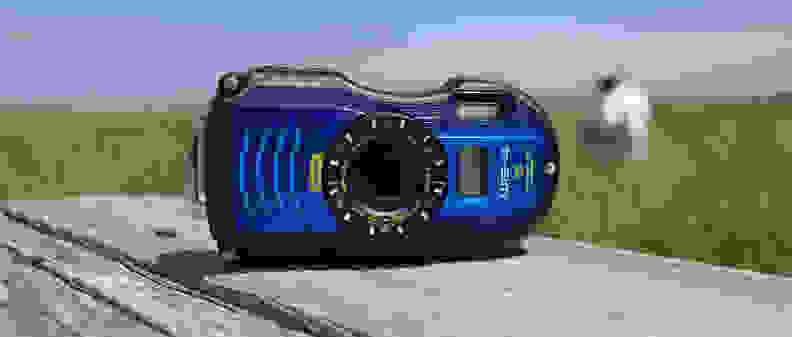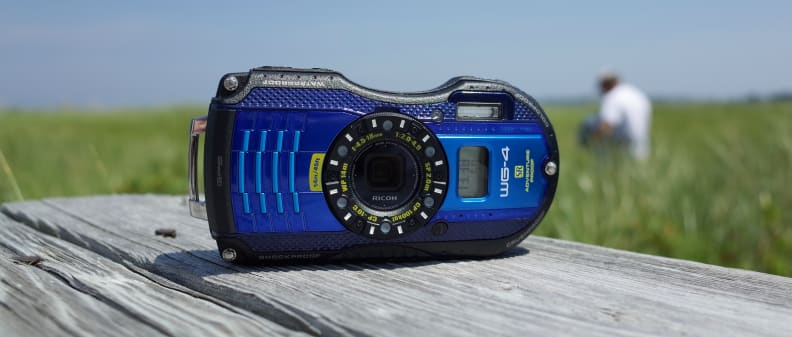 The Ricoh (formerly Pentax) WG-3 did a decent job last year in our roundup, and now it's back for more. With a unique backlit clock (on the GPS-enabled version), a digital compass, a range of mounting accessories, and LED lighting for macro shooting, this "adventure-proof" camera is one of the quirkier options available.
Nikon 1 AW1 (MSRP $799.95)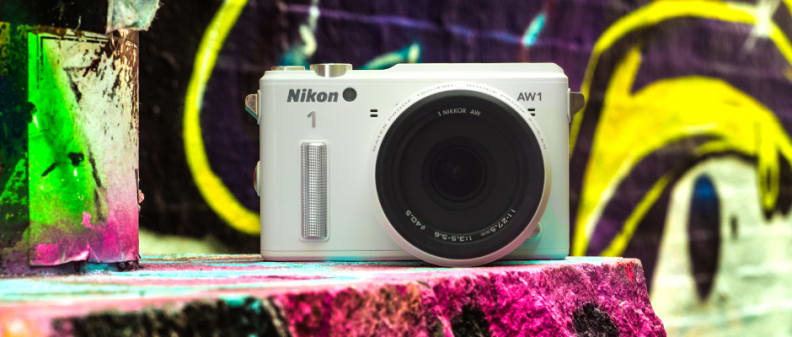 Coming from seemingly nowhere is Nikon's waterproof mirrorless camera. Without a doubt, it's the most impressively specced camera in the bunch, with a big 1-inch sensor and advanced controls. When you're not in the water or on an adventure, the AW1 can use all of Nikon's 1-series lenses. It's really not directly comparable to the others in our roundup, making it extremely special, following up on Nikon's classic Nikonos Calypso waterproof film DSLR originally designed by Jacques Cousteau himself.
Olympus Tough TG-850 (MSRP $249.99)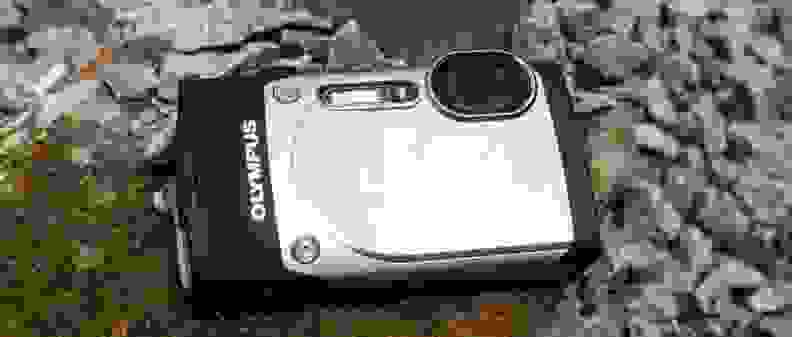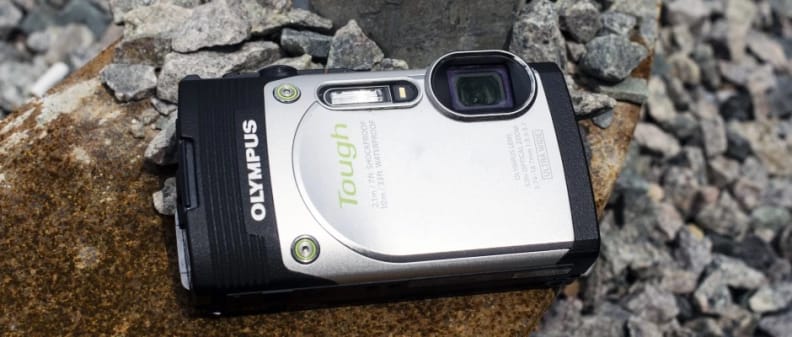 This is Olympus's latest entry-level waterproof point-and-shoot. Instead of releasing a watered-down TG-3, Olympus gave the TG-850 its own unique character. Featuring the only flip-up screen on a waterproof camera makes it the only custom-tailored option for selfies. While it lacks many of the features the TG-3 has, it still manages to feel like a snappy, modern point-and-shoot that's priced very reasonably.
The Benchwarmers
These are the cameras we tested last year that are still on sale for 2014. They haven't changed at all, but can usually be found on sale while still in stock.
Sony Cyber-shot TX30 (MSRP $349.99)


Panasonic Lumix TS5(MSRP $299.00)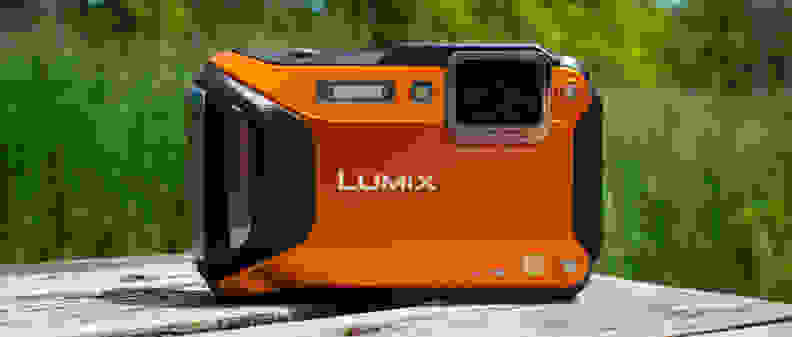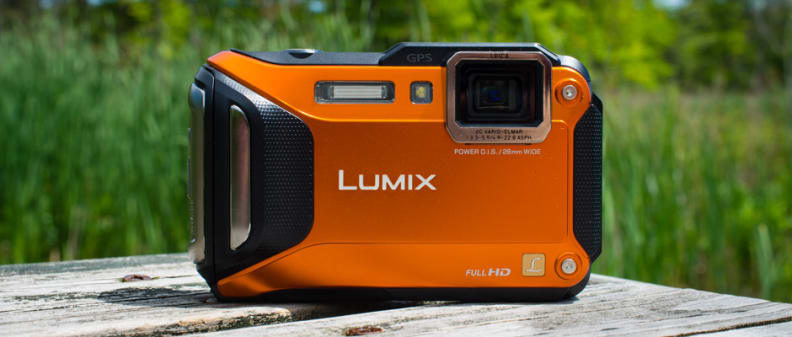 Worth Mentioning
JVC Everio GZ-R70/R10 Quad-Proof Camcorder (MSRP $499.99)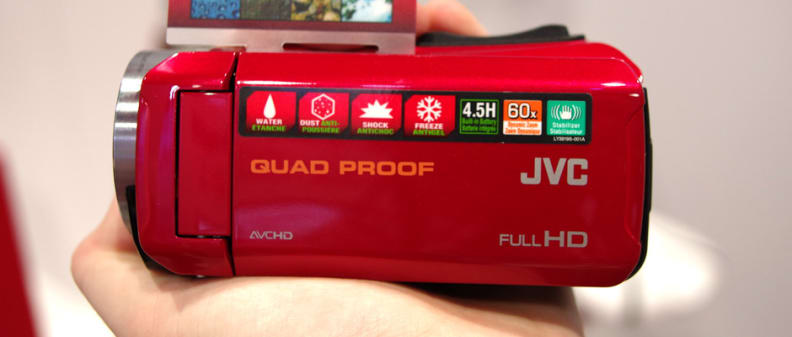 Good ol' JVC blew us away when it announced the Quad-Proof Everio camcorder at CES this year. It's the only camcorder you can get that sports a traditional shape and size, while remaining impervious to shocks, water, freezing conditions, and dust. While we don't have a review up quite yet, it's worth mentioning just because this is the only option for serious video if you don't want a GoPro Hero 3+ Black.
Cameras that we passed over for this year's competition are the older, cheaper models that often sell for $200 online, or, in this case, even less. These are basic point-and-shoots that are durable and cheap enough for a kid or teenager to toy around with, without consequence:
Ricoh WG-20 (MSRP $199.95)
Nikon Coolpix S32 (MSRP $129.99)
Fujifilm XP70 (MSRP $229.95)
Next: Features
Toughness
These cameras exist not only to snap photos, but also to go anywhere you might need them to go. Touting tough credentials alongside standard camera specs, all of the devices we tested are good for underwater shooting to depths of at least 33 feet.
While all of our 2014 competitors are waterproof, one stands out immediately as being the deepest diver. The Canon PowerShot D30 can dive up to 82 feet, the best of all our contenders this year. The only catch is that at that depth, there isn't likely to be a whole lot of light, making decent photos difficult to capture without external lighting. The Fujifilm XP200, Nikon AW120, and Olympus TG-3 come in second, with each rated to withstand dives of around 50 feet. The Ricoh WG-4 and Nikon AW120 are good to 45 and 49 feet, respectively. Stuck in the middle is the Panasonic Lumix TS5, which can dive to 43 feet. The stragglers of the pack are the Sony TX30 and the Olympus TG-850, both only rated for 33 feet each. All things considered, even 33 feet is pretty deep underwater, and for pool photos or as an insurance policy, it's more than good enough.

If your preferred adventures involve a snowsuit and skis rather than a snorkel and a scuba tank, this year's class of tough cams have you covered there, too. All of them are rated to operate at 14 degrees fahrenheit, giving them the blanket "freezeproof" protection you'd want in those cases. Of course, waterproofing also keeps snow out, too.

Many of these cameras are "crushproof," meaning that they can withstand weight on their frames without breaking. The Canon D30, Nikon AW120, Fujifilm XP200, and Sony TX30 all aren't given specific weights they can handle. All the cameras that are classified as crushproof can still operate after having 220 pounds on top of them. The manufacturer-rated cameras include both Olympii, the Panasonic Lumix, and the Ricoh.

Finally, all of these cameras can withstand sudden drops and jolts. The clear winners of this spec are the Olympus TG-3 and TG-850, both rated to take drops from seven feet up. The rest, save for the Sony TG30, can withstand around six and a half feet. The little Sony is only rated for five feet, and given our experience with this camera, we'd be careful with it because of its flimsy-feeling lens cover mechanism. It may not break the camera, but a deformed lens cover can make turning the camera on and off a hassle.
The only camera we'd be shy to recommend for rugged conditions is the Nikon 1 AW1. It's not rated as crushproof and even though it's tested for drops and shocks, its lens mount leaves us a bit worried. More moving parts and pieces mean more failure points. And even though we tested it in water, the fact that the lenses come off is a major liability. The AW 1 keeps water out thanks to a thick rubber ring that sits just outside the lens mount, but it's exposed when changing lenses. You can cover it with an included ring, but one nick in that gasket and the waterproofing is gone. It'll survive far more than any other DSLR on the market, but compared to the point-and-shoots in this roundup we'd exercise a little more caution.
Connectivity
Many of these cameras have WiFi built-in, which is a nice inclusion if you want to share your pictures quickly. Instead of having to wait for the camera to dry a bit before you get the SD card out, you can quickly transfer files or even use your phone to remotely control your camera. The Nikon AW120 and Olympus options also let you remotely control your camera with a phone or tablet.
It's funny that the most expensive camera on our list, the Nikon 1 AW1, doesn't come with WiFi at all (you can add it with a kludgy external adapter that costs extra and eliminated waterproofing). If you want a rugged Nikon with WiFi, you'll have to buy the point-and-shoot AW120.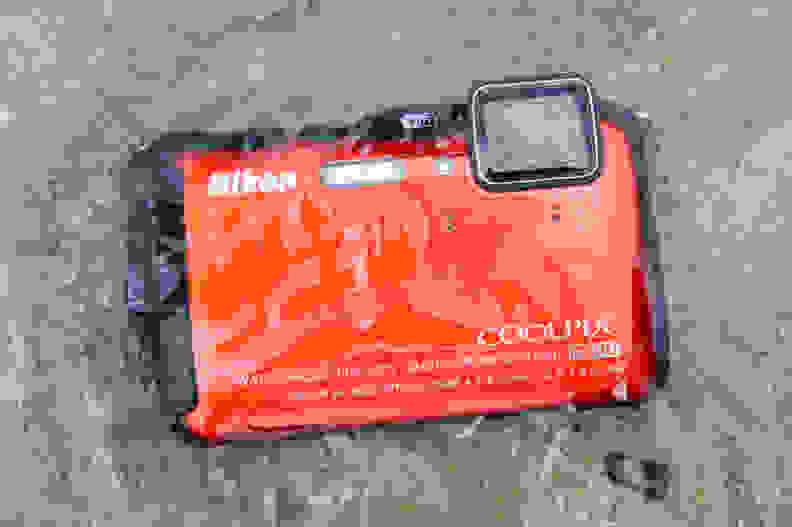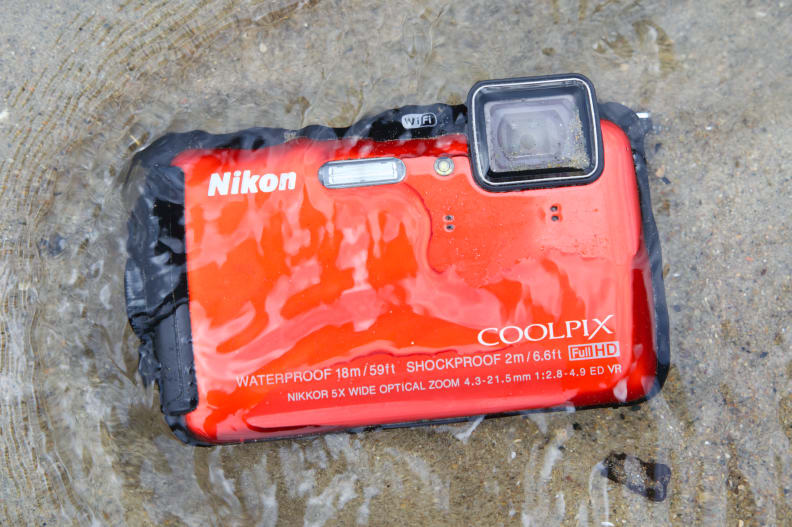 If we check out which cameras have GPS, it's a similar story. Not all of these adventure-ready shooters come with geotagging as standard. The Ricoh WG-4, for example, comes in two variants, with the more expensive one featuring GPS. The Nikon AW120, Olympus TG-3, and Canon D30, and Nikon 1 AW1 all have GPS. We think that while everyday photographers won't care about this feature, trail junkies will love it. If you've ever struggled to recall where you took a particular photo, GPS can make your day—that data is embedded into each picture you snap. Overall, the Nikon AW120 had the most complete GPS features, with built-in maps that you can navigate around and fast location lock-on.
Accessories
The clear winners as far as ecosystems go are the Nikon 1 AW1 (obviously) and the Olympus TG-3. With two conversion lenses, and a light ring add-on, the TG-3 has the coolest expansion possibilities of all our compact competitors. There's even an Olympus-designed waterproof housing that extends the TG-3's diving capabilities all the way down to 150 feet—way deeper than the D30'2 82 feet. Olympus also sells a floating strap that is great if you plan to head toward deeper waters, often including it for free when purchasing the TG-3 direct from them.
The honorable mention here goes to Ricoh, which upped its accessory game this year, offering up a couple of specially designed mounts for handlebars and the like. While this is a nice gesture, it still doesn't change the fact that as far as video action cameras go, the WG-4 is no GoPro.
Next: Performance
Color & White Balance
Among the cameras we tested, a couple were stand-outs for color accuracy and white balance. Because these are simpler cameras, having high image quality and accuracy straight out of the box is important.
The camera with the most accurate color was the Ricoh WG-4. With a color accuracy (∆C00 saturation corrected) score of 2.25, and a saturation of 113.10%, its Bright mode gave us the most ideal, natural look. Any color error below 2.2 is considered excellent, so these are DSLR-level results.
Surprisingly, the Ricoh lost out when it came to white balance, with the Nikon AW120 beating it handily. Both custom and automatic white balance from the AW120 were by far and away more accurate than any other of the new cameras we tested this year. If you often shoot indoors and outdoors in succession, this is the toughcam to pick up, especially since most of these cameras don't include RAW.
If you like Instagram or VSCO filters, both the Olympus TG-3 and the TG-850 offer up similar in-camera filters that let you take artsy photos on the fly. Olympus typically has an excellent range of looks to choose from and these two cameras continue that legacy.
Resolution
A couple of our competitors this year have improved lenses, which should result in some higher sharpness scores. While the Olympus TG-3's f/2.0 lens didn't get any upgrades, it still beats the other cameras without breaking a sweat.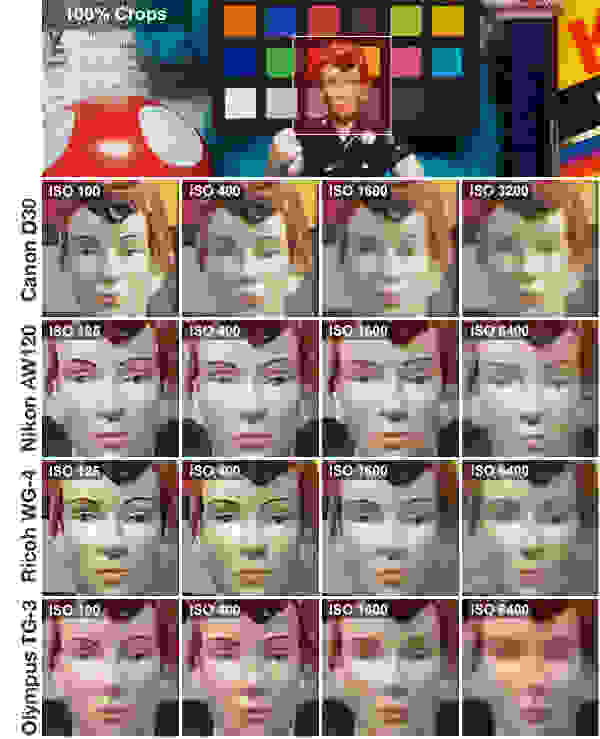 Three major factors are taken into consideration in our resolution tests, with distortion, sharpness, and chromatic aberration all scored. Our sharpness test measured edge clarity, which is tough to properly account for given wildly varying JPEG sharpening between cameras (which can of course, lead to oversharpening). Distortion is caused by optical imperfections, and since a toughcam's zoom lenses don't telescope out from the body for safety's sake, you'll see quite a bit of warping throughout the zoom range. Finally, chromatic aberration (that ugly colored fringing that shows up in high-contrast areas) wound up being a big pain with some of the field.
As expected, the Olympus TG-3's bright 4x zoom lens handily won this competition, but the Nikon AW120 showed a nice amount of sharpness, too, without harsh oversharpening or chromatic aberration. The Ricoh WG-4 has basically the same lens as the TG-3 (like, eerily similar), but Ricoh's processing wasn't as successful at bringing out detail in bright light. The Lumix TS5 and Sony TX30 also weren't terrible, but they were outdone by the Ricoh WG-4 in most regards.
Of course, a big limitation with small-sensor point-and-shoots involves sensitivity and noise. JPEG noise reduction can crush detail at higher ISOs, leaving you with blotchy and smeary images. For the best results, always try to use the lowest ISO possible. At extreme low light even the AW1 will give you trouble there.
Battery Life
Battery life is an important metric for any camera, more so for rough-and-tumble cameras like these; if you're on a hike in the wilderness, every drop of precious energy counts. This year's champion is the Olympus TG-3, which is CIPA rated for 380 shots. Panasonic's Lumix TS5 isn't far behind with 370 shots. The Olympus TG-850, and Nikon AW120 are all able to shoot 350 shots by the same standard measurement.
The rest of the bunch hover around the 300-shot mark, the worst of which were the Ricoh WG-4 (with a measly 240 shots) and the Sony TX30 (which can only manage 220 shots on a charge). We won't knock the Nikon 1 AW1 for also having around 220 shots on a single charge. We're willing to cut it a little slack considering it's the only camera with a big sensor and interchangeable lenses.
Keep in mind that features like WiFi and GPS will drain the battery at an accelerated rate, so, as they say on the internet, your mileage may vary.


Video
Right off the bat, we have to make one thing clear: If you're looking for an action camera mainly for video, get a GoPro. It's a purpose-built video capturing machine and there's an entire, solid ecosystem of mounts and waterproof cases available for it. If you don't like the GoPro because it doesn't offer enough zoom then go with the JVC Everio QuadProof R10 or R70. They give you 40x optical zoom with a lens, sensor, and body designed specifically for capturing video while surviving drops, low temps, and dives in the pool.
If you want a more traditional camera that can also do video, however, we can safely say that at least one camera company was listening. Olympus upped its video game with both the TG-850, adding the ability to shoot 1080/60p. Last year, only the Lumix TS5 was able to pull this off while most of the rest of the bunch, including the Olympus TG-3, still only manage 1080/30p. The Canon D30, with its old sensor and processor, can only shoot 1080p at 24 fps.
Macro
Macro photography is a very fun feature to have, letting you capture detailed shots of subjects from extremely close up. It's one of the main benefits of compact cameras and two of our contenders downright rock at it.
The Olympus TG-3, when paired with its $40 LED Light Guide accessory, can illuminate an object that's very close to the camera's lens. The Ricoh WG-4 can pull off the same trick for free, with its built-in LED lights. Both models can focus as close as a centimeter (~0.4 inches) away from the lens's front cover glass. While the Nikon AW120 also has the same minimum focusing distance, the lack of any lighting around the lens means you won't get as clear a look at small objects since the camera will block out ambient light at that distance. We found ourselves playing with the macro feature quite a bit, taking pictures of everything from shells on the beach to our Editor-in-Chief's eye:
Shot to Shot


The cameras this year didn't improve a whole heck of a lot over last year's when it comes to continuous shooting. The Panasonic Lumix TS5 is still the best to get if you want to use your toughcam for a little bit of action photography. The Sony TX30 can hit 10fps, but we like the shots from the TS5 more.
Of the cameras that we tested in 2014, the TG-3 is the most adept at action shooting thanks to its buffer, which only slows down once you've taken about 100 shots. It only shoots at 5 frames per second, however, with faster modes only available if you're willing to shoot smaller pictures.
Next: Conclusion
The Reigning Champion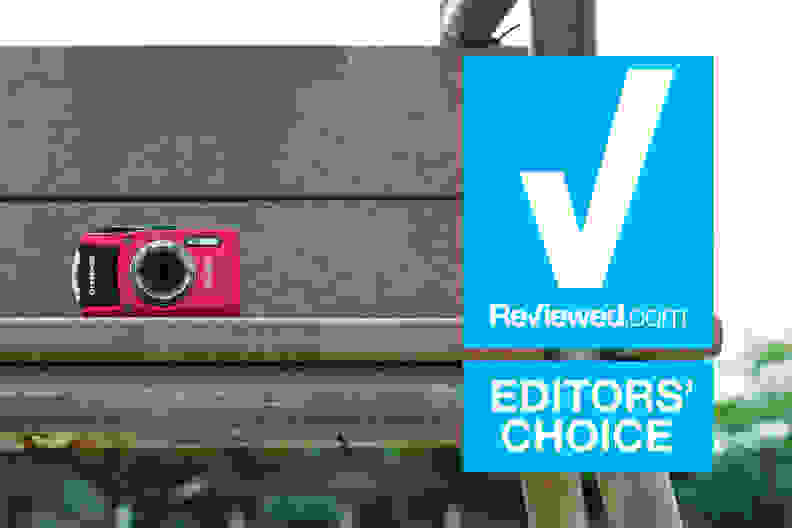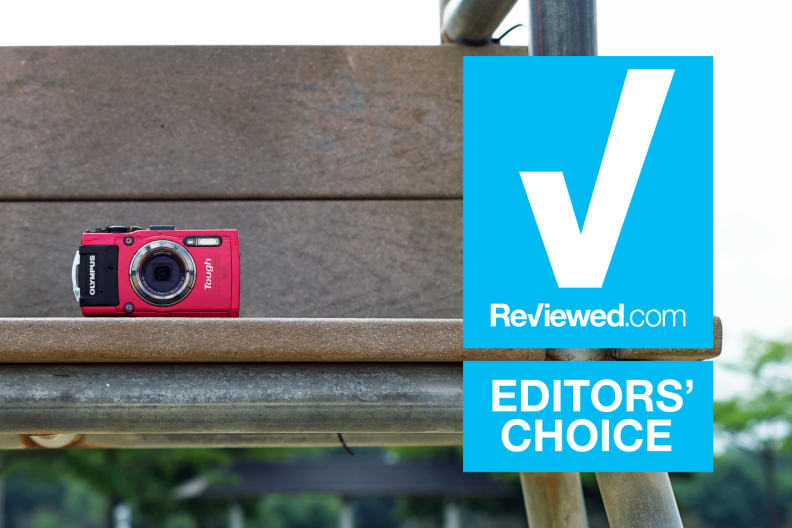 The overall winner of this year is, without question, the Olympus Tough TG-3. Yet again, Olympus managed to build a camera that is not only a very credible point-and-shoot, but also one that can survive a heck of a lot of grief. The user interface is easy to use, image quality is quite good, and it has one of the longest feature lists around.
While you don't get an OLED rear display like last year's TG-2, we had few complaints about this camera's abilities. Olympus even managed to improve video quality, an area where the company tends to slack off with its mirrorless cameras. The TG-3 even works with the existing family of unique accessories that only Olympus offers.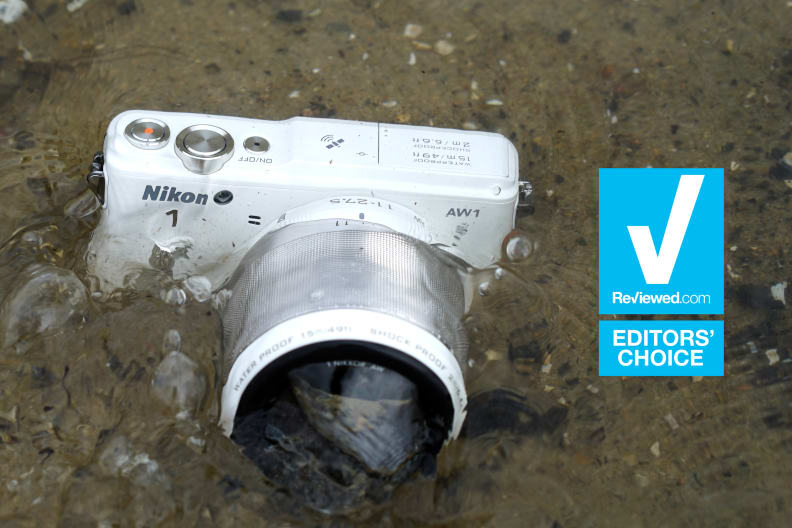 Though the nod goes to the Olympus TG-3 here, we'd be remiss if we didn't take a minute to highlight the Nikon 1 AW1 here. It's a bit of an apples-to-oranges comparison, but if it were down to sheer photographic power, the AW1 would wipe the floor with the rest of the tough cam pack. In our rubric designed for DSLRs, it held its own as a very decent camera with exceptionally fast continuous shooting speed and much better low light performance. When stacked up to even the TG-3, the AW1 comes out triumphant in most aspects. It comes with a waterproof lens, and it's compatible with the entire family of Nikon 1-mount lenses.
As we noted in the durability section of the article, however, we'd be most concerned about this the AW1's tough credentials. Since the AW1 has a big rubber O-ring sealing off its interchangeable lens mount, there's a huge potential failure point inherent in its design. The TG-3's simpler chassis leads us to believe that it'll be able to withstand more punishment—and boldly go more risky places during its lifespan.
Runners-up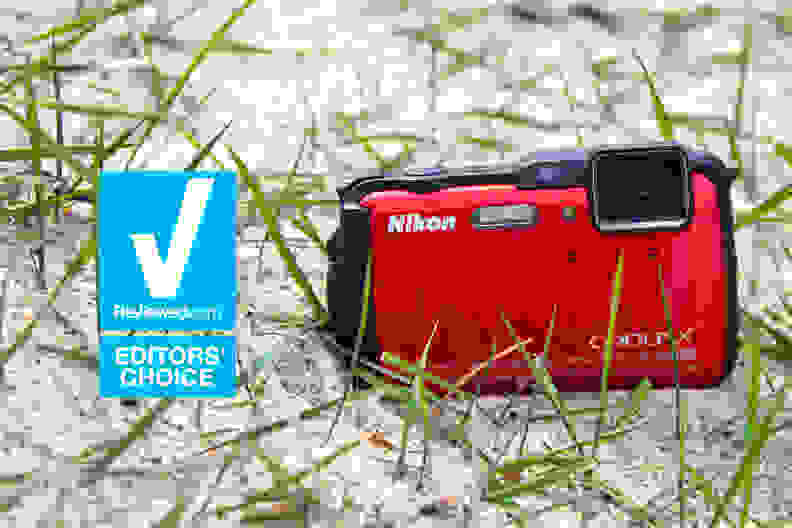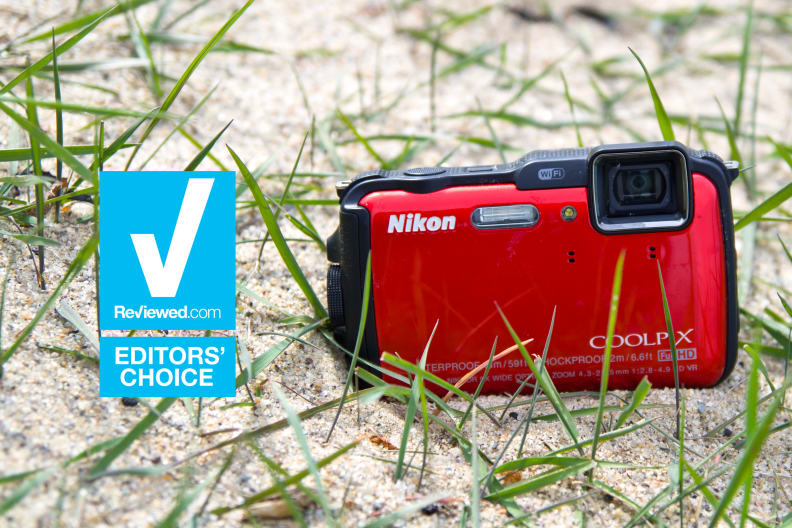 Our clear runner-up was the Nikon Coolpix AW120. We didn't expect the internal changes to this model to make such a big difference, but here we are eating our words. Even though it's mostly indistinguishable from the AW110, the AW120 is $50 cheaper than the TG-3 and marks a solid step forward for Nikon's waterproof offerings. It also has some of the best GPS features built-in, with maps onboard the camera and ready to go right out of the box.
Last year, we called out the Sony Cyber-shot TX30 (and the now-discontinued Fujifilm XP200) as cameras to avoid. Neither one really excelled at being waterproof or at functioning as a camera, so we couldn't really make a recommendation. Well, add the Canon PowerShot D30 to that group for 2014. Even though Canon finally bothered to dust off the poor neglected D20, it's all but identical on the inside, with a slow processor and old image sensor. While it can dive deeper than any of the other cameras we tested, it's still not worthy of your money when you could get so much more camera for right around the same price.