Cameras
5 Great Gift Ideas for Smartphone Photo Fanatics
Forget selfies—these gadgets are for serious phone photography.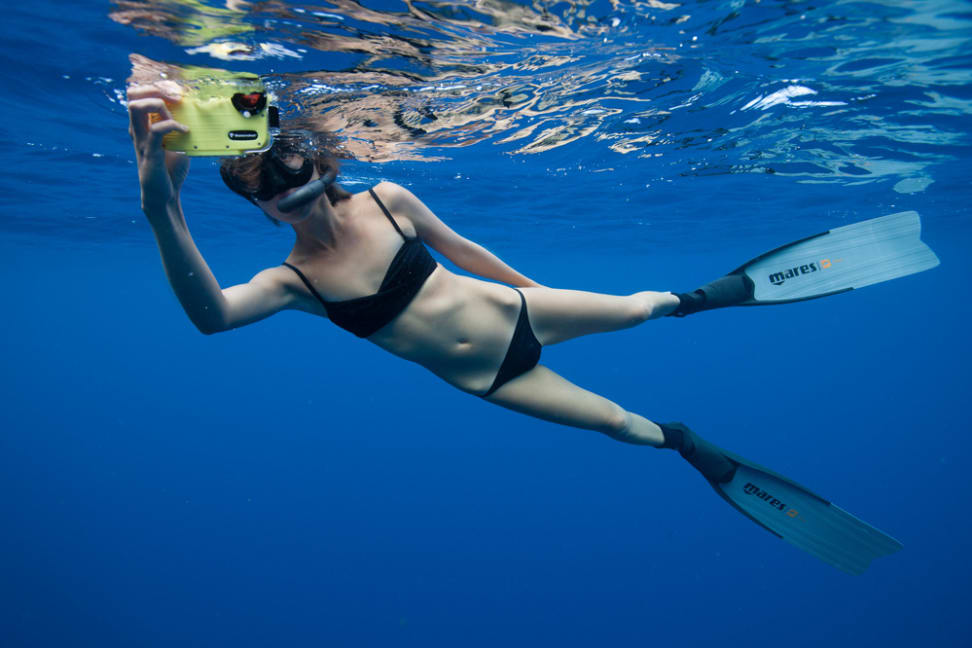 Credit:
With every passing generation, smartphone cameras get better and better. All you have to do is compare the Xperia Z3, Galaxy Note 4, or iPhone 6 to their predecessors to see how far they've come.
But if you really want the best shot possible, you might want to consider picking up a few extras. After all, the fixed focal length and fragile build of smartphone cameras limit their photographic flexibility. Luckily, you can now find everything from printers to underwater housings for your smartphone, allowing you to use it just about anywhere you bring a GoPro or a DSLR.
---
Joby GripTight GorillaPod
Price: $29.95
Compatibility: Android, iPhone, Windows Phone
Availability: Amazon
This little tripod will help you not only stand your phone up, but also attach it to virtually anything—from tree branches to rearview mirrors. The GorillaPod will work with any phone, including its case, and also comes in a slightly larger size designed for phablet owners.
Joby's versatile tripod comes in five accent colors, and there's even a free GorillaCam app for the iPhone. The app offers a range of features including time-lapse video and a bubble level, so you'll never have to rotate a landscape shot again.
---
Olloclip 4-in-1 Lens
Price: $69-79
Compatibility: iPhone 5/5s, iPad Air/mini, iPhone 6/6 Plus (Coming Soon), Samsung Galaxy S4/S5
Availability: Amazon
The best smartphones have very good lenses, but none offers optical zoom. You're stuck with a single focal length, and the only other option is digital zoom, which can greatly degrade the quality of your shots.
While there's no way to get DSLR-style lens swapping on your phone, you can attach add-on lenses.
While there's no way to get DSLR-style lens swapping on your phone, you can attach an add-on lens over the camera itself. That's where Olloclip comes in.
Old-school film and digital photographers will be familiar with teleconverters—lens attachments that either widen or narrow your lens's field of view. That's exactly what Olloclip does. Each clip comes with four lenses: a fish-eye, a wide-angle, a 10x macro, and a 15x macro. The macro lenses are built into the Olloclip attachment itself, while the fish-eye and wide-angle lenses can be screwed in when needed.
Olloclip models for iPhone 5 and 5s, Samsung Galaxy S4 and S5, and iPad Air and iPad mini are already available. If you've already upgraded to the iPhone 6 or 6 Plus, you can place a pre-order.
---
Manfrotto KLYP & ML240 LED
Price: $99
Compatibility: iPhone 4/4S/5/5s
Availability: Amazon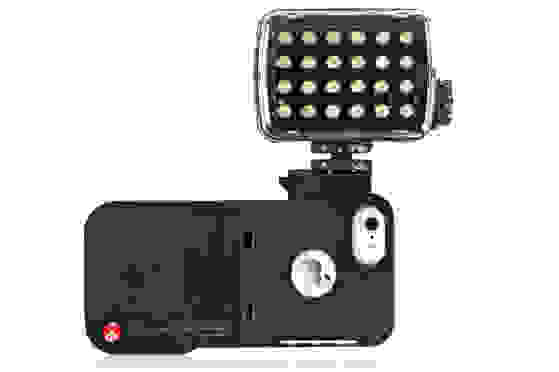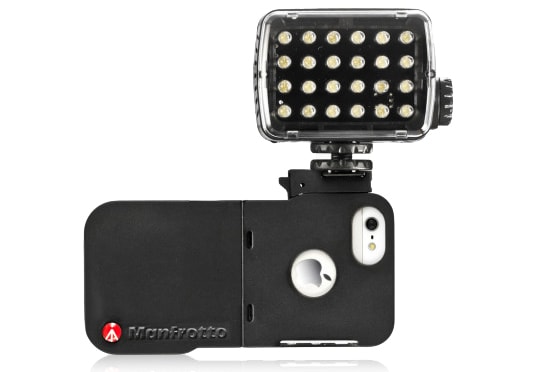 Apple has been working to improve the built-in flash on the iPhone since it was first invented, recently going so far as to add two-tone LEDs. Still, there comes a time when you need a real flash to get the job done.
The Manfrotto KLYP case and ML240 LED flash are a great solution. The KLYP case has four attachment points, allowing you to clip on both the flash and a tripod mount in either a landscape or portrait orientation. The LED flash gives off a neutral light and can be attached in two directions so that it can face your subject or flip around to face you, which could come in handy for video livestreams.
---
Watershot Underwater Housing
Price: $99-149
Compatibility: iPhone 4/4S/5/5s, Samsung Galaxy S3/S4
Availability: Amazon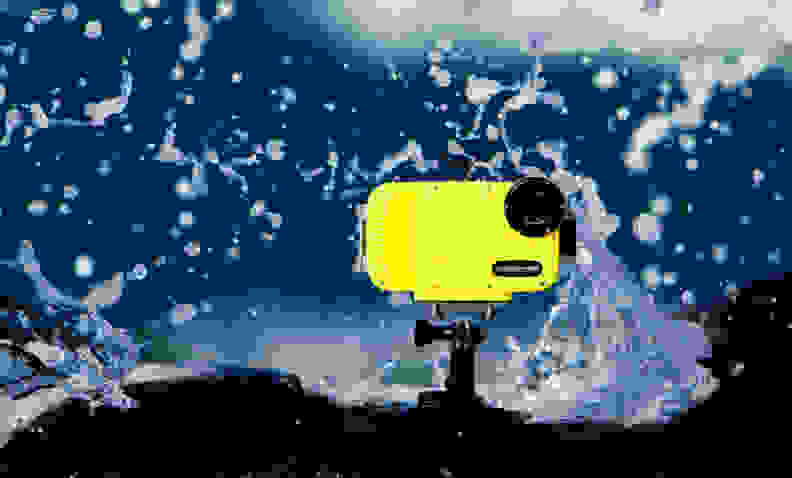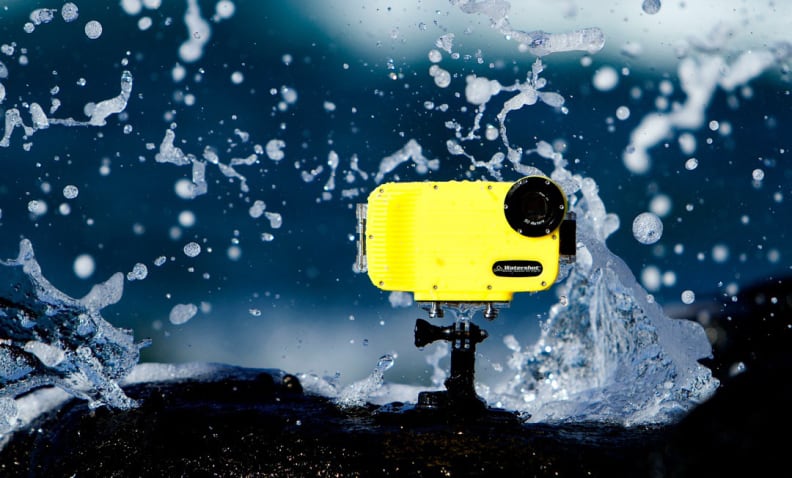 If you're into scuba diving and/or underwater photography, Watershot housings will allow you take your phone with you into the big blue. The Galaxy cases stay watertight down to 195 feet, while the iPhone cases can handle up to 130 feet.
If that difference is an issue for you, the company also offers a Watershot PRO for the iPhone 5/5s that works down to 195 feet, but it's considerably more expensive at $189.
Of course, touchscreens don't work underwater. So Watershot instead built hardware buttons into its cases that work with a dedicated Watershot camera app. And as an added bonus, all of the housings are compatible with GoPro mounts.
---
Fujifilm Instax Share SP-1
Price: $199
Compatibility: Android, iPhone
Availability: Amazon
Do you miss the days of Polaroid? Well, Fujifilm has the perfect printer for you. The Instax Share SP-1 connects to your smartphone via WiFi and enables you to print 62mm by 46mm shots on Fuji's Instax mini film.
The printer's battery should give you about 100 prints on a full charge, while each film pack yields 10 prints. Through the app, you can even add templates to your shots that are customized with different messages and frames.