Cameras
App Review: Flickr for Android 2.0
Flickr's new Android app looks as slick as its new website, but bugs and design inconsistencies are a drag.

Credit:
Flickr, the granddaddy of social photo-sharing websites, just got a major facelift. Reactions have been strong: Critics basically love the massive redesign, while some long-time users got worked up into a tizzy over it.
But reaction to the new Flickr app for Android has barely registered. The disparity is a bit puzzling—the site and the app look and act a lot alike. Both the new Flickr site and app are built around a photography-first design, with a huge, endlessly scrolling wall of photos, full-screen display of individual shots, and a decreased emphasis on the social aspects of the service.
I've taken a couple days to get friendly with the new Android app (free at the Google Play Store), and come away encouraged by the Flickr team's first steps back toward relevance—but frustrated by quirks that make this app feel like it was rushed out the door.
What Flickr Gets Right
A sleek new look, with an increased focus on the photos
The new photo-forward design is a change for the better. Photos are the first thing you see when you open the app—presented in a trendy, tiled interface—and they're front and center throughout the entire experience. The endlessly scrolling mosaic of shots is reminiscent in some ways of both the Tumblr and Pinterest apps, and is incredibly easy to navigate.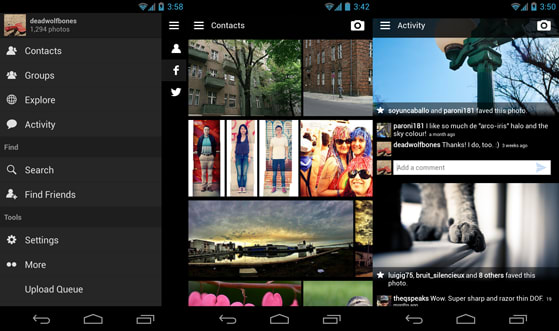 Most often, you'll scroll through the tide of photos vertically, though in a few cases you can scroll horizontally as well. For the most part, this is all very intuitive. The UI is also impressively unified, almost to the point of monotony. You can choose between your own photostream, Contacts, Groups, and Flickr's signature Explore mode, and all of them are displayed with essentially the same layout.
The only significant area of the app that breaks free of the sleek black interface is the Aviary integrated photo editing suite. (It's a third-party tool that's used in a few other noteworthy apps, so it makes sense that it looks different.) It lets you touch up photos before uploading them to your Flickr account. You can also apply a variety of Instagram-style filters, if you like.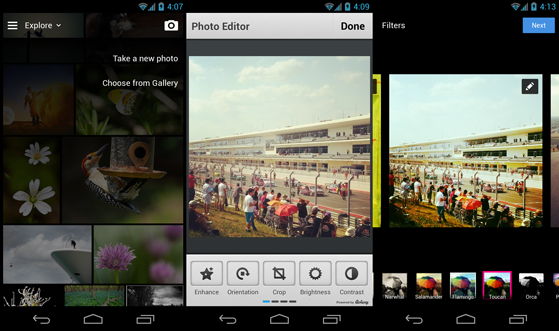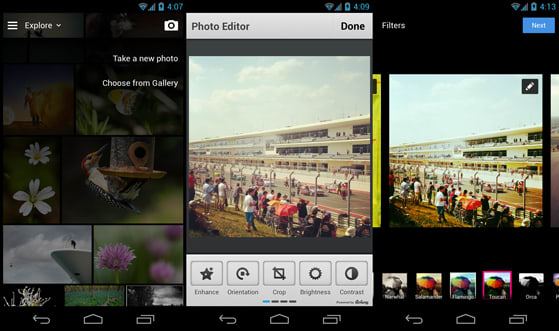 The app also lets you find friends on Flickr by scanning your Facebook, Twitter, and phone contact lists. This function worked really well for me, finding 22 of my Facebook friends on the first pass.
What Flickr Could Do Better
Bumps in the road
In general, Flickr for Android 2.0 is speedy and responsive—or at least it is on a reasonably powerful phone like my Galaxy Nexus (we can imagine users on older hardware having serious lag issues). The back-end connection to Flickr's servers has a tendency to bog down, though. When that happens, you'll get a bunch of blank frames, an empty comment box, or a missing help page. Often, you'll see Flickr's signature rotating pink and blue spheres, just taunting you as you sit there and wait.
The app has some obvious bugs, like photos randomly uploading two or three times, and a favoriting function that sometimes works, sometimes doesn't. But the majority of its issues have to do with odd design choices and missing features.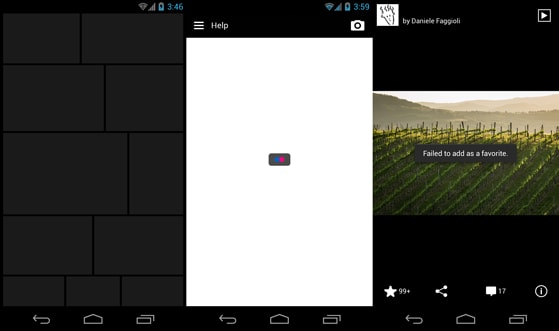 Flaunting convention
In several ways, the new Flickr app skirts the usual Android way of doing things. For example, you can't take advantage of the predictive typing capability in Android Jellybean 4.2—word suggestions don't show when you start tapping keys. Similarly, the app doesn't tap into Android's built-in sharing system. Instead, it relies on its own arbitrarily limited menu.
Several users have also complained that the Flickr app uses a proprietary push notification service that's always running in the background, and might put a dent in battery life. In our brief few days with the app we didn't run into any unusual battery issues, but given how power-hungry modern smartphones are, we'd prefer it if developers didn't waste a drop of juice.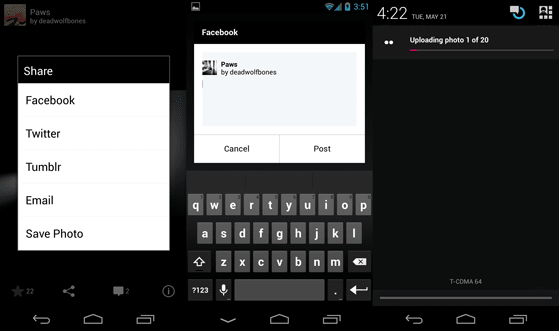 Where's the beef?
You can't share a photo to multiple social networks at once, you can't edit your profile, you can't upload videos, and you can't view most parts of the app in landscape orientation.
On the feature front, the new app is missing a few key options. You can't share a photo to multiple social networks at once, you can't edit your profile, you can't upload videos, and you can't view most parts of the app in landscape orientation. (That last one is a curious oversight for a platform that's chock-full of landscape-oriented images.)
Photo organization is also awfully limited within the app. A case could be made that this makes sense for devices with smaller screens, but users with tablets will be pretty annoyed. You can individually assign photos to sets, group-assign them during the upload process, and even create new sets (though I initially experienced some bugs while trying to do so). But I couldn't find a way to categorize multiple photos after they've been uploaded. If you're looking for all the power you can get from the Flickr website, you won't find it here.
Can't get there from here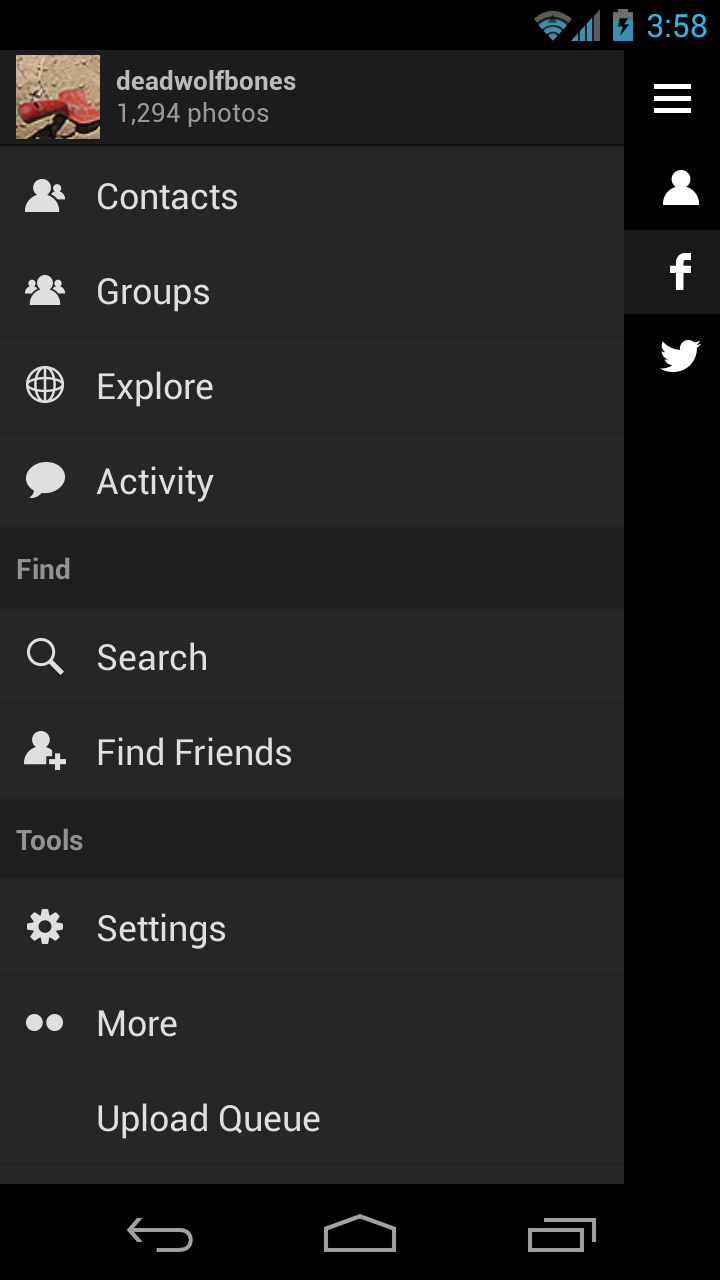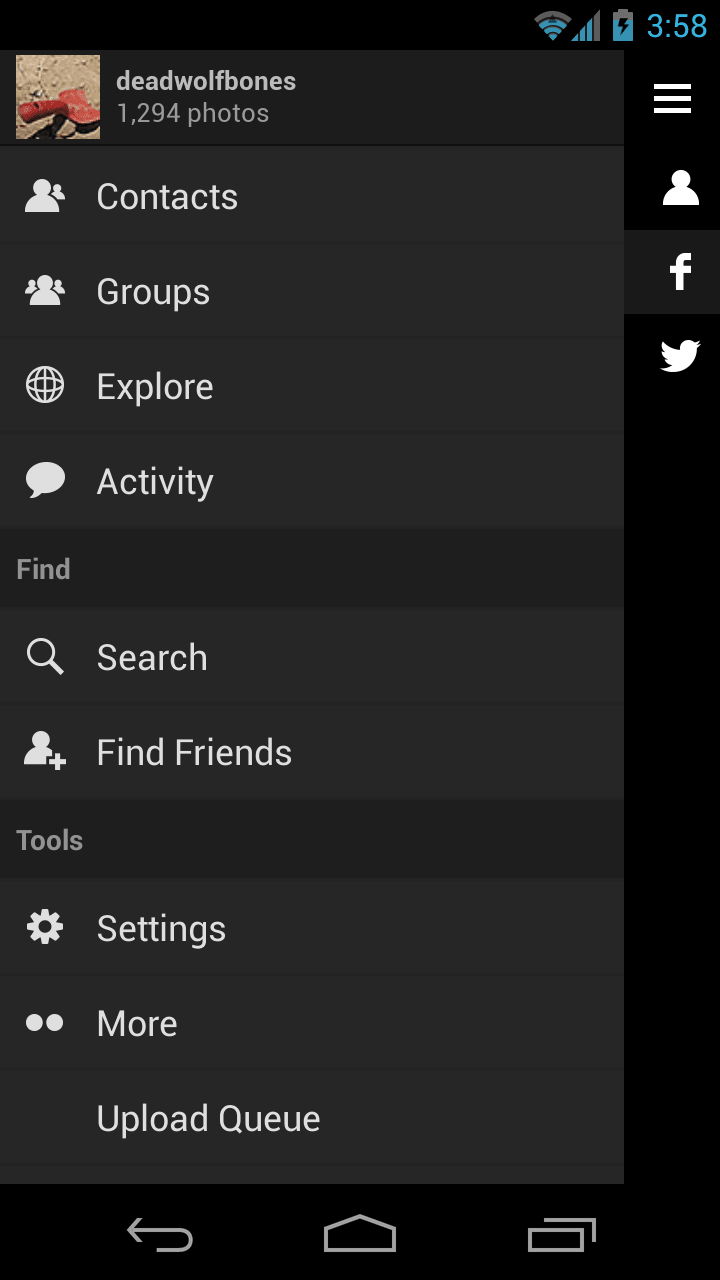 Finally, there are a few navigational annoyances. The menu design isn't always consistent with the rest of the sleek, simplified UI. To access the main menu, you either swipe or tap on the three-line button in the upper left of the screen. Users of Spotify and several other popular Android apps should find this instantly familiar.
The problem here is threefold. First, this icon is present most of the time, but not all the time. If you go into your own photostream, for instance, it's replaced by your user icon. Second, the presence or absence of the button affects the behavior of Android's soft back key. Third, the app doesn't keep a history of internal pages you've visited.
This is hard to explain without getting bogged down in details, but the end result is that pretty much any time you hit the back key in the Flickr app, you're unceremoniously booted out to your phone's home screen.
Worth a Download?
Yes, without a doubt
We have no doubt that there's a small subset of users who loved Flickr's old Android app just as it was, and are devastated to see it change. We feel for them, we really do. But for the rest of us, the redesign is a huge breath of fresh air, and a needed step forward for a service that had stagnated for a long time.
The app is rough around the edges, that's for sure—if this wasn't the portal to Flickr, we'd probably write it off. But it is the mobile version of one of the most popular photo-sharing platforms out there, and that counts for a lot. The raw potential of the new layout is huge. If the designers can work out the annoying bugs, fill in the feature gaps, and bring navigation and other quirks more into line with the usual Android way of doing things, Flickr should have a real winner on its hands.
We're eagerly awaiting version 2.5.
Gallery
Below you'll find a selection of screenshots from the redesigned Flickr app.