Cameras
Say Goodbye to Thanksgiving: Black Thursday is the New Black Friday
What's more important: Enjoying the holiday with friends and family, or snagging some great deals?

Credit:
For some families, Black Friday is a huge part of Thanksgiving. It's what everyone is thinking about all day, and it's what people will be talking about at the dinner table. This year, many big-name retailers are starting their Black Friday sales on Thanksgiving, effectively turning this once-sacred family feast day into a national shopping holiday. Ladies and gents, it's the most wonderful time of the year: Black Thursday.
If you see an appealing doorbuster from the likes of Best Buy, Toys"R"Us, or Macy's, you better believe that it'll sell out on Thanksgiv—I mean... Black Thursday. So, here are five deals shoppers can expect on this darkest of Thursdays, and suggestions on whether or not you should cut your Thanksgiving dinner short to get them.
[Ed. note: Stores in Maine, Massachusetts, and Rhode Island are not allowed to open on Thanksgiving day. Opening times do not apply to stores in those three states.]
Best Buy
When does it open? Doors open at 6pm on Thanksgiving Day.
Why should you spend your Thanksgiving there? Best Buy will have Apple's iPad 2 (WiFi, 16GB) for $299 (MSRP $399).
Is it worth your time? Absolutely not. Even though you save $100, the iPad 2 is ancient technology—after all, it debuted in March of 2011. Tablets have come a long way since then, especially Apple's own brand of slate computers. The Cupertino company is on its fifth generation of iPads—do you really want to invest in a product that old?
Alternative deal: If you don't mind getting a slightly smaller tablet, the Google Nexus 7 is the best sub-$300 tablet on the market. In fact, it's still one of the best tablets, period. While it isn't on sale, you won't find many tablets cheaper than Google's powerful model, which starts at $229.
Toys"R"Us
When does it open? You can get your toy shopping fix at 5pm on T-Day.
Why should you spend your Thanksgiving there? Toys"R"Us has a bunch of so-called "doorbusters" available on T-Day. One of these is the Skylanders Swap Force starter pack for $37.49 (normally $74.99).
What's a Skylander? Ask any 10-year-old boy—he'll tell you more than you've ever wanted to know. In a nutshell, it's a video game that requires the purchase of physical toys to be played. As you can imagine, these toys get expensive fast, so of course kids love 'em.
Is it worth your time? I hate to say it, but this is a very good deal. If you get this for your child, he/she will love you for the rest of your life. Also, you legitimately save over 50%—the same package at Amazon.com is full price.
Alternative deal: Gamestop is offering 50% off on many popular games, including LEGO Marvel Superheroes and a variety of less age-appropriate options (like Bioshock Infinite, Borderlands 2, and Saints Row IV).
Macy's
When does it open? You can take a trip to the mall at 8pm on Turkey Day.
Why should you spend your Thanksgiving there?
While known for clothes, Macy's is offering a tantalizing tech deal on the Keurig K45 Elite coffee maker. The price? A low $99.99 (normally $174.99). According to Macy's website, this model comes with a 12-count variety pack of K-Cups.
Is it worth your time? It's tough to find a high-end Keurig machine for cheap. But while $99.99 is tempting, this deal isn't worth the hassle. You can find the same model on Amazon for $30 more, but you'll also get a 28-count K-Cup variety pack, plus two glass mugs. Thanks, but no thanks, Macy's.
Alternative deal: Maybe you don't need a full-sized Keurig machine. If you're only going to use it for yourself, try getting a single-serving model. Amazon will have a deal on a Keurig-powered Mr. Coffee machine during Black Friday week for only $64.99. Take the money you save and spend it on K-Cups!
Walmart
When does it open? You can show up at 6pm on Thanksgiving.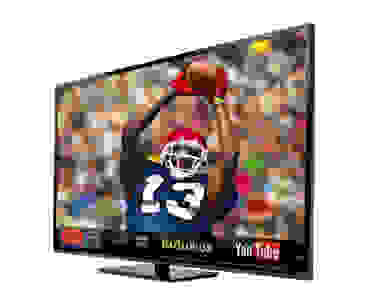 Why should you spend your Thanksgiving there? We all know about Walmart's $98 32-inch television, which is questionable at best. Sam Walton's megastore has another TV deal, though: a 60-inch Vizio smart TV for $688.
Is it worth your time? This is an emphatic yes. We reviewed Vizio's 55-inch version of this TV earlier in the year. Guess what happened? It won one of our prestigious Best of Year Awards for best value LCD series. The 60-inch model currently sells for around $1,000. For $688, this TV may be worth cutting your Thanksgiving dinner short.
Alternative deal: If you need a large, internet-capable TV, this Vizio is a sure bet. Amazon is actually offering the same deal, so if you can snag one online, do that and enjoy your Thanksgiving. Also, Amazon will have the 55-inch model for $479.99, which sells for $728 at Walmart. That's absolutely incredible.
Target
When does it open? Roll your bloated body in there at 8pm on Thanksgiving Day.
Why should you spend your Thanksgiving there? Target has two doorbuster deals: a 55-inch Element HDTV for $229.99 and an iPad Air that comes with a $100 Target gift card.

Is it worth your time? Kind of. As far as the TV is concerned, size matters to a lot of people. We lampooned Walmart's $98 32-inch TV, which probably won't offer you the best picture quality. But cheap 32-inch TVs are a dime a dozen—50-inch-plus TVs are much pricier.
Most people who purchase this TV will be thrilled, as long as they don't view the awesome picture quality on their neighbor's Panasonic plasma. That's how TV nerds are born, though.
The iPad Air is a surprisingly good deal—for people that love Target, that is. The company is already selling the newest iPad for $20 below the MSRP of $499, but the $100 Target gift card sweetens the deal tremendously. Buy the iPad Air for yourself—you were going to, anyway—and use that $100 gift card to buy presents for everyone else.
Alternative deal: If you absolutely must have a smart TV, check out the previous section—that Vizio is a steal. For a crazy tablet deal, try to find the nearest Micro Center. On Black Friday, the electronics retailer will have a limited quantity of Microsoft Surface RT tablets for $179.99 (originally $349).
---
For a lot more information on these Thanksgiving deals, check out the excellent Slickdeals and Fatwallet Black Friday hubs.
[Hero image: Flickr user "facing-my-life"]
Up next
Get Reviewed email alerts.
Sign up for our newsletter to get real advice from real experts.