Cameras
Canon Tent Tour at IFA Berlin 2013
Canon's garden tent is a cool getaway from IFA's hectic show floors.

Credit:
Most camera manufacturers have opted for a minimal presence at IFA Berlin 2013. Nikon, for instance, has a modest booth with just a small portion of its product line on display—the just-announced Coolpix P7800 and S02 didn't even make it. Ricoh's setup is entirely focused on the new Theta 360-degree camera, while second-tier company Sigma has perhaps the largest in-hall display of all the photo-only exhibitors.
Panasonic and Sony have massive photo-oriented areas within their respective mammoth hall-spanning domains, but cameras are just a portion of the many, many products made by these electronics giants.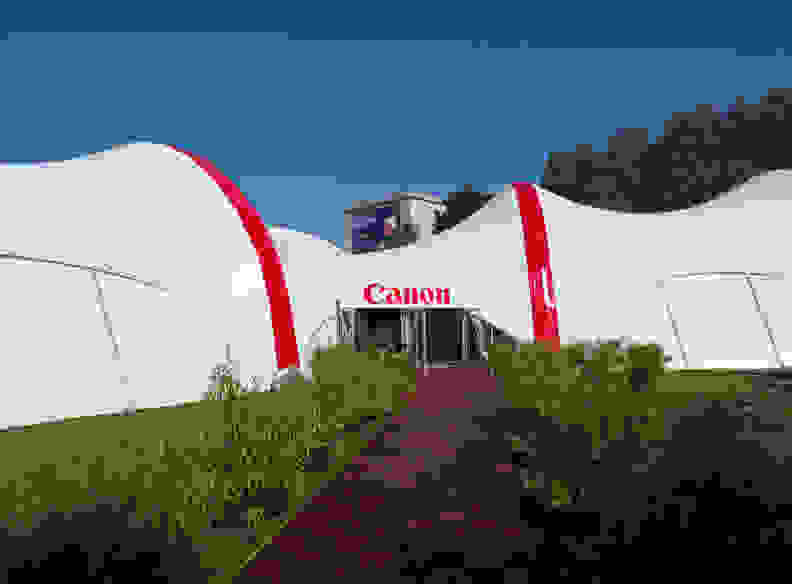 The imaging purists at Canon evidently don't want to be associated with those chumps; instead, they've set up a tent out on the lawn near the Messe Berlin's Sommergarten. It's an idyllic spot, surrounded by shade trees and verdant grass, with a lovely crosshatched wooden walkway leading up to the front entrance. When I visited early this morning, the tent was a cool, quiet respite from the hot, loud exhibition halls.
Canon's tent is in an idyllic spot, surrounded by shade trees and verdant grass, with a wooden walkway leading up to the entrance.
(Admittedly, the full force of IFA attendees hadn't descended on Canon's encampment, so the scene I witnessed probably isn't typical of what the average show-goer encounters.)
Immediately to the right of the entrance is a reception desk where you can pick up product brochures describing Canon's entire range of cameras and lenses. Ahead, a stage is set up where a professional photographer snaps portraits of a model, which are projected in impressive detail on a giant screen behind him. The narration was strictly German, but I feel pretty confident in assuming the host/photographer was extolling the virtue of Canon's 5D Mark III and high-end EOS lenses.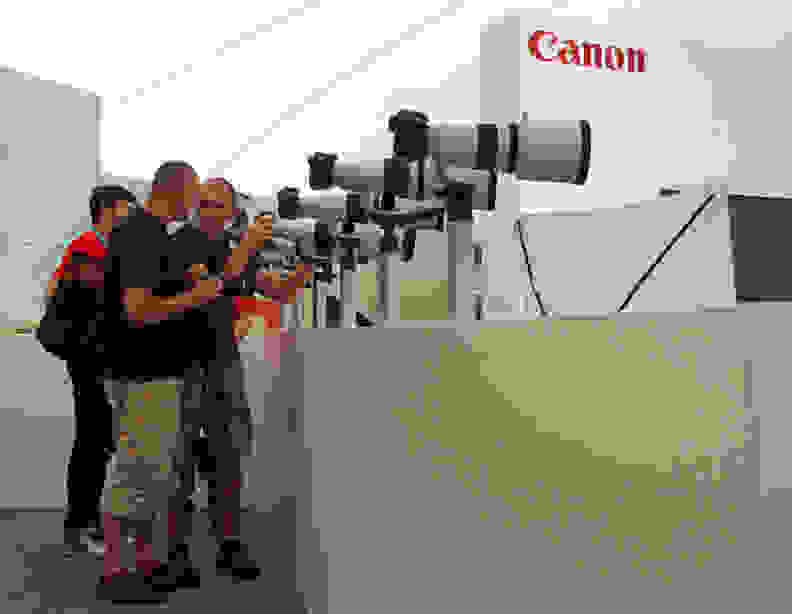 Beyond the stage is a raised platform where Canon's professional telephoto primes and zooms are mounted. Visitors can try them out on high-end Canon DSLRs, though unlike at last year's Photokina there aren't any birds of prey to zero in on. The massive lenses look like nothing so much as a row of cannons (no pun intended) lined up on the ramparts of a castle.
Toward the other end of the tent are several rows of counters manned by enthusiastic Canon representatives. Each counter is dedicated to a different Canon product line: EOS DSLRs, IXUS and PowerShot compacts, Legria (aka Vixia) camcorders, and Pixma printers. All of the current products are on display, and the booth workers would be happy to let you play with them.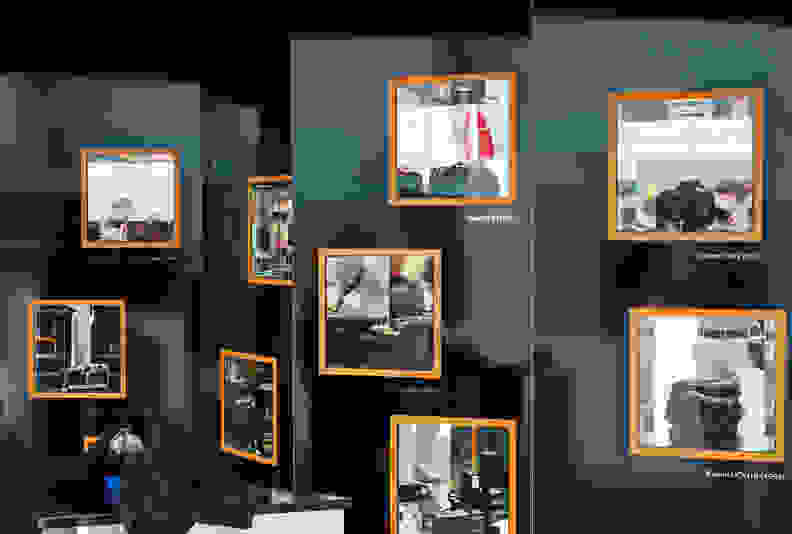 A few smaller areas off to the side provide spots to take interesting test shots, and there's a particularly interesting display filled with famous cameras and camcorders from throughout Canon's long history—from 1957's L3 rangefinder to 1989's Canonvision E640.
If you're a photo enthusiast headed to the show this weekend, definitely take a few minutes to swing by. Even if you're not a Canon user, there's still plenty to see and play with, and you'll get a nice break from the sometimes stifling halls of Messe Berlin.
Up next
Get Reviewed email alerts.
Sign up for our newsletter to get real advice from real experts.