Cameras
Case Logic Reflexion Medium Cross-body Camera Bag Review
Case Logic's stylish and sturdy tablet/camera bag is a perfect everyday option at a reasonable price.

Credit:
Plenty of bags on the market these days try to do double duty, carrying both your camera gear and a device like an ultraportable laptop or tablet. But while a bag that can handle weekend excursions and weekday commutes sounds ideal, it typically comes with a fair amount of compromise. Most camera bags are bulky due to the extra padding protecting all that gear, while messengers often lack internal organization. So you can choose between a bulky, awkward bag, or jamming all your stuff into one big pocket.
The Case Logic DSLR & iPad Medium Cross-body Bag (MSRP $89.99) is a different animal, managing to look stylish, protect your gear, and remain compact compared to similar bags on the market. With some clever design choices, attractive looks, and a flexible, organized internal structure, this is a bag that should appeal to many different kinds of shoppers.
We spent a couple weeks testing out the Medium Cross-body bag, seeing just how well it could keep up with us through our day to day routine. What we found is a compact bag that is perfect for anyone who doesn't need to carry a large laptop around and wants a flexible, good-looking option for keeping their camera safe on the go.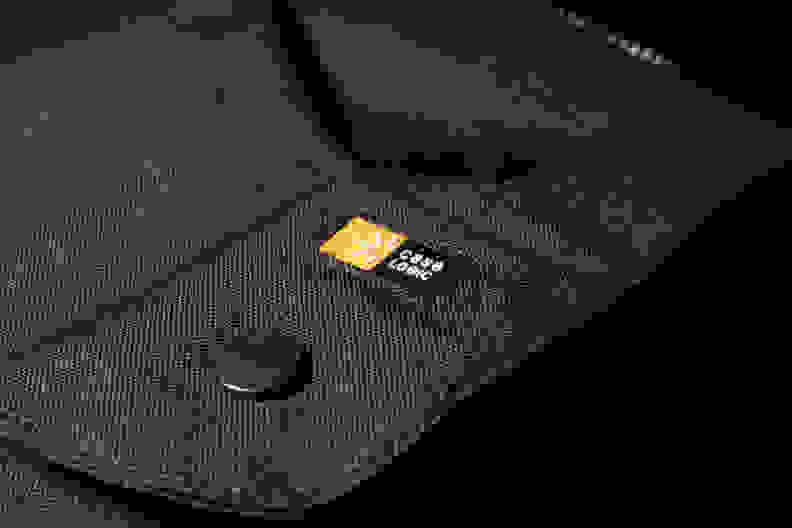 Design
A clever design for those long commutes
Most messenger bags have a similar structure, with a large central cavity, several front and rear pockets, and a large, main flap that covers everything. The Medium Cross-body bag is different, with a main pocket that's closed via a large zipper that runs the length of the bag. Though we enjoy the typical messenger design when toting a laptop, this zipper provides immediate access to all of your gear, opening up wide from the middle like an old-school doctor's bag.
Inside the main pocket, you'll find the large, central storage area. Here you'll find one main sleeve for holding a tablet or (very) small laptop. There's also a large removable, padded camera insert and a wide, shallow zippered pocket perfect for holding cables, memory cards, and other small items. On front you'll also find two more zippered pockets, including a small pocket sealed with an awkward, angled zipper and another large (unpadded) pocket where you could stash a lens or two for easy access.
There is still a buttoned-down flap on the front of the bag, but it only covers a third wide pocket with various smaller pockets that are great for storing card readers, memory cards, playing cards, and other card-shaped items. All the zippers have plastic teeth, but they're thick and don't feel like they're liable to bend or break anytime soon.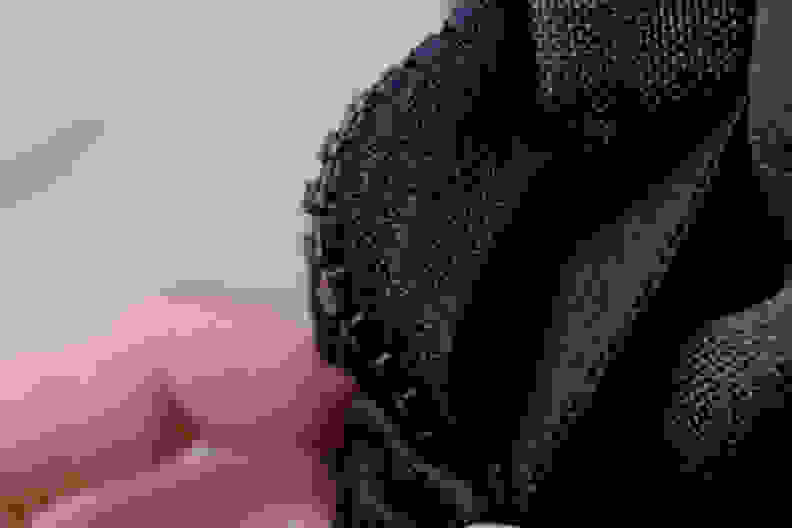 The bag itself is made of a very durable polyester (in Anthracite gray or Morel tan), with rubberized material on the entire bottom as well as the underside of the shoulder strap pad. The shoulder strap itself feels like a smooth nylon (like a seatbelt) and is adjusted with two big plastic slides on either side. There's also a sewn-in handle on top for carrying the bag like a briefcase and stretchable pockets on other side for holding keys or a bottled drink.
The only major issue we ran into is the main pocket's zipper, which is sewn on a strip of fabric that extends past the sides of the bag. We can't really figure out why this extra bit of fabric is there—better water resistance? security?—but it often requires you to use one hand to pull it taut while your second hand unzips the top. Given that Case Logic seems to have otherwise designed the bag to provide quick access to all of your gear, it's a puzzling design choice.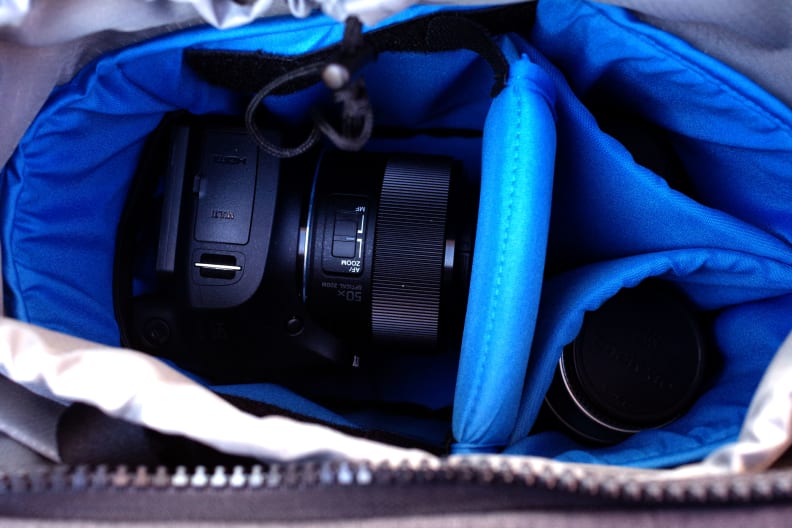 ×
design
Features
It will fit almost any camera, but few laptops make the cut.
The Case Logic DSLR & iPad Cross-body bag is a utilitarian number that doesn't have a lot of neat extras. It's just well-constructed, intelligently designed, and is compact considering just how much gear fits inside of it. The removable camera insert is nice and rigid, with a cinch-top closure and its own handles. This keeps your camera gear isolated, able to be pulled from the bag at a moment's notice.
Like other camera bags, this insert has velcro-lined dividers that you can move to suit your needs. By moving these dividers around, we found it could hold a couple of lenses as well as anything from a mirrorless camera right on up to the professional-grade full-frame Nikon D3. Another neat touch: One of the dividers has a little storage pocket of its own, so you can keep things like extra batteries and memory cards with your camera gear.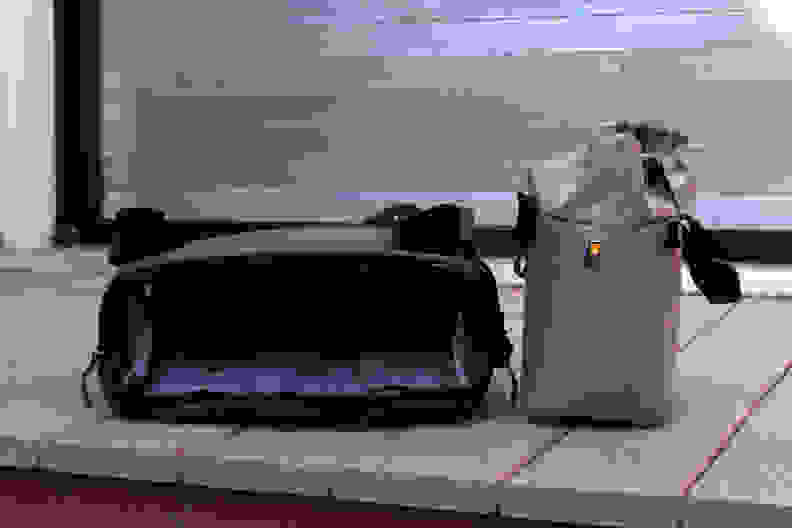 The camera pod slips nicely into the main pocket, and even when inserted there's plenty of room alongside the pod for a pair of large headphones, a book, or whatever else you may want on your commute. The only thing this bag lacks is a dedicated place to store a full-size laptop. The large pocket in the main cavity is only big enough for a tablet or something like the 12-inch Surface Pro 3. If you do need to carry a laptop with this bag you'll have to just put it in the main pocket with everything else.
Conclusion
A flexible bag that will fit all sorts of lifestyles.
With the Reflexion DSLR & iPad Medium Cross-body bag, Case Logic has designed a messenger that's perfect for commuters who frequently travel with camera gear but don't usually travel with a full laptop. For a penny shy of $90 you get a bag capable of holding just about any tablet on the market, just about any DSLR on the market, and all your other daily essentials. And it all comes in a lightweight, stylish package that feels built to last.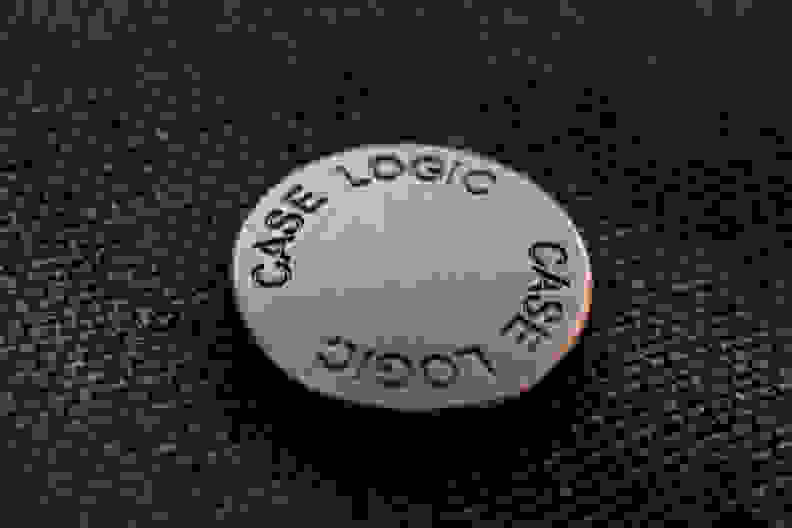 Our main complaint with this bag is that it doesn't truly hold any of the current ultraportable laptops on the market. Case Logic claims that it can fit a 13-inch ultraportable, but there's not a dedicated compartment for this—you have to stuff it in the central cavity with everything else. Frustratingly, you can almost squeeze a 13-inch Macbook Air or Asus Zenbook in the tablet pocket, but it's about an inch too narrow.
If that's not a concern for you, then the Reflexion Cross-body bag will do the job just fine. It looks nice, it holds everything you might need it to for a day out shooting, and the removable camera insert means it's great for days when you can leave the camera at home. If you need a laptop bag and like the style, then consider "stepping up" to the Case Logic Reflexion Mobile Messenger. It's just $69.99 and is large enough to hold a typical laptop, though you lose out on the padded camera insert.