Cameras
Head to Head: Canon 1D X vs. Nikon D4
With the two flagships sitting atop our camera rankings, it's time to put them head to head.
Credit:
We've seen a number of impressive full-frame cameras show up in our labs this year, but none performed as well the latest professional flagships from the Canon and Nikon, the 1D X and D4. The two cameras pack updated autofocus systems, new processors, class-leading shooting speed, and improved connectivity features designed to aid professional news and sports photographers.
After spending considerable time with both cameras in the labs and in the field, we compared scores and found that they perform quite similarly. The two cameras excel in many of the same areas, resulting in almost identical scores.
Still, there are some key differences that any photographer is going to want to take into account before deciding between the two cameras. Of course, you're probably going to stick with whatever brand you've already bought into, but we're putting the two models head-to-head just for comparison's sake.
This is not intended as a full review, but a direct comparison between the Nikon D4 and Canon 1D X. To read the full review for the Canon 1D X, please go here. To check out our full review of the Nikon D4, please go here.
Image Quality and Video
The difference in image quality between the Nikon D4 and Canon 1D X is subtle. Both cameras put up stellar numbers in all of our performance testing, with Canon's superior image processing providing more accurate colors, while the Nikon D4 produced sharper images with the 24-70mm f/2.8 lens we used during testing. We used Canon's comparable first-generation 24-70mm f/2.8L lens in testing the 1D X, but found it to be softer in the corners than its Nikon counterpart. (The updated Canon 24-70mm was not available during our review period).
The two cameras were neck and neck in our video performance tests, despite Canon's pedigree in the videography world. The Nikon D4 is a giant leap forward for the company in terms of video quality, producing more pleasing motion, while matching the 1D X for sharpness. Both cameras shoot in 1080/30p full HD, offer autofocus during video recording, and have a 3.5mm microphone input.
The Canon 1D X does include some updated video features that should speed up workflow, with SMPTE timecoding and the choice between ALL-I and IPB compression; ALL-I compression records at a higher bitrate and is easier to edit, while IPB keeps file sizes down. The Nikon D4 doesn't offer that level of workability, but it does provide a headphone jack for monitoring audio, as well as uncompressed video output through the HDMI port and the option to shoot with a lossless 1080p 2.7x crop zoom. The Canon 1D X is easier to work with for high-end video production, but it's impressive that Nikon has improved its video chops so quickly, particularly since they don't have a camcorder legacy to fall back on.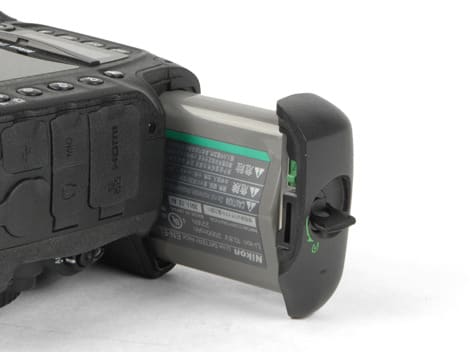 Autofocus Performance
As cameras designed for fast-paced action, it's no surprise that the D4 and 1D X also come with improved autofocus systems. The Canon 1D X features a completely retooled 61-point (41 cross-type) AF system with an extreme level of control. The Nikon D4's system is similar, with 51 AF points and a cluster of 15 cross-type sensitive points in the center of the frame. Both systems performed amazingly well in our autofocus sensitivity test, easily locking onto a static subject lit to only 10 lux.
The main difference in AF performance comes down to control versus design. The Nikon D4 offers a more compact arrangement of its cross-type sensitive points in the center of the frame. The result is slightly less space between points than on the 1D X, with the only expense being the ability to track subjects completely from edge to edge. Using teleconverters and long lenses, you can utilize five cross-type sensitive points as long as the lens and converter combine with the D4 to keep the aperture at f/8 or brighter.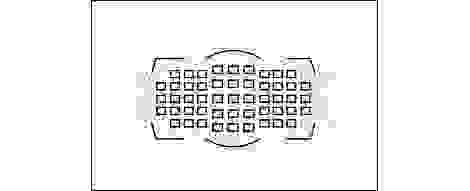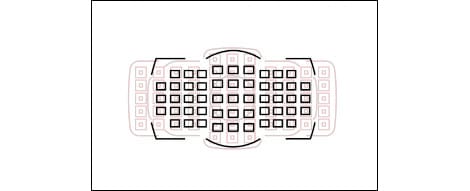 The autofocus points of the Canon 1D X sit a little further apart, but the camera offers more of them. The 1D X uses 21 cross-type sensitive points in three columns in the center (compared to the 15 on the Nikon, covering more vertical distance), with 10 more cross-type points on each side of the center cluster. The 1D X also offers far more control, including a dedicated autofocus menu with six case-based, user-adjustable settings that can control things like tracking sensitivity, acceleration and deceleration tracking, and AF point auto-switching. This gives you the fine control you might need if shooting a range of subjects across a variety of distances—in other words, it's a big help with sports.
In practice, we found both systems to work well. We didn't have any extreme telephoto lenses to test on the bodies. However, when shooting fast-moving sports like rugby and soccer we found that both cameras tracked subjects accurately, though the Canon seemed to do so faster as subjects moved laterally across the frame, with the extra cross-type points providing more latitude. The Nikon's more tightly clustered points, on the other hand, made it easier to maintain focus on a smaller point of interest (such as a ball or a person's face) as it moved through a crowd, provided you kept it centered in the frame.
Features
The Canon 1D X bested the D4 in our speed tests, able to fire at up to 15 frames per second when shooting JPEG over a five-shot burst. The Nikon D4 was able to muster a respectable shot-to-shot rate of up to 12 frames per second over the same amount of shots. Both figures are excellent, but the Canon is a little more likely to capture crucial frames for a sports or news photographer in cases where RAW shooting is not required.
Canon and Nikon have each gone the extra mile to improve connectivity with their flagship bodies. Both sport Ethernet ports for the quickest possible image transfer speeds, remote shooting, and automatic upload to FTP servers. The focus on offloading shots quickly should vastly improve workflow, eliminating the need for expensive accessories to do the job.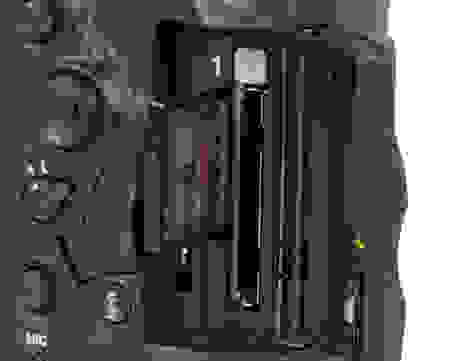 For storage, the 1D X sticks with dual Compact Flash card slots, while Nikon has taken a leap forward and paired a single CF slot with a newer XQD memory slot. The XQD card slot is smaller (due to the cards' smaller size) and incompatible with Compact Flash. That means professionals who use dual-card setups are going to have to invest in new cards and card readers if they want to enjoy the enhanced speed. In addition, Nikon has upgraded the D4's wired connectivity with a SuperSpeed USB 3.0 port, which is backward-compatible with older USB 2.0 technology.
Another feather in Nikon's cap is built-in time-lapse and interval-shooting functionality. With time-lapse videos becoming more popular, these features (along with backlit controls) make the Nikon D4 the ultimate camera for capturing nightscapes. It also provides users with two methods for accomplishing the shot: the intervalometer, which captures and saves all the shots at full resolution, or the built-in time-lapse function, which creates a 1080p video automatically, but discards the full-size images.
Handling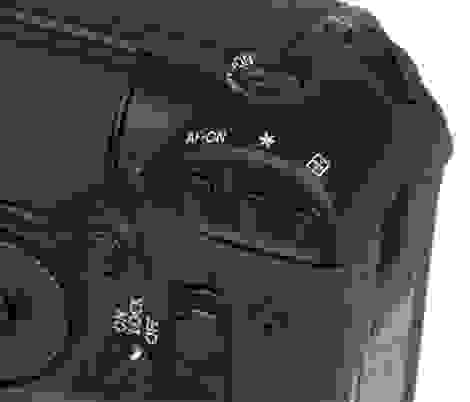 Both the Canon 1D X and the Nikon D4 are on the receiving end of some ergonomic improvements over their predecessors. The biggest addition on both cameras is a second joystick-like selector for making adjustments when shooting with the portrait grip. This allows for simpler menu navigation and focus point selection, though the menus still don't re-orient themselves vertically the way they would on any smartphone. (Wouldn't that be nice?)
As you'd expect, both cameras are expertly crafted, virtually molded to the shooter's hand with most major functions mapped to physical controls on the body. Both portrait and landscape grips on the Canon and Nikon felt great, though we found the Nikon material to have a slightly more plush and comfortable feel. Both were quite tacky, though, and easy to hold with just a single hand when using medium-sized or smaller lenses.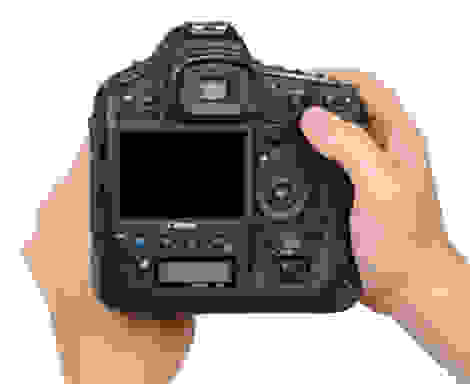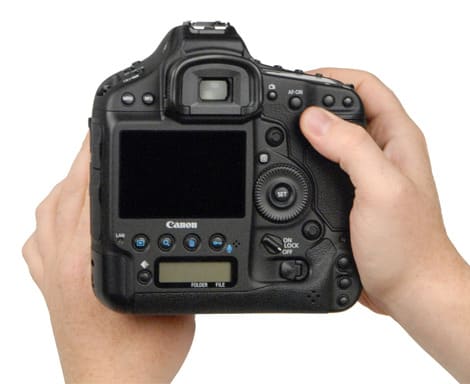 Conclusion
It's very difficult to find fault with either of these cameras. They're built to a professional specification, and they're both the culmination of years of design and feedback from their company's brightest minds. Neither camera is perfect, but they're both light-years beyond anything else currently on the market.
Still, our testing and time with the cameras reveals that, for certain types of photographers, one is clearly better than the other. The Canon 1D X's advantage in speed, autofocus control, and subject tracking make it the ideal camera for sports and action shooters. You're simply going to be able to shoot faster and more accurately with the 1D X than the D4, with generally superior JPEG production if RAW processing isn't necessary or convenient.
The D4, however, should greatly appeal to those who are looking to do wildlife photography, night photography, or use extreme telephoto lenses. The design of the camera's autofocus system uses a tighter array of points that are cross-type sensitive down to f/8. In addition, Nikon's inclusion of features like multi-exposure, in-camera time-lapse, interval shooting, and excellent backlit control labels makes shooting with the camera in low-light conditions an absolute breeze. The backlit buttons in particular are a small but vital addition, making you wonder why they're not a feature on every pro camera.
No matter how you slice it, these are two excellent cameras that should have broad appeal among pros who need a durable body with extreme speed and accuracy. Each has its clear strengths and weaknesses, but to choose between them is to choose between the two best cameras in the world today. If you're married to either lens system it's probably not time for a divorce, but there are enough positives on both sides of the line that we won't blame you for being tempted.
To read the full review for the Canon 1D X, please go here. To check out our full review of the Nikon D4, please go here.
Up next
Get Reviewed email alerts.
Sign up for our newsletter to get real advice from real experts.