Cameras
Head to Head: Canon T4i vs. Nikon D3200
Most photographers may find the Nikon D3200 to be a much better value.
Credit:
The Canon EOS Rebel T4i and the Nikon D3200 technically sit in different product tiers, so you might be wondering why we're pitting them against one another. But the fact is, they're the two newest and most aggressively marketed entry-level DSLRs from the Big Two, and the two you're most likely to run into at Best Buy or Walmart this holiday season.
The T4i is Canon's advanced amateur DSLR, sitting between the bargain-basement T3 and the higher-end 60D and 7D enthusiast models. It's priced at $1199 with the 18-135mm IS STM kit lens, but can be had for around $1100 from reputable merchants. The D3200, on the other hand, is on the bottom rung of Nikon's DSLR product pyramid. Its MSRP is just $700 with the 18-55mm kit lens, and it's going at $650 and cheaper at current internet pricing.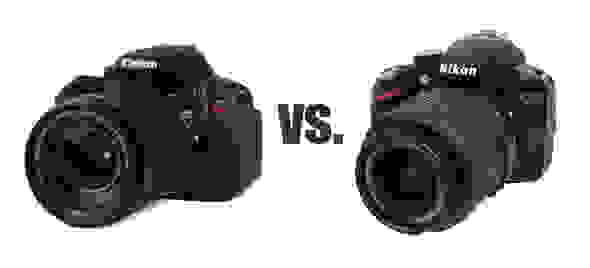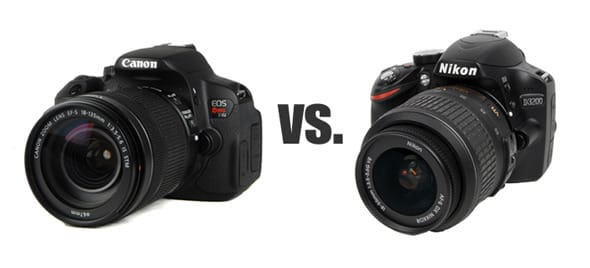 But the differences don't stop at price. The T4i justifies its premium with a better kit lens, touchscreen control, an articulating LCD, and continuous autofocus during video recording. In contrast, the D3200 is relatively spartan, though its 24-megapixel sensor is certainly an eye-popping feature.
So we're looking at a pricey yet technologically advanced Canon and a cheap but feature-poor Nikon. The question is: which gives you better bang for the buck? In this comparison we'll take a detailed look at how the two models stack up, and try to answer the question of whether the T4i's added features are worth the extra coin.
Handling
Both cameras are mostly plastic, but the D3200 definitely feels like the cheaper of the two, as it should. The T4i's polycarbonate feels denser and more rugged, and its larger body only reinforces that sensation. The D3200's buttons actually feel a bit nicer overall, but that's a minor concern. The D3200 is definitely a very small DSLR, so it's not surprising that its grip isn't the biggest or deepest. But neither is the T4i's; in fact, we'd call it a wash on this point. Rear thumb grips are also present on both, and they work equally well.
The T4i has the better button layout for serious shooting, with direct access to key settings like ISO sensitivity, white balance, and color modes. It also has touchscreen control via its Q menu, which is surprisingly convenient in everyday use. On the D3200, you need to press the "i" button to access most shooting settings, which is a clumsy two-handed affair.
We also liked the T4i's viewfinder better. It's brighter, crisper, and fractionally larger—not a huge difference, but definitely noticeable, and something you'll appreciate over time. On the LCD front, in addition to being a touchscreen, the T4i's panel is slightly higher resolution, and has the benefit of being able to flip out and swivel up to 270 degrees.
Features
That touch panel is one of the T4i's primary advantages in the features comparison. It allows for touch-based menu navigation, quick setting adjustment while shooting, tapping to focus, tapping to shoot, and control of playback as well (including pinch-to-zoom behavior). The D3200's fixed screen is bright and clear, but it simply can't compete with Canon's superior tech.
Another edge for the T4i is its new "hybrid" live view autofocus. Canon has cleverly placed phase-detect AF pixels on the imaging sensor itself; these pixels are used to gauge distance to the desired subject, and then contrast autofocus takes over to get a precise focus lock. The result, theoretically, is faster and more accurate live view focusing. In the real world, it's certainly quicker than it was on the T3i (where it was abysmal), but not noticeably quicker than some competitors. On the other hand, a side effect is silent, continuous autofocus during video recording. The T4i is the first and only Canon DSLR to offer this feature, and it's one of the few successful implementations we've seen from any DSLR manufacturer.
Image Quality
There's no getting around the fact that raw image quality is the Canon T4i's weakest point. It's not bad, per se, it's just blah. And from a camera that asks at least $1100, "blah" is a tough pill to swallow. The D3200, on the other hand, punches far above its weight with its newer and more impressively spec'd sensor. In our testing, this difference was most readily apparent in resolution numbers. The D3200 and its comparably terrible kit lens simply trounced the T4i and its upgraded 18-135mm kit. Paired with some of Nikon's finer lenses, that advantage should only increase.
Outside the lab, the differences were less obvious. Canon seems to use more JPEG sharpening and slightly stronger noise reduction by default, which gives the T4i's images more punch straight out of the camera. Both cameras had very good color accuracy in their most faithful color modes. Of course, if you're shooting RAW these differences would be mitigated, since any image can be punched up and sharpened as much as you like in a good RAW developer.
Conclusion
There's little question that the T4i is a better camera in every respect, aside from pure image quality. It's better built, more feature rich, has a more logical and full-featured control scheme, and boasts neat party tricks like touchscreen control and continuous video autofocus. This is stuff the D3200 can't hope to match. But the price is a real problem. At a $1100 street price, the T4i is nearly double the cost of the D3200. While it may be better built, it's not that much better built. While it might have better features, are they really worth an extra $600?
If you're simply a beginner photographer looking to improve your craft, the D3200 is definitely the more cost-effective tool. It may be stripped down and leaned out, but it can take quality stills with the best of them. If you care more about video than still photographs, the T4i is indubitably a better choice; but make sure to also consider even more advanced video-friendly cameras like the Panasonic GH2. And if you're a just a Canon loyalist who'd rather not make the leap to Nikon, we'd strongly recommend snagging a Rebel T3i while they're still available. It doesn't have the continuous video autofocus or touchscreen LCD, but it's cheap and has virtually the same imaging sensor as the T4i.