Cameras
Head to Head: Nikon D800 vs. Canon 5D Mark III
We put the Nikon D800 and Canon 5D Mark III head-to-head to see which is the best midrange full-frame camera.

Credit:
Canon and Nikon have intensified their ongoing rivalry over the past year, in several exciting ways. Both companies released new top-end full-frame, professional DSLRs (The Canon 1D X and the Nikon D4), as well as new low-end full-frame DSLRs, the Nikon D600 and Canon 6D. Each model is so alike its counterpart that it's eerie, and we found the Canon 1D X and Nikon D4 performed almost identically to one another in our labs.


But The Big Two didn't stop there, releasing two mid-range full-frame cameras, as well. While the $2999.95 Nikon D800 and $3499.99 Canon 5D Mark III are similar in price and size, they're actually quite divergent otherwise, appealing to very different kinds of photographers. We've fully tested both cameras and decided it was time to put them head to head to see which is the superior model.
This is intended to be a broad comparison of Canon 5D Mark III and the Nikon D800. To learn more about how these cameras performed both in and out of our labs, you can read the 5D Mark III's full review here and the Nikon D800's full review right here.
Image Quality
The Nikon D800's headline feature is its eye-popping 36.3-megapixel full-frame image sensor. That sensor provided some of the sharpest images we've ever seen in our labs, and we found that in the field the images could be edited more aggressively without degrading image quality. The ability to downsample images from such a high resolution while still producing massive shots is huge, improving image quality and still leaving latitude for cropping.
The 5D Mark III and its 22.3-megapixel sensor offered softer images by comparison, but had better performance in low light when ISO needs to be cranked. The D800's high-resolution sensor tops out at ISO 25,600 when expanded (ISO 6,400 native), while the Mark III has a native max ISO of 25,600, which can be expanded all the way to a staggering 102,400 when need be.
That high ISO performance gave the Mark III's shots plenty of life when conditions got extremely dark. The Mark III also produced more pleasing JPEGs at higher ISOs, with more delicate noise reduction and better color reproduction.
Surprisingly, though, the D800 did not suffer as much as we expected in low light. Despite a higher volume of pixels on its image sensor, the D800's resolution advantage kept the appearance of noise to a minimum. We were consistently amazed at the flexibility that 36.3-megapixels provided when shooting in the field. Whether we needed to crop, adjust levels, or sharpen an image up, the D800 handled it perfectly with plenty of headroom to spare.
Our one issue with the D800 was with its white balance system. The D800 performed just fine in custom white balance, but its automatic white balance struggled far more than is typical under artificial white fluorescent light. These images came with a green tint that we haven't seen on any other camera.
Handling
Both the Nikon D800 and Canon 5D Mark III hold very true to the design philosophy of their respective companies. The Nikon D800 doesn't depart greatly from the D700 it replaces, but adds additional video controls on the body. The Canon 5D Mark III puts more direct control at your fingertips, with a host of controls positioned right on the top plate near the secondary LCD and shutter button.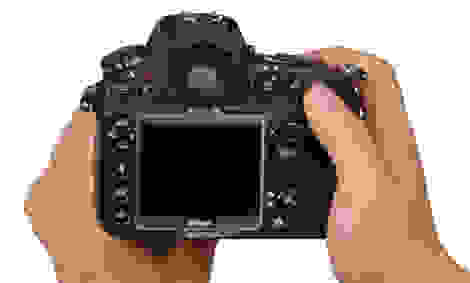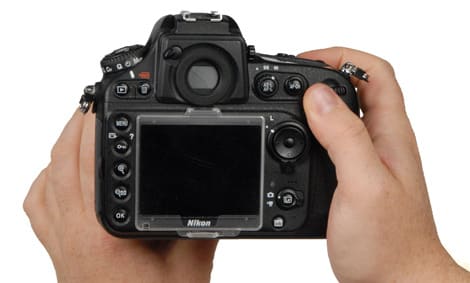 We found that the Canon 5D Mark III handled slightly better overall, but both cameras performed very well. Both cameras accommodate the hand well, with a tacky material covering both that offers plenty of grip. The best thing about both cameras is that they allow almost complete control over the camera without having to go into the menus; there are dedicated buttons for white balance, ISO, exposure, focus, and metering adjustments right on the body.
Both cameras offer superb viewfinders as well, with 100% coverage and information built into the finder. The option of live view shooting is also there when necessary, though both cameras have a fixed LCD.
Neither camera is a featherweight, but they're both more compact than either the Canon 1D X or the Nikon D4. While the Nikon D600 and Canon 6D offer similar control in even lighter bodies, the D800 and 5D Mark III strike a fine balance between weight, balance, and control while retaining the premium, durable feel you expect from a professional camera.
Features
The Canon 5D Mark III was billed as a follow-up to the videographer's favorite, the Canon 5D Mark II. The Mark III was built from the ground up to appeal to videographers, including a new compression system that lets you choose between editing flexibility (ALL-I) or size (IPB). The D800 was always built with its resolution in mind for still photography, and its control is designed to aid photographers; videographers were evidently something of an afterthought.
So a simple narrative here would be that the D800 is for still photography, while the 5D Mark III is for videographers. That's selling both cameras short, though. Like the Mark III, the D800 includes both a headphone and mic jack, improved video compression, and full manual control while shooting. It also offered the sharpest DSLR video we've seen in testing (but still behind a hacked GH2, we'd wager) and acquitted itself well in our other video tests.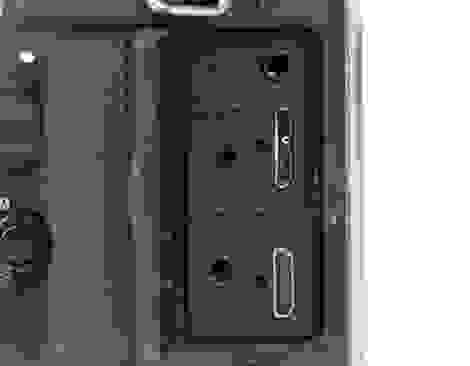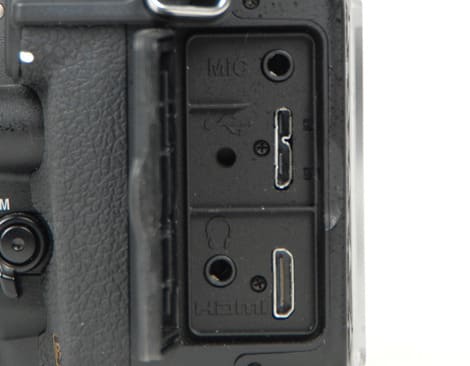 The Mark III, for its part, shoots faster than the D800 (6fps vs 4fps), offers the same level of control on the body, and has dual card slots (one SD and one Compact Flash, just like the D800). The Mark III also features a 61-point autofocus system, which is a vast improvement over the 5D Mark II's most glaring flaw. We found it was more flexible and accurate than the 39-point system on the D800, which is also dogged by the infamous left-side autofocus point issue.
The D800's resolution also resulted in some issues, keeping speed to a pedestrian 4.14 frames per second in our testing, filling memory cards in no-time flat, and producing video with rough moire and rolling shutter artifacts. The Mark III shares the moire and rolling shutter problems, but they're not as bad, having been improved over the Mark II. If video is a concern at all, then the Mark III is your choice, otherwise either camera is a fine choice for still photography.
Conclusion
Picking between the D800 and Canon 5D Mark III isn't easy. The Mark III's color reproduction is excellent, and its improvements in video quality over the Mark II address both functionality and performance. The D800 is a great deal of fun to shoot with, though, and its 36.3-megapixel images provide the kind of editing flexibility you just don't get from the Mark III.
In our lab, the Mark III had a slight edge on the D800 in a couple specific tests, but in general terms the two are pretty much equivalent. The D800 was noticeably sharper, while the Mark III produced more accurate colors, with a superior white balance system.
While the lab tests don't yield a true winner, we were able to spend some time with both cameras shooting in challenging conditions. We took the D800 with us to Cologne, Germany to capture Photokina 2012, where its superior resolution impressed us on both the trade show floor and dimly-lit city streets. Here in Boston, we spent several weeks with the Canon 5D Mark III, capturing a timelapse and shots of the city at night.
Under those conditions, the D800 pulled ahead for us. The ability to crop, rotate, and sharpen our images up in post made our life significantly easier. The Mark III's shots weren't bad at all, but they just didn't provide the latitude and freedom that we felt shooting with the D800.
We still think the Mark III is slightly better for serious videographers, but the Nikon D800 is our favorite of the two otherwise. White balance can be an issue in some circumstances, but our advice is shoot in RAW and enjoy getting the most out of that big, beautiful sensor.
To read about the performance of these two cameras in greater detail, please check out the full reviews. The full review of the Nikon D800 is available here. You can read the Canon 5D Mark III's full review right here.
Up next
Get Reviewed email alerts.
Sign up for our newsletter to get real advice from real experts.