Cameras
Head to Head: Nikon P7700 vs. Canon G15
We pit the top our two rated advanced compact cameras against one another: the Canon G15 or the Nikon P7700.

Credit:
The tail end of 2012 has seen a lot of advanced compact cameras arrive on store shelves. Heavy hitters from Canon, Nikon, Samsung, Olympus, and Panasonic have all hit the market, joining the Sony RX100 and Canon G1 X from earlier in the year. Of all of these, the two that shone most brightly in our testing were the Nikon P7700 and Canon G15. Priced the same, equipped with similar sensors, yet offering decidedly different user experiences, they represent two distinct paths for users upgrading into this class.

_This is intended to be a quick 'n' dirty breakdown of the major differences between the Nikon Coolpix P7700 and the Canon PowerShot G15, according to our test results. For a full review of the Nikon P7700, follow this link. If you want to get our full opinion on the Canon G15, look here
Image Quality
Both of these cameras use 12-megapixel, 1/1.7-inch, backside-illuminated CMOS sensors. Both feature extremely bright lenses (for compact cameras), with the G15 sporting a f/1.8-2.8, 5x zoom and the P7700 opting for a f/2-4, 7.1x optic. You'd think they'd offer similar image quality, but in our tests that wasn't quite the case.
Canon has long dominated the consumer point-and-shoot market thanks to a combination of great pricing, well-made cameras, and attractive out-of-camera JPEGs—shots pop straight out of the camera, no post-processing necessary. Nikon, on the other hand, has lagged far behind in this regard (even as their DSLRs compete on even footing with Canon's). The JPEGs can come across as flat and bland, and need to be touched up in Photoshop to really shine.
This dichotomy is in full effect with the G15 and P7700. The G15's JPEG output is far more contrasty, saturated, and sharpened by default than the P7700's. For instance, the G15 sharpens its shots by an extra 30% of "normal," while the P7700 barely adds 5% at most. The P7700's color accuracy and saturation levels are also far more faithful than the G15's—a great achievement, but it leads to dull shots occasionally. On the flip side of the P7700's excellent color accuracy, automatic white balance performance is dismal under artificial light. The G15 does far better across the board with regard to white balance.


The G15 has a distinct edge in high-ISO shooting, too. Its sensor simply produces cleaner images at higher sensitivities, and it uses noise reduction more effectively, retaining more detail than the P7700 even as it smooths away more distracting grain. It also offers an additional stop of ISO range, going up to 12800 (though we don't recommend using it as anything other than a last resort). The G15 eked out a narrow victory in our dynamic range test, too. But with all that said, the P7700 is still an excellent low-light camera compared to most advanced compacts.
Features & Usability
The P7700 is a bigger, bulkier camera than the G15—the biggest advanced compact out there, actually, unless you count the Canon G1 X—and that allows extra room for extra features.
It has a clear edge in terms of physical controls. A handy five-setting Quick Menu dial also provides direct access to the customizable My Menu. Other highlights include two customizable Function buttons, a dedicated AE/AF-L button, a dedicated to focus area selection button, and three (count 'em!) command dials.
The P7700 also has a fully articulating LCD—a much-loved feature of Canon's G-series that was ditched on the G15. On the other hand, the G15 sports an optical viewfinder. Sure, it's tiny, has awful magnification, provides terrible framing accuracy, and doesn't show you what the camera is focusing on, but some people love having the option anyway. (And to be fair, using it instead of the LCD will extend your battery life significantly.)

In general, the P7700 provides more options than you probably want or need, and often more than the camera can properly make use of. (In just one example, it offers nine continuous shooting modes, despite an anemic buffer that can't handle more than six shots in a burst.) Advanced users will love the customizability, but novices might be a bit bewildered. In contrast, the G15 is relatively stripped down. It's far more newbie-friendly—easier to just pick up and shoot with, though enthusiasts may feel a bit straightjacketed by this approach.
The last feature to consider is the lens: In our opinion, the reach and versatility of the P7700's 7.1x zoom (28-200mm effective) more than makes up for what it loses in brightness. The G15's lens is also excellent, but we can't say we'd prefer it for everyday shooting.
Handling & Portability
The P7700 is the biggest advanced compact out there, but it's really isn't much bigger than the G15,383—about half an inch wider, half an inch deeper, and actually a few millimeters shorter. From those modest size increases, it gains much more comfortable handling, as well as that articulating LCD. The front grip on the P7700 is easily the best we've ever encountered on a compact camera, from the texture to the size and shape. The rear thumb grip is also best in class.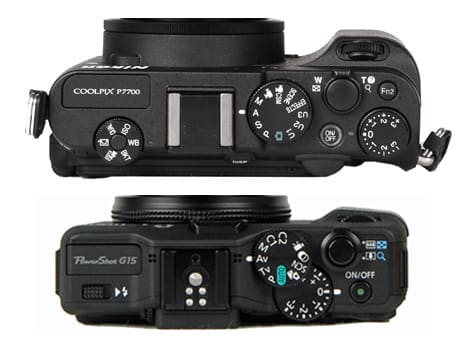 Button placement and construction is basically a toss-up, though the G15's front command dial was far less pleasing—it sounded and felt cheaper than the P7700's, and we had to bend our fingers at an unnatural angle to use it. In general, the P7700's buttons and dials are also more elevated above the camera's body, making them easier to get at.
Neither camera is pocketable in the jeans-pocket sense. Both can be carried in a jacket pocket, or a purse. (The only cameras in this segment that approach true pocketability are the Sony RX100, Panasonic LX7, and Canon S110.) In our opinion, the difference in weight is negligible as well—a difference of just 40 grams. To us, the P7700's edge in features and handling easily justify the larger size.
Conclusion
Both the Nikon P7700 and Canon G15 are cameras capable of producing excellent images. If you usually shoot JPEG and want your shots to come out of the camera ready for Flickr or Facebook, the G15 might be the better buy. If you want more control over image quality and don't mind spending time doing some post-processing, the P7700 might be a better choice. If you place a lot of importance on handling and ergonomics, there's really no debate.
In our scoring system—and in our subjective opinion, too—the P7700 is the better camera, but just slightly. As we stated in our full review, it's the most complete package in the segment, offering a great combination of image quality, hardware and software features, and world-class handling. It's not perfect by any means, with significant flaws in a couple performance categories, but it's far more flexible and full-featured than the G15, making it a better model to grow with.
Up next
Get Reviewed email alerts.
Sign up for our newsletter to get real advice from real experts.