High-end compacts are back, baby. After a few years under the radar, pocket-sized cameras with full manual control, RAW image capture, and larger-than-average sensors are once again in the mainstream of camera culture. No longer relegated to the hyper-critical corners of the enthusiast segment, these cameras have been embraced by a much wider audience.
To be fair, a few manufacturers stood by their "prosumer" compacts in the lean years. Canon's S series has been reliably great for several generations, and the PowerShot S100 is their best effort yet. But Sony made a big move when they re-entered the arena a few months ago: The Cyber-shot RX100 is widely hailed as the best pocket camera ever, and at the time of writing, is the second most popular point-and-shoot on Amazon.com, quite a feat for a $650 camera.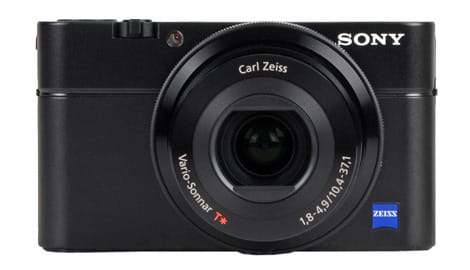 This head-to-head is meant to be a top-level look at how the Canon S100 and RX100 compare. For more detailed and in-depth looks at both cameras, check out our full hands-on reviews.
Click here for our full review of the Canon S100.

Click here for out full review of the Sony RX100.
Image Quality
With both the Canon S100 and Sony RX100, image quality is the paramount concern. Both cameras feature large aperture lenses (f/1.8 in the RX100, f/2.0 for the Canon S100), larger than normal sensors (1/1.7'' for the Canon, roughly 1'' for the Sony), and a host of manual controls.
In our image quality tests, both cameras did quite well. They still lag behind most interchangeable lens cameras for dynamic range and color accuracy, but both wowed us with sharpness and rich color gradation. The RX100 is among the sharpest compact cameras we've tested yet. Furthermore, it's f/1.8 lens offers the smooth bokeh and narrow depth of field that combine to produce DSLR-quality images that most compacts simply cannot. It's been a favorite around the DCI offices, with some of the staff eschewing bulkier DSLRs in favor of it.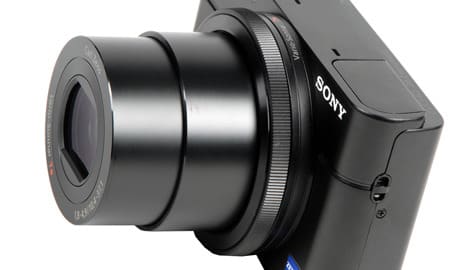 The Canon S100's best feature was its ability to handle noise at higher ISO speeds despite its smaller sensor. The S100 kept noise percentages low in our testing while managing to still preserve fine detail. The Sony RX100 and Canon S100 still life examples (which can be seen side-by-side in the Sony RX100 review right here) both offer decent image quality right up through ISO 6400. There's still some degradation of detail, but the noise reduction on both cameras kept noise levels low and didn't decimate image quality, with perhaps a slight edge to the S100.
User Experience & Features
The RX100 and S100 share a common design philosophy: Cram all the control of a serious camera into a body that can fit in a pants pocket. To this end, their control setup is almost identical: a programmable lens ring, rear control dial, function button, and a flexible menu system.
In terms of physical control, Canon has the edge because the lens ring offers physical feedback—a bit of a click for every stop. Sony's lens ring is smooth and has a nice weight to it, but it doesn't offer enough physical or in-camera response. The menu system is a toss-up—layout and navigation are great in both cases, so it's up to personal taste.
As for the bells and whistles, the RX100 packs more of them, and they're more useful. The features that stick out to us the most are RX100's multi-shot HDR and noise-reduction modes. They're better-implemented and more useful than the Canon S100's single HDR mode. The RX100 leverages its processing power to make images that are better than its optics can produce on their own, effectively giving it a two-fold advantage over the S100.
And when it comes to speed, Sony wins again. JPEG bursts are similar—the S100 clocked in at 8.5fps in out test, and the RX100 at 10fps. But the S100 stops shooting after the eighth frame, while the Sony continues to shoot, albeit at a reduced rate. RAW bursts really highlight the differences, though: The S100 ekes out just 0.95 fps, while the RX100 cranks at a respectable 4.2fps.
The Winner Is...
Since its release, the Canon S100 has been the go-to pocket camera for serious photographers. Bulkier models like the Canon G12 or G1 X, or the Nikon P7100, or even the Fujifilm X10 don't serve quite the same purpose and to this point the S100 has been king of the hill. The Sony RX100 seeks to change all that, taking the same formula—compact body, loads of control, large image sensor—to a new extreme.
The trade-off, of course, is price. The Sony RX100 at an MSRP of $650 is considerably more expensive than the Canon S100 (available for around $400), but they're designed for the same audience: People who want a ton of power in a pocket camera.
Altogether we found that the two cameras came up about even, RX100 perhaps narrowly edging ahead in overall performance. The subjective quality of the RX100's images (namely bokeh and shallow depth of field) is spectacular for a compact camera, looking right at home with entry-level DSLRs. The Canon S100 doesn't offer that same depth of field, but its images are also very good, making the most out of its smaller image sensor.
Still, $250 is a lot to pay for some extra features and improved bokeh in your compact camera. Not to mention, for $650 you can get a respectable entry-level DSLR. At its lower price we feel the Canon S100 is the better value while you can get it. If the RX100's price drops that may change, however, as it truly redefines what kinds of images you can get from a compact body. For the time being this is still the S100's territory, though the feature-laden RX100 is a serious shot across Canon's bow.