Cameras
Hot Spots for Amazing Holiday Photography
Wherever you are in the U.S., there's bound to be a great place nearby to capture the season's best photos.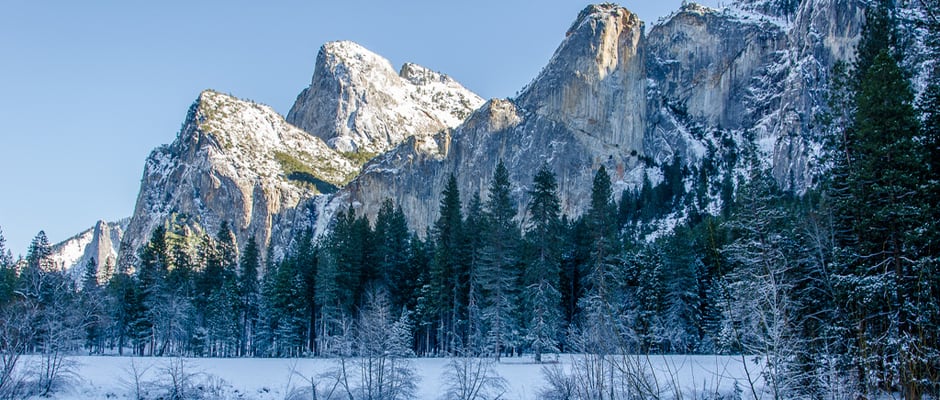 Credit:
Between pristine, snow-covered landscapes and bright, colorful holiday decorations, winter in the United States provides great opportunities for beautiful photography. National parks, Christmas-themed towns, and even busy city squares are prime photo hot spots around this time of year, and there are countless options spread across the country.
Some of them might even be near you! Whether you're a professional photographer, enthusiast afflicted with cabin fever, or simply have nothing better to do, consider paying these winter wonderlands a visit. We've compiled a convenient list of the best places in the U.S. to immortalize that Christmas feeling.
Bright City Lights
For many, the holiday season is all about one thing: extravagant decorations.
Plenty of places in the States—especially major cities—put up elaborate holiday displays that pull down more wattage in a month than some countries use in a year. From twinkling, brightly colored lights to giant candy canes and detailed nativity scenes, it all makes for some memorable photos.
New York, New York
Regardless of what you think about New York City, you have to admit it puts on a pretty good Christmas.
The centerpiece is undoubtedly Rockefeller Center's huge tree lighting ceremony. This year, the tree is a 76-foot Norway Spruce decked out with 45,000 multi-colored LEDs and capped by a 9.5-foot-wide star ornament.
But even if you somehow miss the giant tree framed by statues of angels, you won't be at a loss for photo subjects: there are decorations and ornaments nearly everywhere you look in the city. Nearby attractions also have their own holiday trees, including the Museum of Natural History, Madison Square Park, and the South Street Seaport. It should be no surprise that the City that Never Sleeps is jam-packed with holiday lights at every location, making sure you can't sleep, either.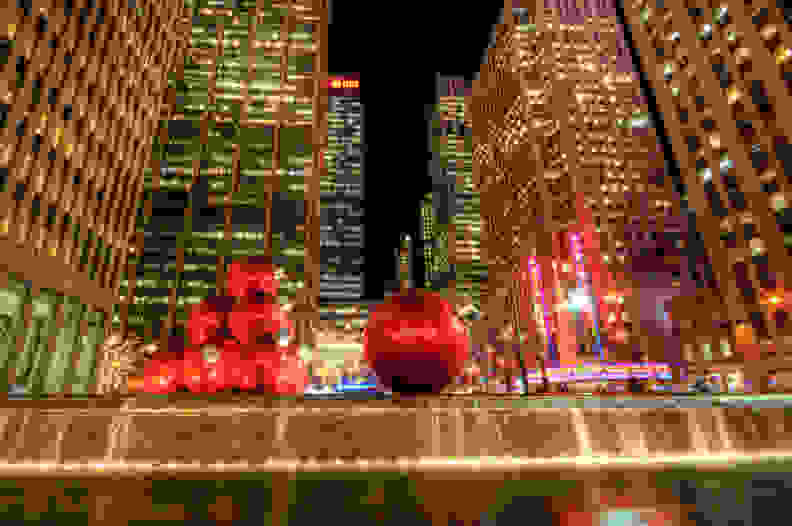 Solvang, California
For something a little different, the city of Solvang, California, celebrates its Scandinavian roots by observing Julefest during the holiday season. While its location 125 miles north of Los Angeles doesn't lend itself to too much snow, the windmills and half-timbered houses make for intriguing subjects.
The celebrations are nothing to sneeze at, either. Those windmills and houses get covered in lights, as does the 50-foot evergreen tree planted in Solvang Park. Between the Julefest parade, Danish folk dancers, and the town's Annual Christmas Tree Burn, there are plenty of moments you'll want to capture on camera.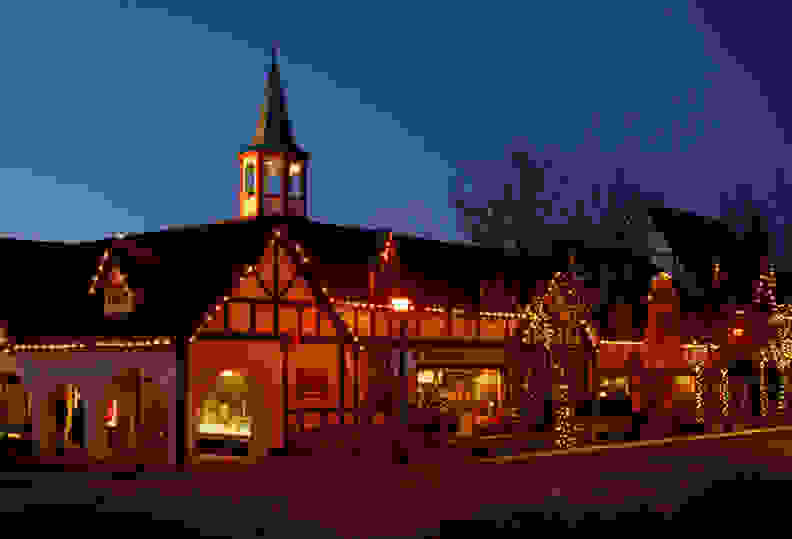 Trail of Lights, Austin, Texas
The Trail of Lights is a mile-long display of lights running through Zilker Park, in Austin, Texas. Part of the display includes the 155-foot-tall Zilker Holiday Tree, which is not an actual tree—rather, it's an elaborate light display made of over 3,000 individual lights strung from the park's moonlight tower.
Merchants and food vendors can be found around and under the tree, while live bands and other shows take place on a stage within the park, providing plenty of photo opportunities. Just make sure you're properly equipped for outdoor night shots. Even the heart of Texas gets pretty chilly in the middle of the winter.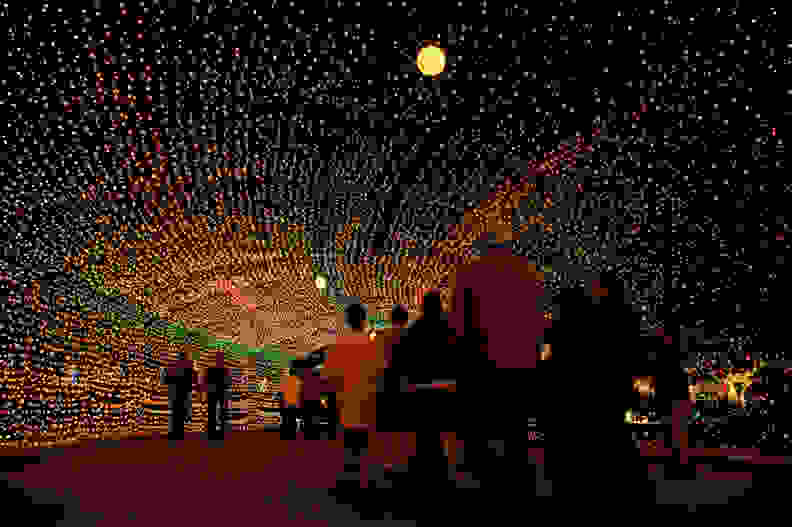 Canyon Road Walk, Santa Fe, New Mexico
Christmas in The City Different offers something special: Every year, holiday revelers gather along Santa Fe's artsy Canyon Road to sing carols and take in the sights of thousands upon thousands of "farolitos"—New Mexico's equivalent of Chinese paper lanterns. The city's high-end art galleries open their doors to the public after hours, offering hot drinks, tasty treats, and refuge from the high-desert cold.
The farolitos' warm light provides excellent opportunities for unusual crowd and people photos, and traditionally a few are even sent aloft on beautiful tetrahedral hot air balloons. Sadly, though, they've been grounded this year due to fire risks.
Louisville MEGA Cavern, Louisville, Kentucky
The Louisville MEGA Cavern provides a truly unique holiday light display experience. The cavern itself is 17 miles of man-made underground corridors, featuring fully subterranean ropes training and zip line courses. During the holidays, it hosts the world's only entirely underground drive-through Christmas light show.
With over 2 million points of light along the 1.2-mile route, you can capture shots that you literally cannot get anywhere else. If you have a car and you're not claustrophobic, this is definitely a locale you'll want to visit, even outside of the holiday season.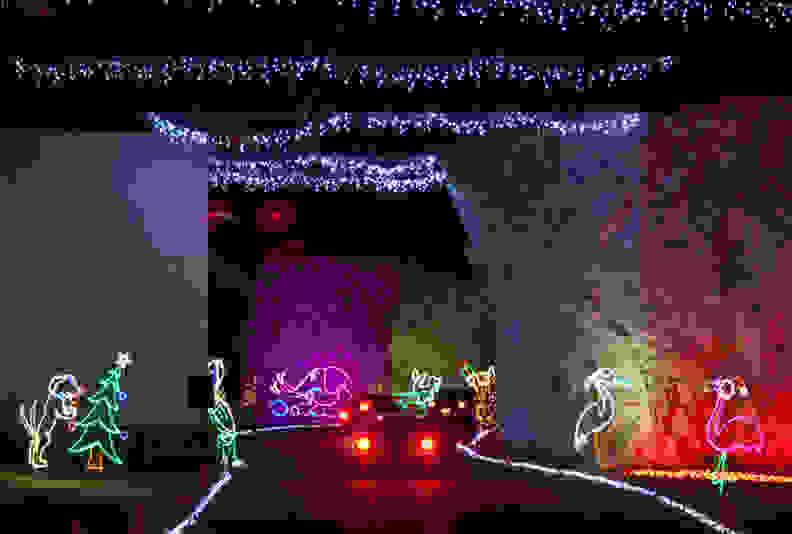 Santa Claus, Indiana
Called "America's Christmas Hometown," this little town in southwest Indiana is filled to the brim with holiday cheer all year round. Shops, businesses, and streets all have Christmas-themed names, such as Prancer Drive and Candy Cane Lane.
Though the town itself doesn't seem photogenic enough to end up on anyone's holiday postcards, it's a treasure trove of quirky subjects that should entice any photographer. In just one amusing touch, the town post office commonly gets redirected letters addressed to Santa, and the town residents actually respond to them. The novelty factor alone makes this town a photo-worthy location.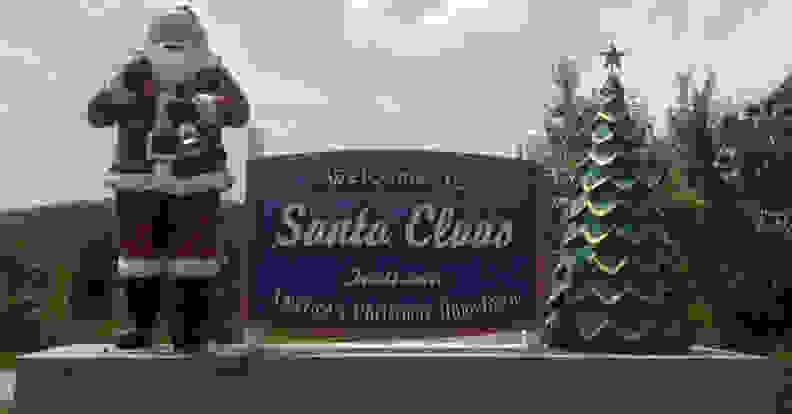 See Also:
❅ Frankenmuth, Michigan
❅ McAdenville, North Carolina (a.k.a. "Christmas Town USA")
❅ Paradise, Pennsylvania
❅ North Pole, Alaska
Celebration, Florida
Most magical place on earth, meet the most wonderful time of the year!
Celebration, Florida, is Disney's master-planned residential community—the Walt Disney World of small towns, you might say. And as you'd expect, living there is a bit like living in a theme park. Case in point: During the holiday season, it "snows" every night in the Celebration town center, drawing gawkers and residents alike to frolic in the unseasonal display.
But the town doesn't stop at a weather simulator—not even close. There's also caroling, ice skating on a purpose-built rink, horse-drawn carriage rides, and a tree-lighting ceremony. For all those snowbirds, it must really be like a home away from home. And who wouldn't love to ice-skate in shorts?
Natural Landscapes
Not so big on city life? Want a little alone time in the great outdoors? Feel like capturing an amazing wintry panorama? Well, these are some of the best locales for capturing nature's cold, quiet majesty.
Grand Tetons National Park, Wyoming
Formed by the passage of a massive ice age glacier, these rugged mountains have come to symbolize the tough, no-nonsense spirit of the American West. They also contribute to one of the most beautiful landscapes in the whole country.
If you find yourself in nearby Jackson, Wyoming, for the winter ski season, consider carefully driving on up to the park and setting up your tripod—particularly in the early morning or late evening hours. Your patience and tolerance of the bitter cold will be rewarded with some stunning landscape photos.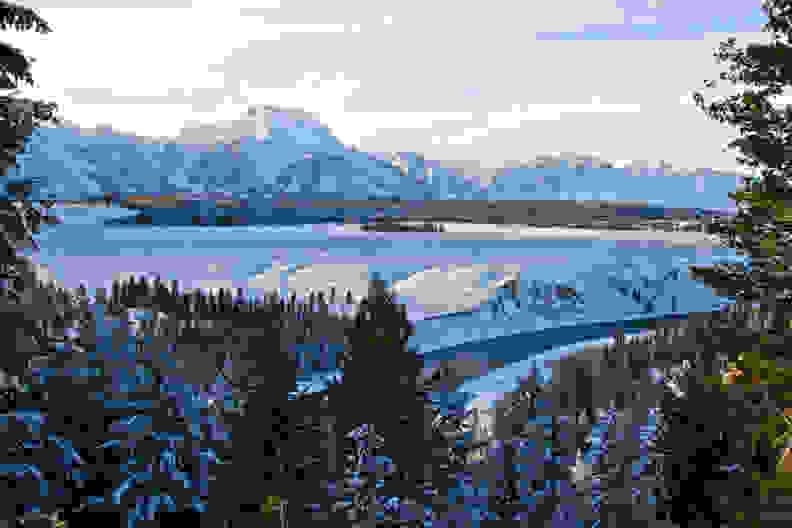 Yosemite National Park, California
Another popular park, Yosemite is mostly known for its waterfalls and deep valleys. The Yosemite Valley has relatively mild, warm winters—when it does snow, it starts melting fast. If you're out there after a fresh snowfall, you end up with photos that are a healthy mix of natural green forest and clear, sunny sky with a light dusting of white on top.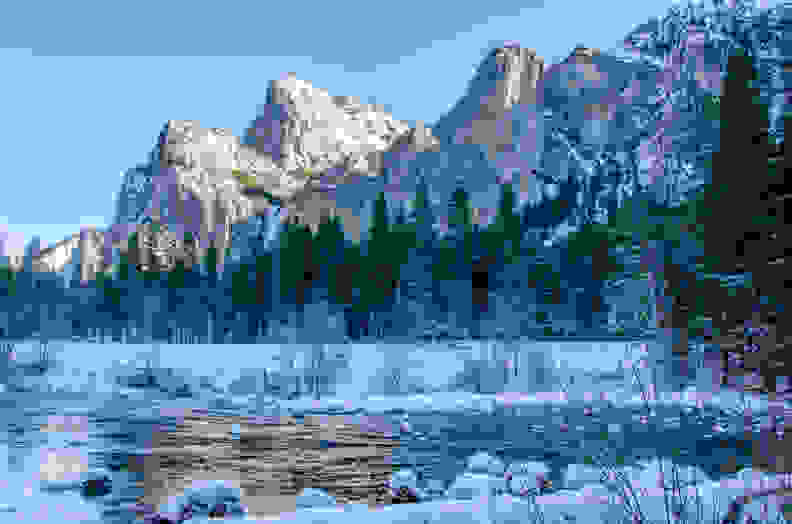 Arches National Park, Utah
Yet another national park (we promise this is the last one), Arches stands out with its natural sandstone... arches. The red of the rock formations contrasts with the brilliant white of the snow during the winter, making for some spectacularly captivating photos.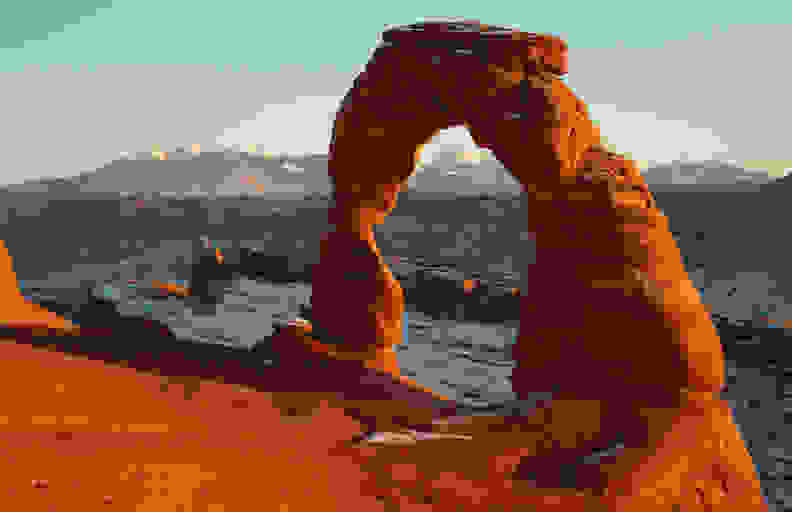 Stowe, Vermont
Just about any New England ski town could make this list, but Stowe, Vermont, has a neat feature—some of the local businesses offer horse-drawn sleigh rides for the ultimate White Christmas experience. You get your choice of open, natural shots of the mountains or the colorful holiday lights of the resorts and lodges scattered about town.
---
These are only a few of the best spots for holiday shooting. With its varied landscapes and unique, charming regional celebrations, America offers an incomparable bounty of wintertime photo possibilities. If you have more to suggest, we encourage you to sound off in the comments.
[Hero image: Flickr user "johnkay"]