Cameras
How One Girl's Goofy Self-Portraits Became a Viral Hit
Three years after they were uploaded to Flickr, these clever selfies became an overnight internet sensation.
Credit:
One of the keys to improving as a photographer is to shoot every day and always try new things. Some photographers take this concept to its logical extreme with "365 projects," taking a photo a day for an entire year, following a single, overarching theme.
Kaija Straumanis started her own project back in 2011, choosing to create a series of 365 self-portraits. She eventually came up with the idea of snapping photos of herself getting bonked in the head with various objects. The photos were staged, of course—the product of careful in-camera framing and skillful Photoshop manipulation—but they look quite convincing.
Straumanis put the photos up on her Flickr page and more or less forgot about them. Then a month ago they were posted on Tumblr, and the rest is history.
In an interview with Flickr's blog, Kaija discussed the surprise of seeing photos that had only been seen by a few friends and family suddenly spreading all over the internet.
"Over the course of a weekend, I'm getting 800 thousand, a million, and then three million hits on my Flickr account," she said. "It was insane."
While the portraits are technically impressive, they're also whimsical, defying expectations and grabbing your attention. After all, it's not everyday you see someone get hit in the head with a shoe. For her part, Kaija doesn't seem to be letting the fame get to her head. Instead, she's focusing on the joy she's spread with her photos:
"It's nice to know that you've done something that, initially, you just wanted to do it for yourself and for a group of friends, because you thought it would be funny. And now people are looking at it in the middle of their work day, cracking up, and it's added some sort of minute of laughter to their lives."
---
---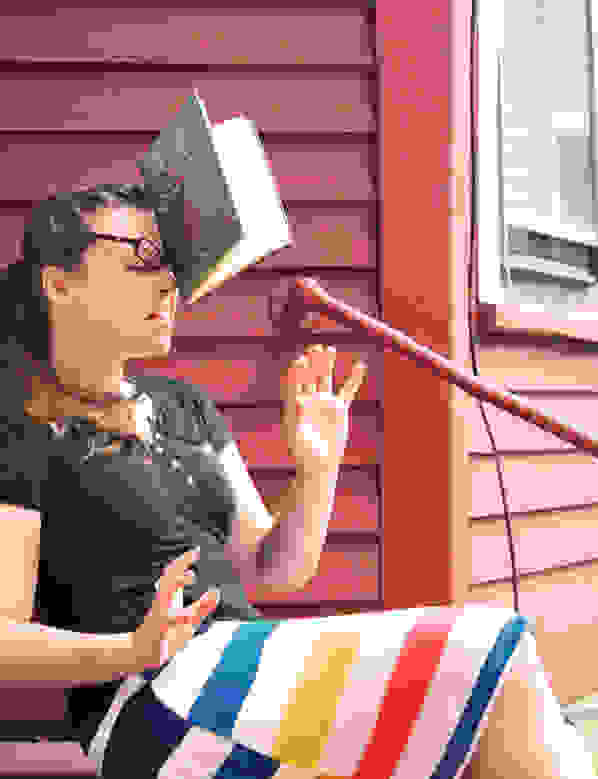 To make the self-portraits, Kaija thought up a scene ahead of time, sometimes experimenting in a mirror to get her pose just right. Then she pressed the object to her face and snapped a self-portrait. She followed that up with several more frames that she used to create a composite shot in Photoshop—shots of the object breaking apart, of the background, and so on. With these, she was able to remove her arm and make it look as though a shoe, book, or dodgeball was hitting her square in the face.
Straumanis says she talked to other Flickr photographers and walked around outside to find inspiration. She added, "As far as specific ideas go, I think I just liked being a little goofy, and wanted to make people laugh."
Via: Flickr Blog
---
Related Video