Cameras
LG G3 Smartphone Camera Review
We go hands-on with LG's latest flagship smartphone to test its 4K video and laser-assisted autofocus.

Credit:
LG revealed its latest smartphone just a couple of weeks ago, touting a high-resolution 5.5-inch screen, 4G LTE connectivity, and a massive 3,000mAh battery. But while the G3 is certainly aimed at smartphone power users, it also comes with some appealing features for photographers on the go, such as 4K video shooting, optical image stabilization, and a laser-assisted autofocus system.
We've had just about a week to play around with the G3 and put it through its paces both out in the real world and in our imaging test labs here in Cambridge, MA. Though we typically put high-end cameras to the test, we ran the G3 through some of our basic lab tests to see how it held up. And while the autofocus system seems to improve things, can the G3 outgun your typical point-and-shoot camera?
Design & Handling
A flagship phone like any other
On the outside, the LG G3 doesn't look all that dissimilar to previous flagship LG phones, such as the G2. It has a 5.5-inch screen that—thanks to ultra-thin bezels—runs very near to the edges of the device. The back is a smooth plastic with a texture that resembles brushed aluminum. The result is a phone that feels very pleasing to hold, with a large screen that is still very usable once you get used to it.
As with its predecessor, the LG G3 doesn't have any buttons on its edges, opting instead for a cluster of controls (volume and home buttons) on the back of the phone. On back is also where you'll find the camera itself, along with a flash as well as a infrared laser emitter that is used for autofocus (which we'll address in a moment). The back cover can also be removed, giving you access to a microSDHC slot and a removable 3,000maH battery—both of which are features that are rare in today's high-end smartphones.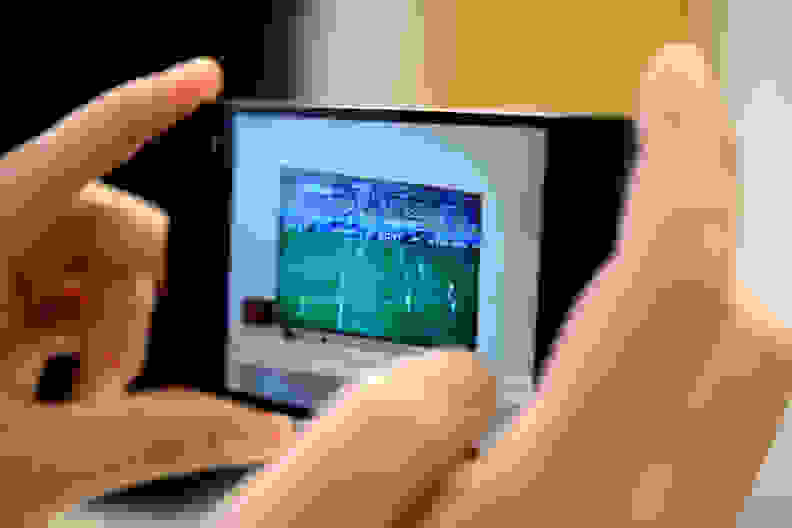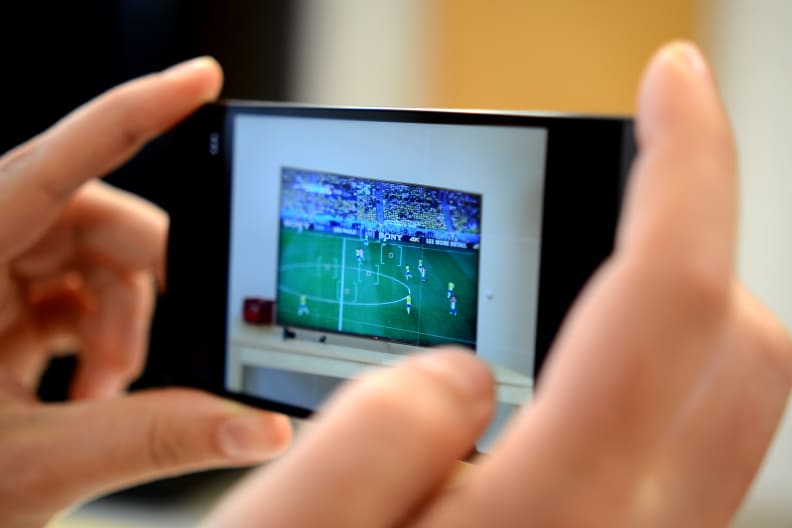 The 5.5-inch screen is described as "Quad HD" by LG, with a resolution of 2560x1440. That is good for a pixel density of 538ppi, resulting in a display that's bright and very sharp—perfect for judging focus, especially in low light. It makes for a large phone, however, and those with small hands will find it unwieldy at first if you're used to something smaller like an iPhone. The smooth back of the phone is also a bit of an issue, as it can be slick to the touch if you're quickly pulling the phone out for a snapshot or two. Our Korean version of the LG G3 did have one neat feature, though: A telescoping antenna that is used for terrestrial TV broadcasts in South Korea. Neat, but it likely won't make an appearance in US-based models.
×
New Gallery
For cameras the LG G3 has a 2.1-megapixel front-facing sensor for selfies and a rear-facing 13-megapixel sensor that has been reported to be a 1/3.06-inch unit. The rear camera uses the same lens that was found in the G2, with a focal length of 29mm (35mm equivalent) and a max aperture of f/2.4. The lens module also has optical image stabilization, which really helps in low light, though there's still a healthy dose of noise reduction being applied.
Laser-Guided Autofocus
Why lasers? Why not?
If there's one technology that will get even cynical tech journalist tongues wagging, it's lasers. In the case of the G3, a laser emitter is employed to help map out the distance of subjects that are being photographed. The technology is apparently borrowed from LG's robot vacuum division, which wanted to use the tech to help the little robo critters move around your apartment without bumping into things.
Why lasers? Because cameras are dumb.
Why lasers? Because cameras are dumb and can't easily distinguish where your subject is without more information. Most cameras rely exclusively on a system based around detecting the contrast in a scene. Think of it like this: You're taking a photo of a newspaper, but it's out of focus and starts as a big gray blob. Your typical camera will then blindly head off in one direction and see if it gets any better. As the paper eventually comes into focus, the contrast between the dark text and the light background also increases. When contrast is at its highest, the text is in focus.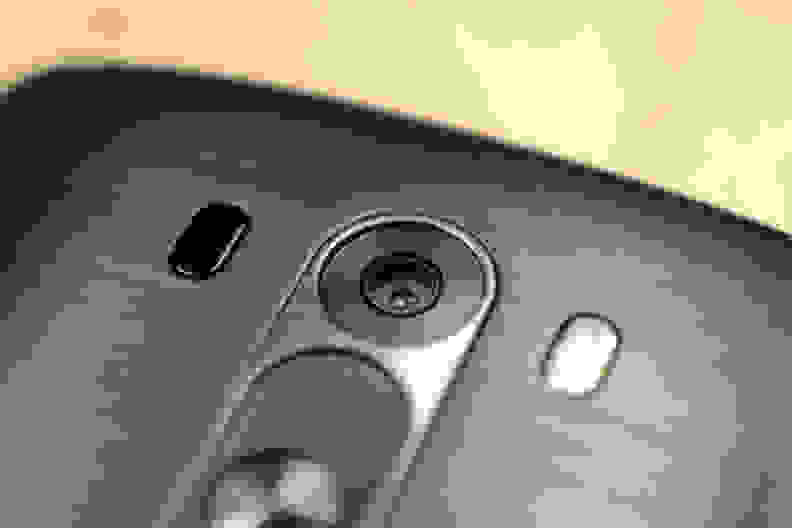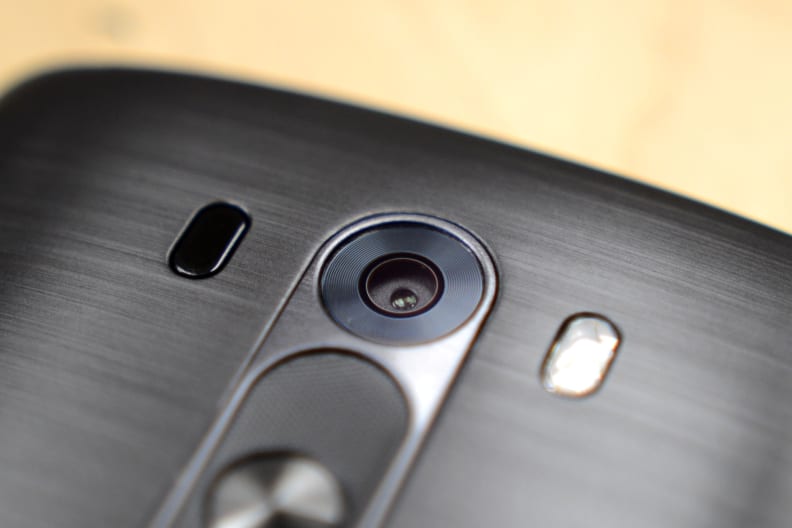 The G3 still uses this same contrast-detect method, but the laser autofocus system gives it a head start. The G3 sends a beam of light through a prism and out in front of the camera. By tracking how long it takes for the light to return, the G3 can determine subject distance. It's not perfect, but it gives the phone a rough idea of where it needs to go so it doesn't waste time heading in the wrong direction. It also works with limited light, though some light is necessary for the contrast system to fine-tune things.
To test this we shot our typical resolution chart at 250 lux from about 10 feet away using the G3 with LG's default camera app, the G3 with Google's camera app, and the LG-produced Nexus 5 with Google's app. We first focused on a subject a few inches from the phone and timed how long it took to lock onto the target chart once this object was removed.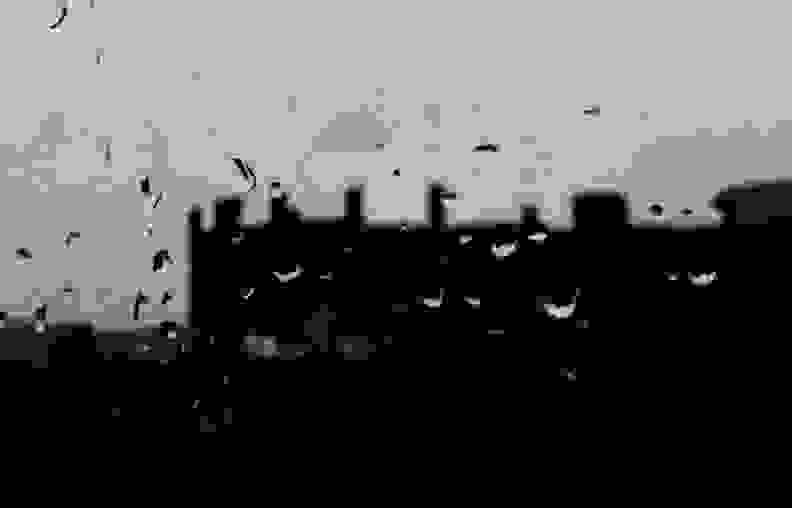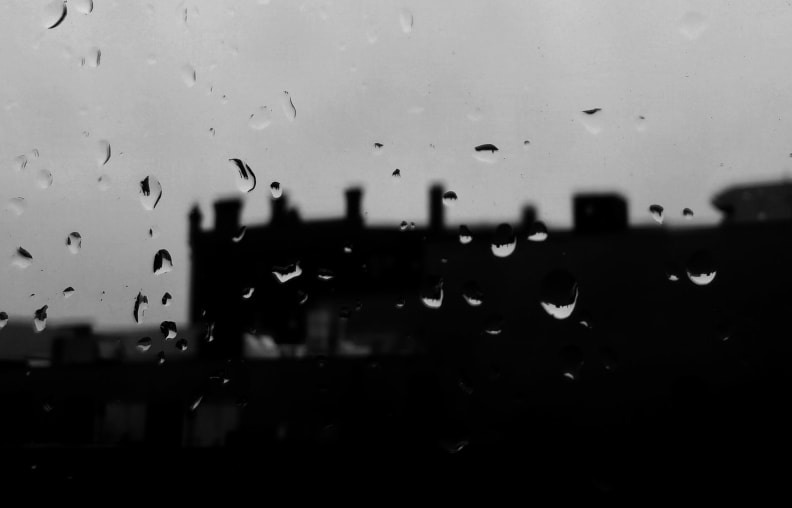 In all of our tests the results were the same: the LG G3 with Google's app and the Nexus 5 took around 1.5 seconds to focus on the chart. The G3 with LG's app and the laser focus assist routinely came in at around 1.1 seconds in the same tests. Both this informal test and our anecdotal experiences agree that the G3 is significantly faster to focus in certain lighting conditions, about on par with most point-and-shoot cameras.
Performance
Photos are excellent for a smartphone, but they're still on par with a point-and-shoot.
Moving beyond the performance of the laser-guided AF system, the G3 isn't different from your typical flagship smartphone camera. The imaging stack—13-megapixel sensor and f/2.4 lens—produced some nice photos in bright light, but in low light even a middle of the road point-and-shoot can do better. And though the 4K video was bright and sharp, it's got some problems.
In our white balance test the G3 had some hits and misses. We took test images under three lighting conditions—daylight, fluorescent, and incandescent lighting. Under incandescent lighting we typically see errors of over 2,000 kelvins. The G3 outperformed that, with an error of just 1,200 kelvins. In daylight and fluorescent the G3 performed much better—off by between 200 to 400 kelvins—but most cameras do much better here so the result is typical.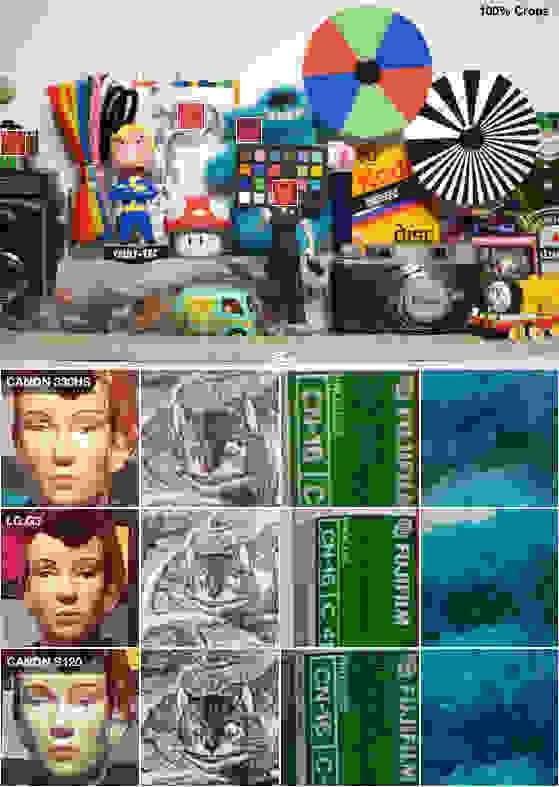 In our typical studio scene (shown above), you can see how the G3 stacks up against an average $200 point-and-shoot like 2013's Canon PowerShot 330 HS. Despite some changes in field of view due to the G3's wide-angle lens, the image quality is quite similar. The G3's white balance does very well, but sharp detail is lost in the 100% crops shown above. Compared to a higher-quality point-and-shoot like the $450 Canon S120, however, the G3's deficiencies really start to come through.
To push the G3's limits, we took the phone to a place where most smartphone photos go to die: a dimly lit restaurant. The first thing we noticed is how incredibly responsive the autofocus system was. The laser focus paid big dividends here, as the G3 locked onto subjects easily in very limited light. The second thing we noticed is how good the shots looked—on the G3's screen. Unfortunately shots that looked great on a small screen (such as the one above) have very little actual detail left in them (as you can see in the 100% crop below) thanks to the G3's aggressive noise reduction.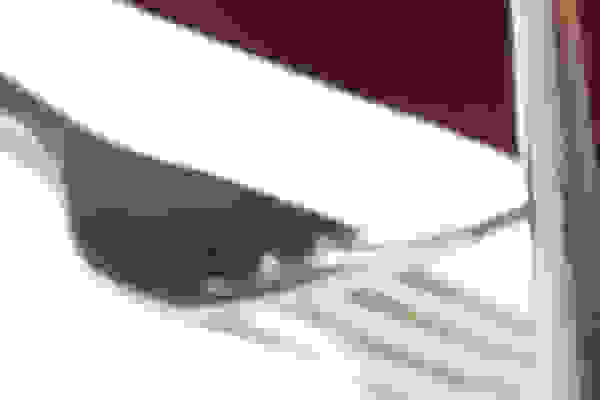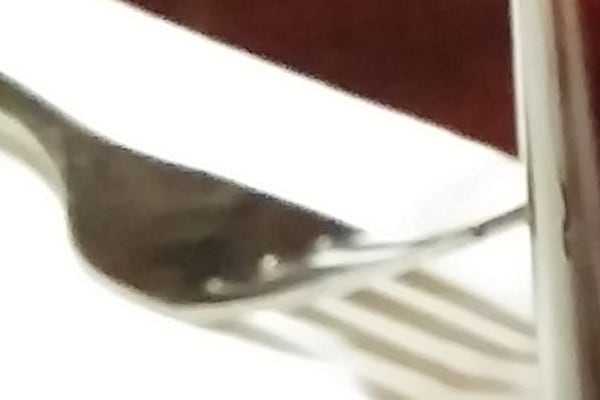 In our resolution tests the G3 performed well for a smartphone, but it wasn't great. In the center of the image we found the G3's shots were sharp enough, resolving around 1,750 line widths / picture height at MTF50. This puts the G3 right in line with what we would expect to see from a mid-range point-and-shoot camera, where anything over 1,500 lw/ph is acceptable. There wasn't much falloff from the center to the corners, either, with most corners resolving over 1,400 lw/ph.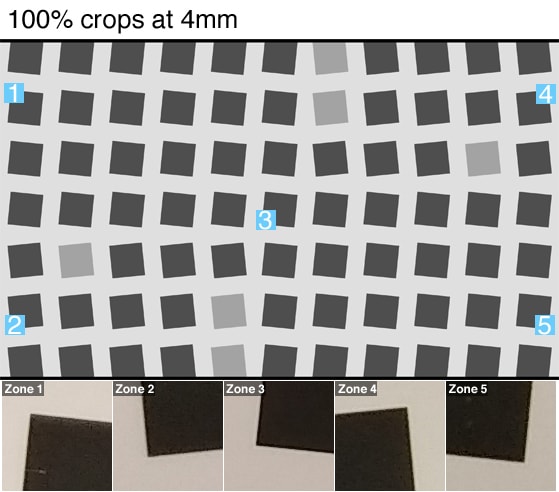 Though the G3's autofocus system has been the big draw, it actually is one of the few cameras on the market that shoots 4K video. The 4K footage is better than what we expected from a smartphone, but it has plenty of issues. The biggest problem is the horrid rolling shutter effect that's very difficult to correct, even with powerful post-processing software. If you have the camera perched on something steady the clips are great, but when walking the video is just too rocky to be useful.
Conclusion
Some unique features make for a minor upgrade over existing smartphone cameras.
Even among the Reviewed.com team, smartphones have quickly established themselves as the go-to camera for everyday snapshots. But just because everyone uses them doesn't mean they are actually good. Whether it's blurry photos, bad focus, poor low light image quality, or a lack of control, most of us have plenty of issues with the smartphone camera in our lives.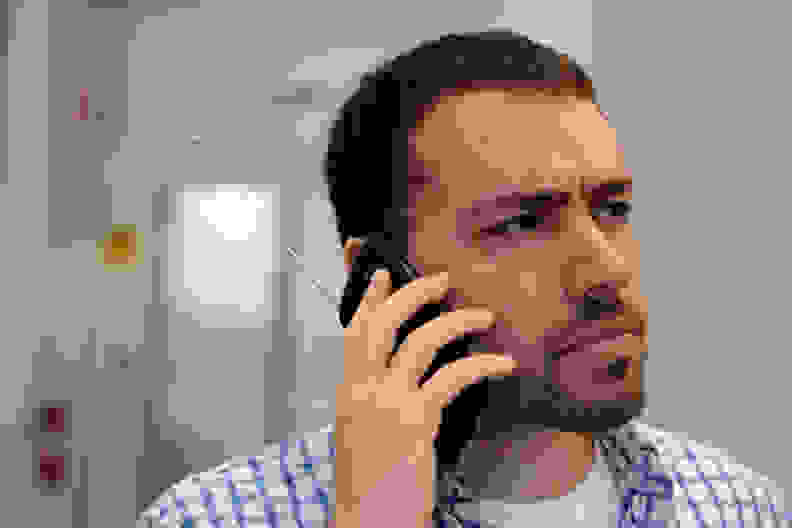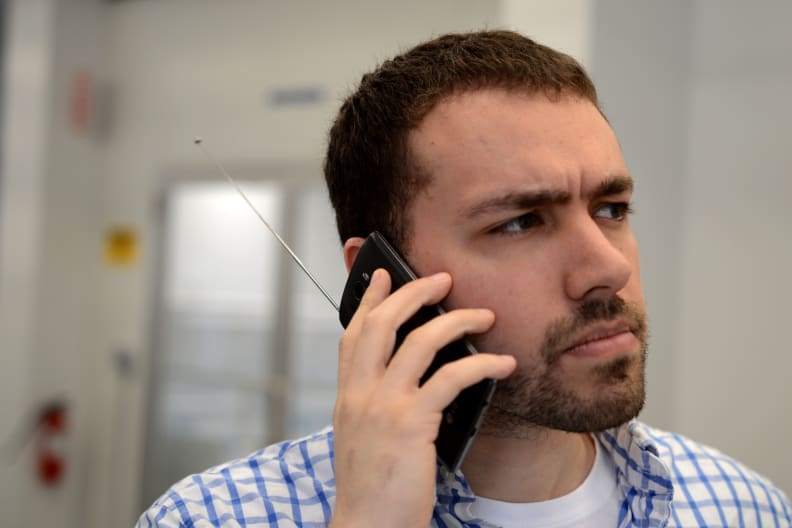 The LG G3 doesn't fix all of these problems, but it puts together a compelling package that will feel like a big improvement over anything that's more than a year or so old. Even against contemporary competition like the Samsung Galaxy Note 3, iPhone 5S, and the Nexus 5 (produced by LG), the LG G3 does very well with some unique features that truly set it apart. That said, the G3's images still don't hold up to dedicated cameras upon close inspection; they are better suited to being seen on the small screens of phones and tablets than blown up and hung on your wall. And while the new features are legitimately innovative, there are some caveats.
While the new features are legitimately innovative, there are some caveats.
We're excited by the addition of 4K, for example, but a nasty rolling shutter effect plagues video if you don't keep the phone still. And the laser autofocus system works as advertised, but you only realize the camera's true potential if you stick with LG's default app. This is a shame, because Google's own updated camera app brings some great new features. It's a frustrating collection of exceptions that keeps the G3 from earning a more heartfelt recommendation. When you can get something like the Canon S100 for $200 these days, it's clear that smartphones still have a long way to go.
But of course you're not buying the G3 just because it's got a great camera. It's a fantastic flagship phone with great battery life, a beautiful display, and a very powerful processor. Even if you're passionate about smartphone photography, the camera is merely a bonus. It's not perfect, but if you're a photographer who is already in the market for a new smartphone the G3 is absolutely worth checking out.