Cameras
Optional Dimension: Hands-On With Samsung's 2D/3D NX Lens
Samsung turned some heads with its new 2D/3D hybrid lens at this year's Consumer Electronics Show, but what does the new NX glass really bring to the table?
While CES 2013 hasn't been much for big announcements in the enthusiast camera market, there have been a few curious releases. In the NX camera line, Samsung's 2D/3D lens has attracted plenty of attention, with most simply wondering how it works.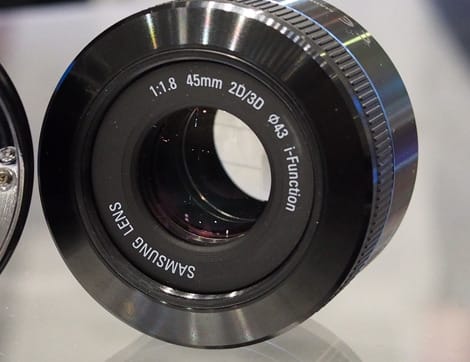 Externally, the 2D/3D lens looks and feels just like Samsung's standard 45mm f/1.8 NX prime lens. But inside, it hides a secret: a transparent LCD that can split the optical path to create a parallax effect, all using a single optical construction. Its optional 3D functionality definitely provides added value for photographers interested in 3D photography—at a predictably inflated price. So far it's only compatible with Samsung's newest mirrorless camera, the NX300, relying on that camera's improved processing speed to encode the 3D images.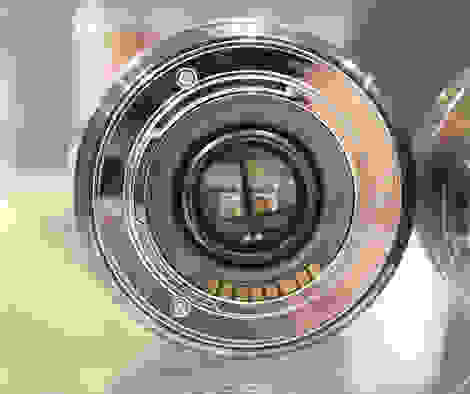 When the 3D mode isn't engaged, you get the same 2D optical quality as you'd get from the company's excellent 45mm f/1.8 prime. Like the original, this lens is lightweight and compact, a great match for the svelte NX300. The NX series' 1.5x crop APS-C sensor means that the 45mm lens behaves roughly as a 70mm lens would on a full-frame camera—a short portrait prime with creamy bokeh and great sharpness where it counts.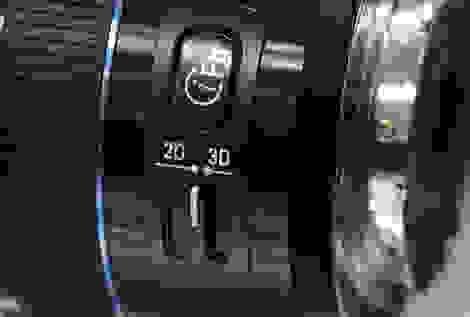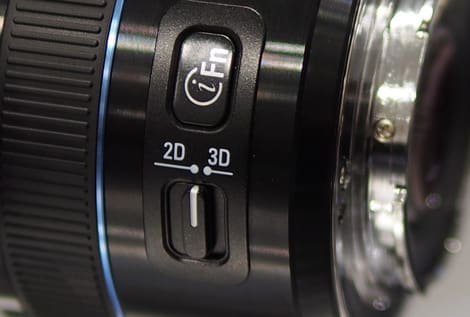 When in 3D mode, the optical path is split right down the middle, with the transparent LCD flicking between the left and right sections—similar to what happens when you rapidly close one eye and then the other. You still get some of the optical characteristics of an f/1.8 lens (including its shallow depth of field effects), but light transmission drops off to about T6, meaning that shutter speeds will be slower, or you'll have to use a higher ISO setting to compensate. The total light loss is supposed to be about two stops when shooting in 3D as opposed to 2D. That's significant, but it's manageable in the right settings.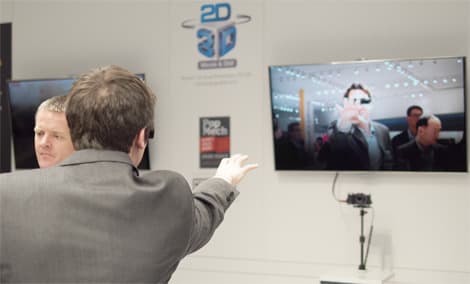 As for the image quality, we were only able to see still shots in 2D on the NX300's 3.3-inch LCD. However, we could preview the 3D effect live on a large Samsung 3D TV with active-shutter technology. The image quality seemed quite good, with attractive background blur and sharp focus. The 3D effect was certainly convincing, though we imagine it'll be used far more often for 3D video than stills. There's really not a place for 3D in conventional photography at the moment. Most shots are either printed or posted to social media/networking sites, and neither destination is capable of rendering three dimensions. In fact, the only way to view 3D photos as 3D photos is to play them back on an external 3D display. Many people are unwittingly buying into 3D with their new HDTVs, but we have our doubts as to how entrenched the technology will become in the near future. But he real issue is price. Pricing for the 45mm f/1.8 (non-3D) lens is rumored to be around $300, though we haven't gotten official confirmation. The 2D/3D variant will be available in March for $499. $300 is an extremely competitive price for a high-quality 45mm f/1.8 lens, but $500 is a different story. We can't help but think that only the most ardent 3D enthusiasts will find the extra $200 to be worth it. {:{PhotoGallery article.attachments}:}