Cameras
Panasonic Lumix Booth Tour at IFA Berlin 2013
Lumix cameras get the red carpet treatment at Panasonic's IFA booth.

Credit:
There's no question that the star of the show at Panasonic's IFA Berlin booth is the company's new 4K television, which can push 60 fps at full resolution thanks to early adoption of the new HDMI 2.0 standard. But Panasonic has also found plenty of room for its Lumix camera line in Berlin. In fact, we'd go so far as to say that its camera section is the most impressive of all the major camera manufacturers.
Set behind a massive wall of 4K TVs, the sprawling Lumix display includes a number of stations dedicated to individual products, along with a counter where visitors can sample the goods. An energetic host leads educational seminars from a central stage, surrounded by dozens of pedestals holding Lumix bodies with a variety of Panasonic lenses attached.
Along the left-hand wall of the Panasonic show floor are a couple of gallery exhibitions—dozens of shots by a pair of Magnum photographers who shoot with the company's Micro Four Thirds cameras.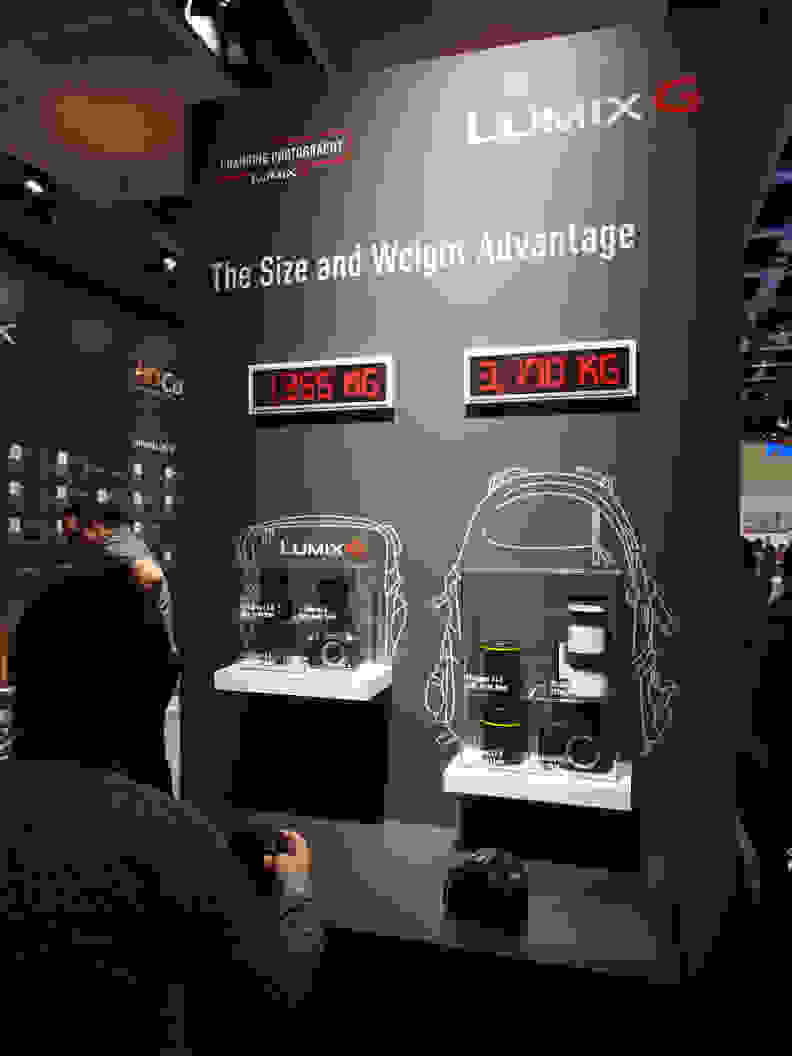 All around are posters loudly proclaiming Panasonic's size-centric message. One reminds festival-goers that size isn't everything, referring of course to the Lumix mirrorless cameras' slightly undersized sensors. Another proudly tallies up the weight difference between a three-lens Lumix G6 kit and a comparable kit with a "standard DSLR." As you might have guessed, the Panasonic kit is substantially lighter.
Across the aisle, there's a station where you can "Get to Know the New GX7." We recently did just that, and suggest anyone interested in a high-end mirrorless camera do the same. At the station there's a helpful Panasonic employee who'll walk you through the GX7's comprehensive feature list, along with an exploded version of the camera that serves as a great teaching tool.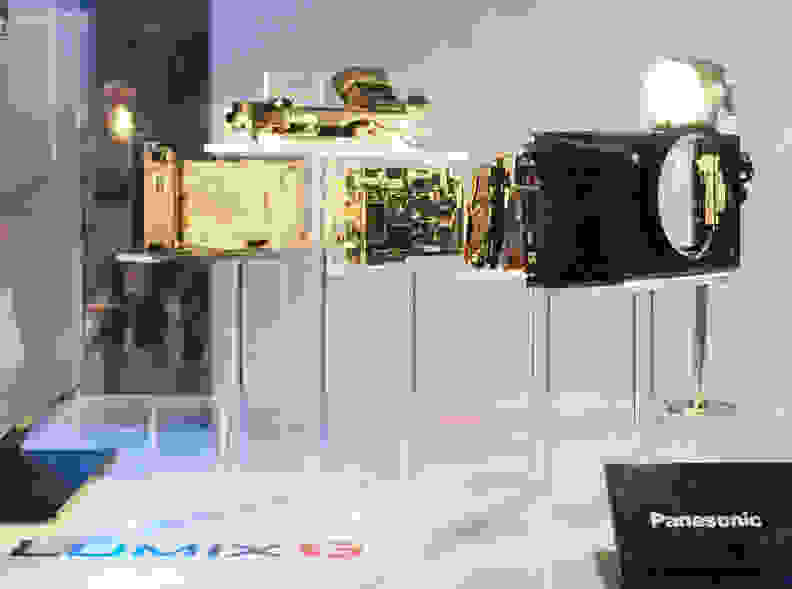 The only point-and-shoot Panasonic to get a starring role is the new FZ70 (aka FZ72) super zoom, which packs a whopping 60x optical zoom. All the other compacts are grouped in a wall display and also scattered across a touch-n-try area behind the GX7 counter. It's a virtual ghost town—kind of strange to see in an otherwise mobbed hall.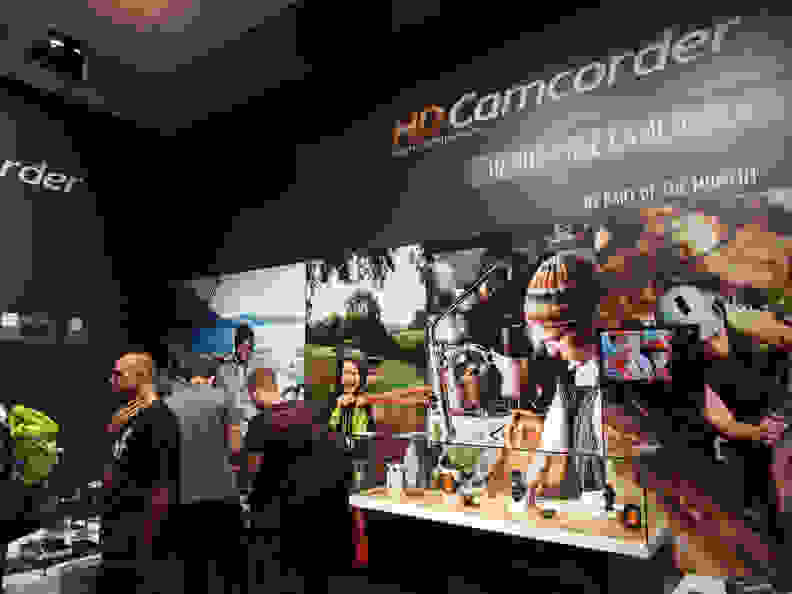 While the compacts are looking pretty neglected, it seems Panasonic hasn't given up on camcorders. The whole HD line is proudly presented behind the long glass countertop, with a bold "HD Camcorder" logo plastered overhead. Here you can gaze upon and even play with at least seven HD camcorders and several action cams.
In terms of sheer floor area, the number of cameras you can handle, and the beauty of its booth layout, Panasonic's display is easily our favorite at IFA this year. The company might not have served up any splashy product launches this time, but it clearly believes its products are worth seeing and experiencing firsthand. The enthusiasm is catching.