Cameras
Pentax CP+ 2013 Booth Tour
Perennial underdog Pentax had a good show at CP+ 2013, showcasing its latest DSLR and mirrorless technology.
Credit:
Pentax CP+ 2013 Booth Tour
Sometimes, it seems like Pentax just can't catch a break. Once a titan of the camera industry (and a favorite of the Beatles) the company faltered in the switch to digital and lost a huge chunk of its user base, along with the bulk of its brand recognition. A subsequent partnership with Samsung, buyout by Hoya, and sale to Ricoh (a former customer) have done little to increase the company's stature.
But all along Pentax has put out great cameras and lenses. The K-5 II and K-30 DSLRs are some of the best APS-C models on the market today, and the DA and FA Limited lenses are the envy of many a Canon and Nikon user. Sure, Pentax made some wacky choices, too—the K-01 and especially the Q system were generally received with bemused puzzlement by the Western public, yet the company made surprising inroads in the homeland of Japan.
The Pentax booth at CP+ 2013 was a relatively modest affair, at least compared to the neighboring Nikon encampment, but it still had its fair share of goodies to showcase. Chief among the treats was the rainbow of colored Q10 models, a special-edition Neon Genesis Evangelion tie-in Q10, and the new 560mm super-telephoto lens, which was finally out of the glass and in users' hands.
A central promenade was the best way to approach the booth, from the Panasonic side. On each border of the broad main aisle were a series of kiosks highlighting each of the company's current camera systems—the Q system, K-mount DSLRs, 645D medium format, Ricoh GRD and GXR, and the X-5 superzoom. Further down the aisle, a couple of island stations were home to several copies of the new WG-3, WG-3 GPS, and WG-10 waterproof models.
Each of these kiosks was manned by enthusiastic and knowledgeable product reps, and all of them were quite busy. From my quick assessment, the K-5 IIs and Q10 seemed to attract the bulk of the attention, but the GXR counter had its fair share of system enthusiasts, as well. Off to the right-hand side, a darkened room gave you a chance to try out the K-5 II's new SAFOX X autofocus system, which is reportedly able to see in conditions as dark as -3EVs. Focusing in low light could be a horror show with the K-5, so it was refreshing to see Pentax dispel doubts so directly.
At the end of the aisle, the Evangelion Q10 was constantly surrounded by a ring of curious onlookers, snapping an endless series of shots of the cameras and the life-sized statues of the series' characters. Above the Evangelion display was a platform I immediately took to calling the sniper's nest. Mounted on this deck were two of the new 560mm f/5.6 super-telephoto, with several K-5 IIs bodies attached. Alongside were several of the company's spotting scopes.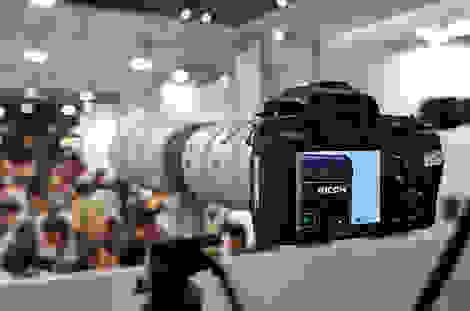 I took the 560mm lens for a spin—it was superbly sharp when stopped down to f/8, but slightly hazy wide open. It's hard to say whether this was due to my own poor technique on the f/5.6 shot, or whether it's a product of the lens design. I only had time for a couple attempts, but overall, I came away impressed. The all-metal design is exceedingly solid and well put-together, too.
Continuing on toward the far side of the booth I came across an information counter staffed with bilingual Pentax reps, and enjoyed one of the few extended English conversations of my entire trip. These guys were extremely well-informed about the company's product line, but couldn't (or wouldn't) spill any details on future plans—sorry, full-frame hopefuls.
Just across from the info desk was a display case filled with the entire current product lineup; every lens, every body, and every accessory was here on display, along with lens roadmaps for each of the Pentax mount systems. Brand loyalists will have seen these before, but there were plenty of newbies on hand, eyeing them with excitement. We're particularly looking forward to the DA Zoom Limited, should it ever arrive.
In a sense, once you've seen a booth at CP+ you've seen them all. Sure, some throw in wacky entertainment, scantily dressed women, or barkers out on the causeway, trying to flag you down to watch a presentation, but generally they're all the same. Here's a cabinet full of our gear. Here's a presentation on our history. Here's an explanation of our tech. Here's a place where you can touch all of it, and people who can tell you all about it.
The Pentax booth didn't exactly set itself apart from the herd (except perhaps in terms of intelligent layout), but it's hard to visit it and not come away with a sense of optimism for the company. Pentax has been accused of a lack of direction in the recent past, and noodling about with oddities like the K-01 and Q haven't done much to endear it to enthusiasts, but there was still plenty of enthusiasm on display here in Yokohama. Most refreshingly, it came not only from the company's loyal users (or "Pentaxians," as they like to call themselves), but from the many employees on the show floor, too.
Up next
Get Reviewed email alerts.
Sign up for our newsletter to get real advice from real experts.