Cameras
Photo App of the Week: Photo Transfer App
A look at Photo Transfer App, used to sync photos between mobile devices and computers.

If you transfer a lot of photos and video between your mobile device and desktop, you may want to look at Photo Transfer App. It's available for iOS in the [iTunes Store](https://itunes.apple.com/us/app/photo-transfer-app/id365152940?mt=8) for $2.99 and for Android in the [Google Play Store](https://play.google.com/store/apps/details?id=com.phototransfer&hl=en) for $1.99. An iPhone 4S was used for this review, but the app is also compatible with other Apple devices. #### What Photo Transfer Gets Right Photo Transfer App works as advertised, allowing you to use your mobile device to upload photos and videos to (or transfer from) your other mobile devices, PC, or Mac via Bluetooth or WiFi. Instead of installing dedicated software on your computer, you transfer your photos through a webpage available exclusively over your WiFi network. You might normally use iCloud to sync your photos, but a program like this is handy if you're transferring a large quantity of photos (which can take a while on iCloud), or if you want to only transfer one or two shots. Photo Transfer can deliver a big bundle all at once, saved in a .zip folder to save space and organize your photos all in one place. To decrease file size and transfer time, you even have the option to scale down the photo resolution.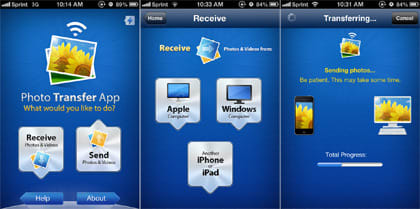 For us, the interface is a major selling point. It's simple and straightforward; you don't have to click through endless menus to get what you want. The browser-based interface on your computer is also handy, allowing you to thumb through your phone's entire photo stream. You can also have the photos open automatically in a photo app when sending them to your mobile device, though this isn't the first app to offer such functionality.
What Photo Transfer Could Do Better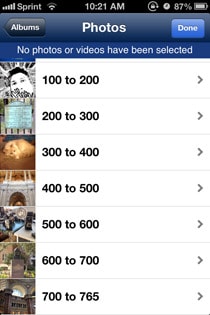 Photo Transfer App gets the job done, but it isn't perfect. One frustration in the browser interface is that the (virtual) buttons were at times simply unresponsive. We had to click three times in one case to download a batch of photos. Is this a deal breaker? Not really. But it is annoying.
One other annoyance (which might be a deal breaker) is that when selecting photos, Photo Transfer arranges your shots into groups with a maximum size of 100, rather than simply placing them in one large pool or grouping them in folders according to date. If you take a lot of shots, it can be difficult to locate the one you're looking for, which was our experience. Who knows off the top of their head that the shot of your cat you want was 563 photos ago?
Another sticking point for some smartphone shutterbugs could be that the app doesn't automatically sync the photos for you, so you'll have to actively be working on both your desktop and/or mobile device. If that's your case, iCloud is a much better option.
Worth A Download?
If you have specific photos you want to sync between lots of different devices, this could be more convenient than syncing though the cloud. However, the grouping of your photos by hundreds makes us want to find another photo transfer app for our personal use.
Up next
Get Reviewed email alerts.
Sign up for our newsletter to get real advice from real experts.