Cameras
Photo App of the Week: SmugFolio for SmugMug HD for Android
SmugFolio aims to be a power user's alternative to the native SmugMug Mobile app. We take a look to see how it stacks up.
SmugFolio by Snapwood Apps ($2.99, Android devices only) is a convenient and powerful viewer and uploader for photographers who host their photo galleries online through SmugMug.
Most SmugMug users are probably aware that the company itself offers a free mobile app. It's a great effort, but it's pretty basic. SmugFolio one-ups it in a variety of ways that power users will definitely appreciate, and just might make it worth the cost.
So, how does SmugFolio set itself apart?
What SmugFolio Gets Right
First, and most importantly for tablet users, SmugFolio downloads a photo that's appropriately sized for your device's screen. In contrast, the official SmugMug app doesn't play very nicely with tablet screens—photos are pixelated and there's no option to download a higher-resolution file. Aside from downloading a large enough file to start with, SmugFolio gives you the option to download the original file as well. There's also an option deep in the settings menu for "Extra Large Downloads," specifically intended for tablets.
Beyond this key difference, SmugFolio simply offers more options to the power user. Photo comments, share URLs, app-based sharing, EXIF info, and more are available by long-pressing a photo or thumbnail. Short-pressing lets the user rate a photo, filter the photos in a gallery by rating, or start a slideshow. SmugFolio will also auto-download new photos from (and auto-upload to) your SmugMug gallery when your device is charging, and lets you choose whether to do so using WiFi only, or also on 3G/4G.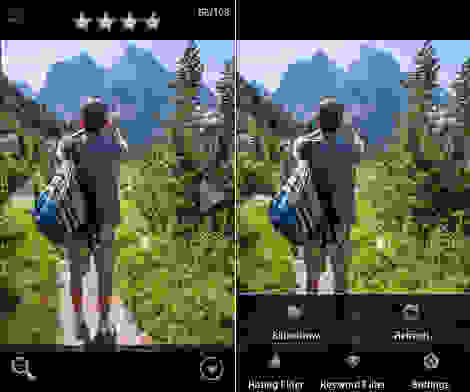 What SmugFolio Could Do Better
With SmugFolio, viewing and uploading are done through separate apps (both are installed with the initial download). This means two icons in your app tray and an extra step to upload a shot if you're already in the main SmugFolio viewer. It also doesn't offer the option to take a shot from within the app, as SmugMug Mobile does. Further, you can't select the photos you want to upload from within the SmugFolio Upload app—instead you have to go to your Gallery app and share the photos from there to SmugFolio. All of this seems needlessly complicated.
Worth a Download?
If you're a SmugMug user and you find yourself chafing at the limits of the company's homegrown app, SmugFolio is a great choice. Photo viewing is a pretty seamless experience, and despite the caveats we noted above, uploading works well once you get it going (and, again, offers more options). The cost of entry is a little high for an Android app at $2.99, but avid photographers will find themselves using it often enough to make it well worth the money.
(Note that if you use a photo sharing site other than SmugMug, Snapwood Apps makes very similar apps for Flickr, Facebook, Photobucket, Picasa, SkyDrive, Shutterfly, and Zenfolio.)