Cameras
Photo App of the Week: Snapseed for Android
The perennial iOS favorite, now owned by Google, comes to Android with a few new features and an unbeatable price.


If you're like us, you haven't exactly been thrilled with the photo editing suites available for Android thus far. Even major companies like Adobe have taken swings at it and still come up short. The only app to really come close to providing a comprehensive editing experience has been [Pixlr Express](https://play.google.com/store/apps/details?id=com.pixlr.express), but it has a new challenger in the form of Snapseed (Free, [Android](https://play.google.com/store/apps/details?id=com.niksoftware.snapseed) and [iOS](https://itunes.apple.com/us/app/snapseed/id439438619) devices). _(Note: We reviewed [Snapseed for iOS](https://www.reviewed.com/cameras/News/Photo-App-of-the-Week-Snapseed-for-iOS.htm) in April. Google recently acquired Nik Software, the makers of Snapseed, and when they released the app for Android they dropped the price for the iOS version to the low, low price of free. If you iPhone and iPad users weren't on board before, now's the time!)_ #### What Snapseed Gets Right Snapseed is an extremely powerful app offering extensive manual control over a huge variety of image parameters. You can adjust horizon level, rotation, cropping, white balance, saturation, contrast, and brightness directly. Another setting called Ambiance controls the lighting in a shot, brightening dark areas and dimming highlights (creating a quasi-HDR look in some cases).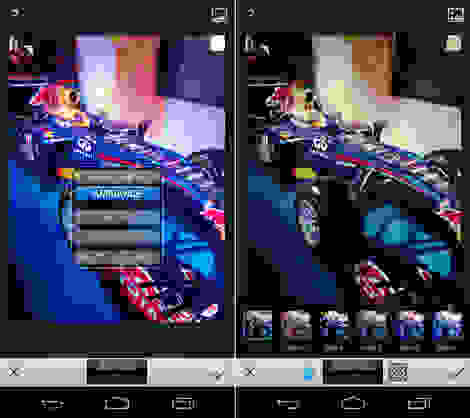 For the more casual photographer, the app also features an Auto Correct option that analyzes your photo and tweaks it to optimize color and exposure, as well as the Drama filter, which adjusts contrast and other settings to create a big visual impact customized for each image. There's a huge variety of vignette, texture, frame, and blur tools; some of these include Instagram-style presets, but even those are user-customizable.
The swipe-based control is incredibly simple and effective. Within each adjustment tool, you simply swipe right or left on the shot to increase or decrease the strength of an effect, and up or down to change settings (brightness, contrast, etc).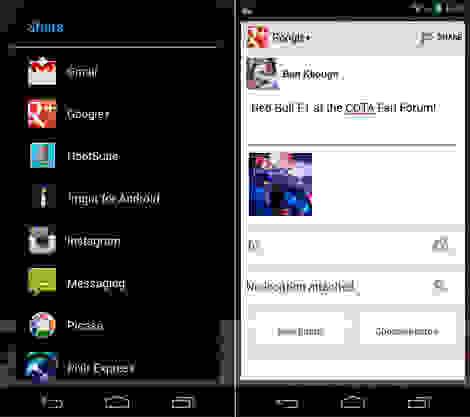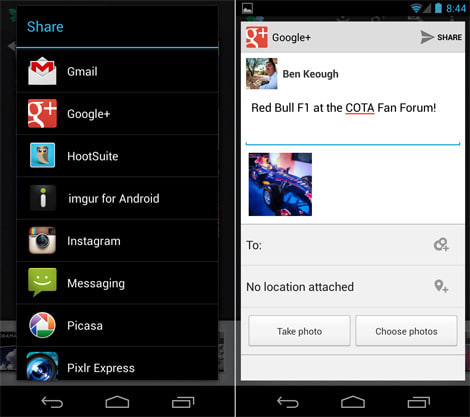 Direct sharing integration with Google+ is a smart move on the Goog's part, since it could lead to more usage of their homegrown social network. Facebook fiends, meanwhile, have the ability to share photos to their account through the universal Android sharing menu, just like any other app. Photos can be sent to other services including Instagram, Twitter, Gmail, and Dropbox, too.
What Snapseed Could Do Better
While we're happy to see more apps that give Android photographers powerful editing tools, we wish someone would go a step further and give us an Adobe Lightroom equivalent. Kelvin white balance, granular control over white and black levels, curves adjustments, a histogram, and distortion correction would all be nice to have, among others.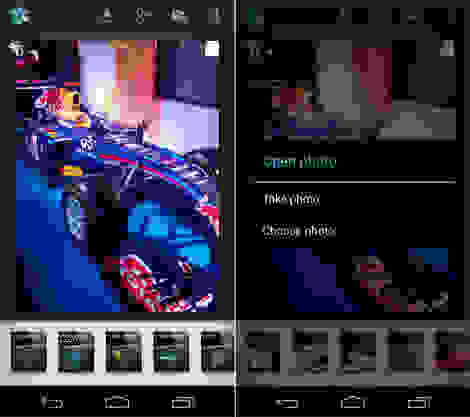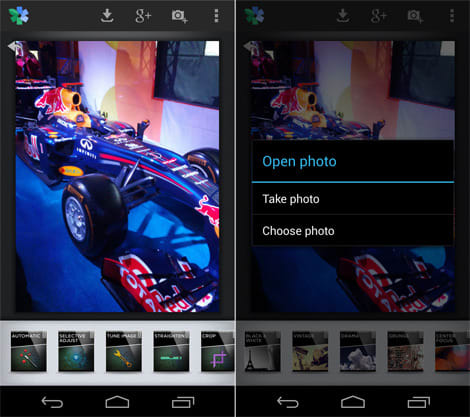 One major annoyance with the current Snapseed layout is that it hides the Android status bar. That means that if you're editing a shot and you hear a notification for a new email or text message, you can't check it until you exit the program (or switch to another one). You also can't see the time or access the phone's settings menu.
Worth a Download?
There's no question that Snapseed is one of the best photo editing apps available for Android or iOS today. It's particularly great on a tablet, where you have the screen real estate to fine-tune your shot to perfection. The fact that it's free is just icing on the cake.
Up next
Get Reviewed email alerts.
Sign up for our newsletter to get real advice from real experts.