Cameras
Quick Cameras for Sports and Action
Looking for a tool to help you capture youth or amateur sports? We've got you covered. Parents, take note.
Chances are, if your kid plays team sports, you're in the market for a sports and action camera. Even though there aren't really any cameras specifically designed around action shooting, there are plenty of specific features that can make a camera a good choice for these purposes. High shutter speeds, fast continuous shooting rates, deep buffers, great video, and long zoom ranges are all essential to capturing that elusive moment.
The good news is, there are cameras in virtually every price range, shape, and user level that hit these marks.
---
Superzooms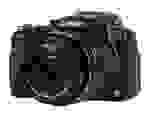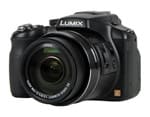 Several superzoom models are also great action cameras. These cameras typically combine huge optical zoom ranges with DSLR-style handling at a relatively affordable price point.
The Panasonic Lumix FZ200 ($599, pictured) is the ultimate all-in-one camera for shooting sports. The lens is limited to a mere 24x zoom, which is short by current superzoom standards. But it has a big advantage: a bright, constant f/2.8 aperture throughout the entire zoom range, which makes it better for shooting action at its telephoto setting, particularly indoors and in the evening. Better still, it can snap 12 frames per second for up to 12 shots (and a slower rate afterward), so you'll capture more of the action. It was also our award-winner for 2012 in the Best Point-and-Shoot for Video category, thanks to full video control and a 1080/60p framerate—you can leave the camcorder at home, too. Parents of athletes, coaches, and fans alike should give this camera a serious look. Short of a multi-thousand dollar rig, it's the best tool for the job.
Canon's PowerShot SX50 HS ($479) is another solid superzoom for sports. The 50x zoom lens is the longest on the market, though it isn't as bright throughout the zoom range, which may cause action to blur. It also shoots at just over 2fps in its default continuous mode. But it's still a better sharpshooter than most other superzoom cameras.
---
Compact System Cameras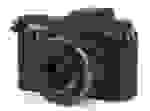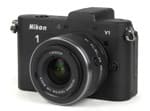 Compact system cameras (also called mirrorless cameras) are the new kids on the block, reducing the size and weight of DSLRs by removing the optical viewfinder, though they still use interchangeable lenses. Since there's no mirror to physically move, they're capable of insanely fast burst shooting.
Perhaps the most impressive performers in this regard are the members of the Nikon 1 series; these tiny, mirrorless marvels, including the flagship Nikon 1 V1 ($399, pictured), can capture full-resolution shots at up to 60 mind-boggling frames per second. It's like capturing a flip-book. Image quality is sub-par compared to other cameras in the class, though.
Sony's NEX cameras (like the new $749 NEX-5R) offer much better image and video quality than the 1 series, but are a distant second in continuous shooting speed, capturing only 10 full-res frames per second (still very snappy for a consumer camera).
As fast as these cameras are, neither one has a good telephoto lens to pair with—at least not in their native mounts. They both have budget-friendly telephoto zoom lenses, but as with the Canon SX50 HS above, the aperture shrinks as they zoom, so you might end up with blurry indoor pictures. But for outdoor action photography, they'll be fine.
---
DSLRs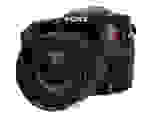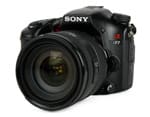 Fast burst rates are all well and good, but they're not very useful without fast and reliable autofocus. This is where DSLRs stake their claim for action-shooting supremacy: when your teenager is barreling headlong toward you, racing for a touchdown, you'll be thankful for their superior predictive autofocus capabilities.
On the cheaper end of the DSLR scale, Nikon's D5100 ($546) is a great choice, combining quick autofocus and brilliant image quality with 4fps continuous shooting. It's an older model, but the price is right.
Bump up your price ceiling a bit and you gain access to the Sony SLT-A77 ($1,698, pictured) with its extremely quick, full-time 19-point autofocus system and unique translucent mirror technology, which allows for 12fps continuous shooting.
If price is no limit, you can even make the jump to pro models like the 11fps Nikon D4 ($5,999, no lens) and the 14fps Canon 1D X ($6,799, no lens); their autofocus systems and virtually bottomless buffers know no equals. You might look a little bit silly at a youth soccer game with one of these monsters, but that's your call.
Up next
Get Reviewed email alerts.
Sign up for our newsletter to get real advice from real experts.