Cameras
Reviewed.com's Guide to the Best Mirrorless Cameras
Reviewed.com's handy shopping guide for finding the best mirrorless camera for your needs
Credit:
Here at Reviewed.com, we take a pragmatic, scientific approach to digital camera reviewing. Instead of just spouting off speeds and feeds, we put every camera we review through a battery of rigorous tests. We think there's a perfect camera out there for everyone, and we put in long hours making sure we understand each camera's strengths and weaknesses so we can make informed recommendations to you, the reader.
2013 was a banner year for mirrorless cameras and if that's what you have your heart set on, be prepared to be impressed. There's no shortage of quality mirrorless options on the market right now, fitting just about every ambition and budget. Buying a system camera is a commitment, though. Keep in mind that even though we've broken the numerous options down into categories, we're barely scratching the surface in this one article. Check our our lineup of top interchangeable lens cameras to get an idea of the options we didn't mention here.
Best Beginner Mirrorless Camera: Sony NEX-3N
Even though it isn't the best performing camera we've ever tested, the NEX-3N is an affordable entry point into Sony's E-mount mirrorless lens system. Built around a big, 16-megapixel APS-C-sized sensor, the 3N handles a little bit more like a point-and-shoot than a traditional, small-bodied mirrorless camera. The price has fluctuated since the 3N came out, and you can pick up the kit option for less than $400 at many retailers.
Sony packages the NEX-3N with its new 16-50mm f/3.5-5.6 power zoom lens, and the NEX-3N's design makes using the combination very easy to use. A zoom slider on the side of the lens and a zoom lever surrounding the shutter button. While it doesn't have WiFi or smartphone connectivity, it's a basic, straightforward interchangeable lens camera that you'll find fits pretty well in a jacket pocket or purse.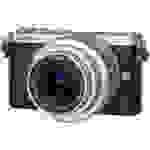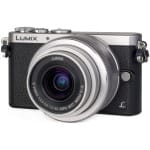 Panasonic upped its game in 2013, releasing the excellent GX7 as well as this little champ. The Lumix GM1 takes everything we love about Panasonic's full-sized Micro Four Thirds offerings and cuts the fat, making it a powerful, jacket pocketable camera. Not only is the GM1 effortless to tote, it supports the entire ecosystem of M43 lenses, meaning you can adapt the GM1 to whatever shooting type suits you.
What the GM1 lacks in physical controls it makes up for with its highly usable touchscreen system. It's useful for focusing and swiping through pictures in playback mode. WiFi connectivity utilizes Panasonic's standard setup, compatible with both Android and iOS-based smartphones and tablets. Did we mention it's really, really small? If you're still struggling for a proper sense of scale, check out our unboxing video below.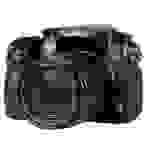 Panasonic created a really great all-rounder camera in the Lumix GH3. If you need a hybrid video/stills camera in a portable, rugged package, the GH3 ticks all the boxes. We've used a GH3 extensively for video shooting and we can say with confidence that it's a delight to use. It's got the chops for pro videographers—you get a headphone jack, mic jack, high bit rate shooting options, and full manual control while the camera's rolling.
The GH3 is a solid hybrid video/stills camera.
Not only is the GH3 an impressive video monster, it's also a solid stills camera. It's ergonomic, weather sealed, and smaller than many of the advanced APS-C DSLRs on the market in the same price range to boot.
We were split on the two best bargains out there right now, perhaps because we're all too spoiled. There are so many terrific, reasonably priced cameras available that we'd be remiss in our duties if we didn't point out at least two of them.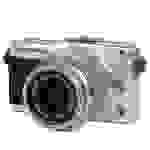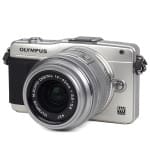 The first camera is the Olympus PEN E-PM2. It's one of the least expensive Micro Four Thirds cameras out there, but it features an imaging sensor that can output stunning image quality (the same sensor as in Olympus's more expensive OM-D E-M5). While you don't get an articulating screen or WiFi, the E-PM2 makes up for those new-world shortcoming by offering up a nearly-complete Olympus shooting experience in the smallest PEN body on offer. As far as price goes, your $400 goes a long way, netting you the E-PM2 kit and making it easy to buy a second lens for under $1000 total.
If Micro Four Thirds system doesn't appeal to you, Sony's refreshed mid-range NEX does things the new-school way, with NFC and WiFi, as well as Sony's PlayMemories camera app store. Even though the NEX-5T is basically the same as 2012's NEX-5R, we found that that's not a bad thing. Performance is still admirable, and Sony has cut the price to around $600 for the kit, lower than the 5R was when it was released. Based around a 16-megapixel APS-C sensor, the NEX-5T is an approachable camera with enough control to please people who want to get their hands dirty when shooting.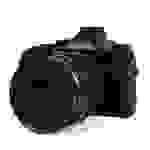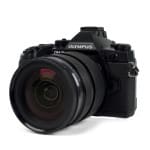 Our 2013 camera of the year was the Olympus OM-D E-M1. Olympus took the task of designing a professional camera quite seriously, and the company's dedication shows in the finished product. The E-M1 might feature a smaller-than-APS-C Micro Four Thirds sensor, but we've found that image quality is basically on-par with advanced APS-C DSLRs. Body-only, the OM-D E-M1 is available for $1,400 body-only, which is a price befitting a camera meant for heavy use.
Ergonomically, the E-M1 is comfortable to hold and features chunky control dials.
Whereas the E-M5 sported a retro-chic design, the E-M1 blends a rugged modern design with some classic styling cues, making it a unique-looking camera. Ergonomically, the E-M1 is comfortable to hold and features chunky control dials. In case that isn't enough to sell you on its merits as a pro camera, its magnesium construction is freeze proof and weather sealed to boot. Topping off a primo package is one of the sharpest electronic viewfinders we've seen in any camera—good enough to convince the optical viewfinder faithful that EVFs are finally a viable alternative.
Best Mirrorless Camera for Enthusiasts: Sony A7/A7R
This year, Sony broke the mirrorless mold, releasing its very first full-frame mirrorless cameras. We haven't put the A7 twins through the gauntlet yet, but we can tell already that these two bodies are the best around for enthusiasts. The A7 with its 24-megapixel sensor is supposed to be the faster of the two cameras, offering up phase detection autofocus. The more expensive A7R has more resolution (its sensor has 36-megapixels) and goes without PDAF, but in our experience, its autofocus is frustratingly slow and unreliable when shooting fast-moving subjects.
Lens nerds will be thrilled that you can easily adapt M-mount Leica lenses.
Even though Sony's full-frame E-mount lens family is a bit of an x-factor at the moment (Sony will have only 5 full-frame lenses by early 2014), you can use APS-C E-mount lenses in a crop mode or a host of full-frame lenses with an adapter. Lens nerds will be thrilled that you can easily adapt M-mount Leica lenses. For less than the price of an honest-to-goodness Leica rangefinder, you could buy a Summilux lens and an A7R body, which, arguably, provides a more modern shooting experience overall.