Samsung Imaging seems to rolling out its biggest news at CES 2013 before the show begins. The flood started with the NX300 mirrorless model last week, and now a top-to-bottom replacement of their fixed-lens lineup has followed.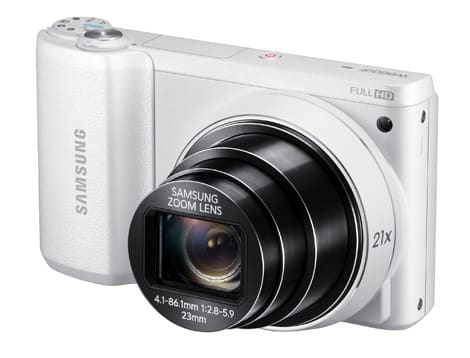 The popular WB850F, one of last year's better travel zooms, is succeeded by the WB800F (specs), which now boasts a touchscreen LCD, 21x optical zoom lens, and Direct Link button for simplified WiFi connectivity. The same 16-megapixel CMOS is in place, and full PASM controls are available.
Another popular 2012 model, the WB150F, finds itself shoved out of the way by Samsung's new WB250F (specs). Again touchscreen functionality has been added, as well as the same Direct Link button for WiFi. No changes have been made to the sensor or lens: they remain at 14 megapixels and 18x optical zoom. A cheaper CCD version called the WB200F will also be available.
Although we're normally worried by the introduction of touchscreens, which can lead to slower, less precise control, both cameras will feature hybrid touch user interfaces which incorporate traditional buttons as well. Both cameras will be available in Q1 of 2013. The WB800F will retail for $299.99, while the WB250F is set at $249.99. No pricing information for the WB200F is available yet.
Down at the entry level of Samsung's lineup, the company has unveiled four new cameras. The WB30F (specs) replaces the ST200F, retaining the 16 megapixel sensor and 10x zoom, but adding a new 3-inch display and Direct Link button, and squeezing all this into a slimmer design. The DV150F (specs) replaces the DV300F and is the only surviving remnant of Samsung's Dual-View lineup. A new f/2.5, 5x optical zoom lens has been added, and the sensor remains at 16 megapixels.
The ST150F (specs) is another hybrid touchscreen camera, featuring a new f/2.5, 5x optical zoom lens and arriving in a variety of colors. The ST72 (specs) will be Samsung's cheapest camera, but still boasts another f/2.5, 5x optical zoom lens.
The WB300F, DV150F, ST150F, and ST72 will be priced at $179.99, $149.99, $129.99, and $119.99 respectively. All four cameras will arrive in Q1 2013.
Finally, Samsung surprised us with an ultrazoom camera announcement this year, dubbed the WB2100 (specs). This will be a 35x optical zoom model, with a 3.0-inch tilting display and a secondary movie zoom slider built onto the lens barrel. Those movies will be full 1080p, captured by a 16 megapixel CMOS sensor and controlled by full PASM shooting options. Like all the cameras announced in this group, the WB2100 will be available in Q1 2013. The camera will carry an MSRP of $329.99 and comes in black, white, or red.
{:{PhotoGallery article.attachments}:}