Cameras
Samsung's T1 SSD Could Be a Photographer's Best Friend
This tiny terabyte hard drive is set to make some big waves.
Credit:
Samsung announced a lot of amazing new gadgets at CES this year, from gargantuan curved televisions to gorgeous egg-shaped speakers, but one product in particular nabbed our attention: the Samsung Portable SSD T1 (MSRP: $179.99–$599.99). While flash memory isn't the most exciting product category in the world, this tiny terabyte grabbed our attention and wouldn't let go.
The specs are simple as you like: smaller than a playing card, weighing practically nothing, the T1 SSD is comes in 250GB, 500GB, and 1TB sizes, starting at under $200. While there are cheaper drives that offer similar levels of storage, the T1 is the perfect solution for expanding your capacity without being weighed down at all.
Got an ultraportable laptop that you use for editing on the go? A terabyte of durable, lightweight storage is nothing to scoff at. And with USB 3.0 compatibility and incredibly fast internals, we just had to take one for a test-drive to see how it held up.
Design
It's almost too small.
Coming in at smaller than a business card, the T1 only weighs an ounce and can easily slip into a shirt pocket or camera bag. It's so lightweight that you'll probably think it's hollow the first time you pick it up, as it's barely bigger than a Compact Flash card.
The small black box is made up of two contrasting pieces–a textured black body with the Samsung logo, and a smoother, reflective plastic head that houses the USB 3.0 connector port. That's pretty much it. There aren't any frills or fancy features here, and instead, the T1 relies on what's under the hood to impress buyers.
As stated above, it comes in three different storage sizes ranging from 250GB up to 1TB, with no size difference between them. All three rely on Samsung's proprietary 3D V-NAND technology, promising faster speeds than even the SSDs found inside most laptops.
It's identical to the tech that powers Samsung's new EVO 850 Pro 1TB drive, except in a smaller form factor and with a standard USB port instead of a SATA connector. That results in slightly slower read/write speeds, but it'll work with a standard cable you may already have in your bag.
Why Would You Want This?
Peace of mind
As a photographer, your equipment is directly tied to your ability to bring home the bacon. If you've invested in any high-resolution DSLRs in the past few years, you're probably feeling something of a storage crunch after a day of shooting 40+MB RAW files. Standard platter hard drives can easily get corrupted, most internal SSDs in laptops are pitifully small, and the last thing you want is to have a photo shoot spread across four different memory cards.
For many, the best solution, especially if they're working on a slim laptop without a lot of storage space, is to get a portable external hard drive to backup and/or store their photos. You can buy pretty much any standard SSD and use a USB/SATA cable, but the portable T1 SSD makes the process even easier.
We put it through its paces in a variety of ways, to see how it could aid a photographer in need of a quick, lightweight, and portable solution that added space without compromising on speed and efficiency.
To begin with, we used 233 full-sized photos (about 2GB) and had Photoshop's batch function rename the files, resize the images, convert them to JPEG High Quality, perform some quick automatic fix options (auto levels, auto contrast, auto color, and sharpen), and finally add a small watermark in the bottom left of each photo.
We did this on both the portable drive and the internal drive in a mid-2013 Macbook Air. The Air handled the entire process in 13 minutes, while using the T1 knocked that down to just 12 minutes. It might not seem like a huge difference, but when you consider the T1 operated completely off the USB 3.0 cable it's way more impressive.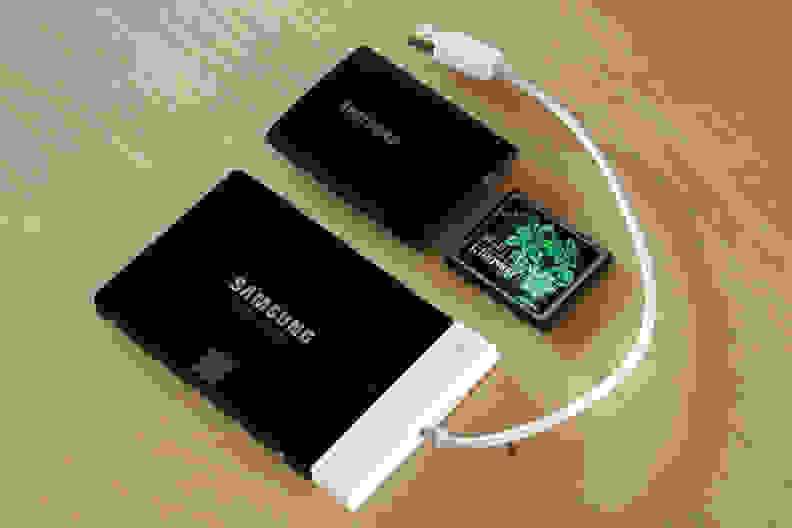 But, what if you wanted to ditch the extra step of transferring files to the drive before editing, taking shots straight from the SD card and putting them on the SSD? We used the same batch edits as before and the T1 still handled like a dream, going through the entire process in almost six minutes exactly.
While the Macbook's SSD is clearly the slowest link in the chain here, there aren't many photographers lamenting Apple's choice of a slow SSD. And condensing your workflow to only the SD card and an external hard drive has the potential to save photographers an enormous amount of time.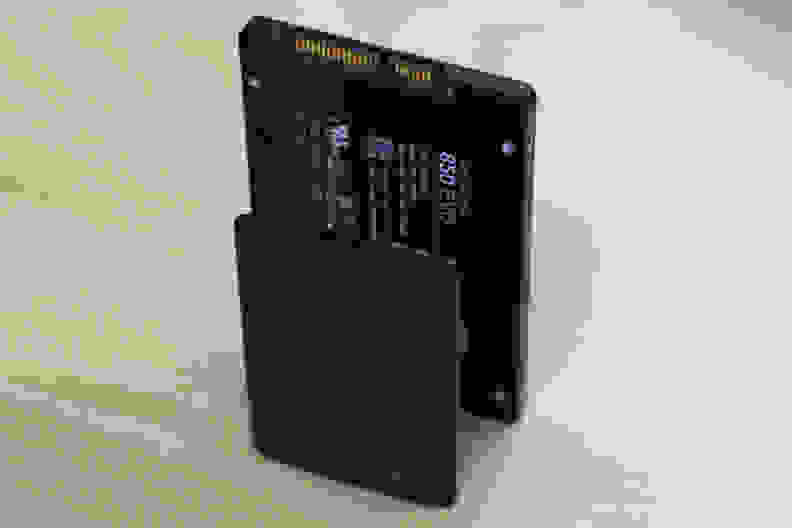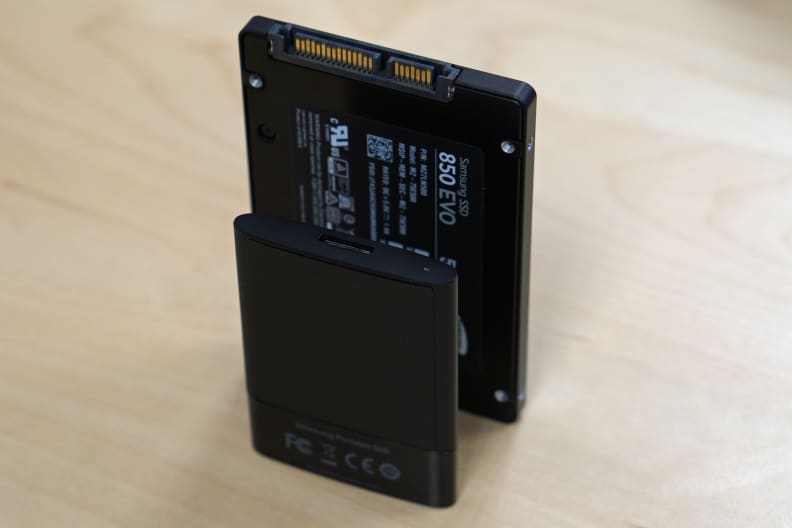 When it comes to marketing the T1, Samsung is claiming read-write speeds of up to 450 MB/s. Speeds that fast would definitely be something to boast about, and our final test determined if Samsung can put its money where its mouth is, and give some hard numbers to go with our earlier anecdotal tests.
We used the Blackmagicdesign Disk Speed Test app in order to get a benchmark with the stress load set to 4GB. After letting the test run its magic a few times, the end result, while not reaching the supposed high of 450MB/s, was still nothing to scoff at. The average write speed for 4GB worth of data turned out to be 398.9MB/s while the average read speed was 428.9MB/s—all via the USB 3.0 port.
The Final Word
Worth every penny
If you're a photographer looking for a new external hard drive to give you some piece of mind in the field, the new T1 series from Samsung really should be on your radar. Though most external SSDs will do the job just fine (if not better), they aren't as compact as the T1, which can fit into basically anywhere you'd stash a CF card.
In the end, there isn't a lot that separates this from other solid state drives on the market. You can spend a little less money and get a SSD that performs just as well, maybe even with more storage for your buck, but you'll need a bulkier USB to SATA cable and it won't be as compact and portable as the Samsung T1.
For the right photographer, in the right circumstances, that could be worth the extra money. Either way, our testing is clear: SSDs should be on every photographer's wishlist in 2015.