Cameras
Shoot First: An Interview With Commercial Photographer Dean Zulich
From TV to shooting Victoria's Secret Angels, Dean has done it all.
Welcome to "Shoot First, Ask Questions Later," our ongoing series of interviews with photographers from around the world. This time around we had a chance to chat with commercial photographer, Dean Zulich.
Dean is probably best-known as a runner-up on VH1's The Shot—a show that was essentially America's Next Top Model for photographers. On the show, Dean had the opportunity to work with fashion icon Russell James and shoot top talent such as Joss Stone, Will.I.Am, and even Victoria's Secret supermodels.
Since the show, Dean built an impressive client list that includes Nike Golf, Marie Claire, and the X-Games. He's also picked up endorsements from big camera-industry brands such as Manfrotto, SanDisk, and Canon.
You can follow Dean on Facebook and Instragram.
---
How long have you been a photographer?
My journey in the world of photography officially started when I enrolled at the Art Institute Seattle for Photography in the summer of 2004. I graduated with honors and won Best Portfolio of the Show in March 2007.
Was there a defining moment that started you down the path toward becoming a photographer?
In 2003, I was living in Seattle and enjoying exploring the great Pacific Northwest. I did a lot of hiking and fishing and was always inspired by the ethereal beauty of the area. I fell in love with the image-making process when I started taking a small point-and-shoot camera that my sister bought me for Christmas on my hiking adventures. The instant gratification of digital photography certainly helped; being able to see images right after they were captured was an exciting and rewarding experience.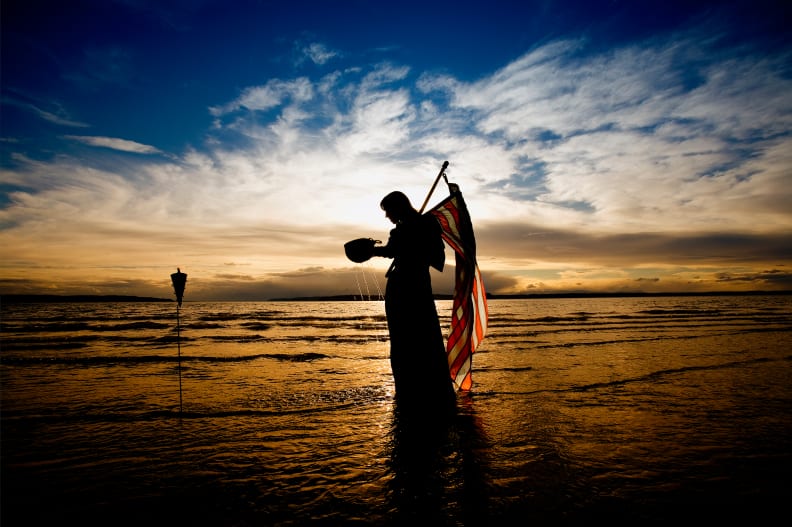 ×
Sample Gallery
After winning 15 photography scholarships and contests while attending the Art Institute, was there a lot of pressure to succeed right away?
I don't think that there was a lot of pressure—other than the pressure that I tend to put on myself. I was very determined to go out and apply everything I learned in the school to the "real" world, and to show that I indeed belong.
What cameras and lenses do you shoot with?
I shoot with Canon cameras, mostly the 1DX and 5D Mark III. For zoom lenses, I use Canon versions of the 16-35mm f/2.8, 24-70mm f/2.8, and 70-200mm f/2.8. I also work with prime lenses such as Canon's 50mm f/1.2, 85mm f/1.2, and 300mm f/2.8. Some of my additional gear includes Elinchrom lighting equipment and Gitzo tripods.
Are there any accessories that you rely on regularly?
I couldn't live without my compact Elinchrom Ranger Quadra lighting kit that I have taken everywhere from Africa to Australia. It's a minimal piece of equipment that produces maximum results. Additionally, my Gitzo tripod and ball head, as well as Formatt Hitech filters, are crucial parts of my gear.
What is the post-production process like for you?
I mostly use Adobe Photoshop CS6 for the post-production. I use Nik filters plug-ins like Color Efex Pro and Silver Efex Pro, as well as Imagenomic Portraiture and Noiseware. Nonetheless, I try to get most of my work done in-camera. Some of my clients take RAW images as output, while others require post-production. Therefore, it's absolutely crucial for me to get as close to perfect capture as possible in-camera. I try not to overly manipulate my photographs.
It's absolutely crucial for me to get as close to perfect capture as possible in-camera.
You do a lot of on-location shoots. How do you adjust your workflow when you're away from home?
I'm fortunate to have a couple of strong teams available for my projects, regardless of location. The top-of-the-line digital techs and assistants come prepared for pretty much any situation, so I can focus on my job of capturing images full-time. I do take pre-production very seriously. This includes everything from scouting in person to looking at locations on Google Earth, and even following weather patterns. I try to put myself in a position where nothing can surprise me every time I shoot.
If you had to, could you choose a single photograph that you've taken as your favorite?
That is a tough one. I would probably say it's an image that I call "Nomad"–which I shot for my final portfolio at the Art Institute in Seattle. Although the subjects and props were deliberately brought to the remote location, it was a spur-of-the-moment creation taken at Mission Beach in Washington. That was when I learned that if you bring cool people and cool props to great location, the magic usually happens on its own.
You work in a few different genres, from fashion to concept art. What are you most passionate about shooting?
I personally enjoy self-assigned conceptual projects the most, as it gives me most creative freedom. I try to fully visualize the final image in my head, then make a photograph out of it. The process itself is fascinating and is proof that you can do pretty much whatever you imagine.
You were a runner-up on VH1's The Shot back in 2007. How much has that achievement influenced your career?
Being the runner up on The Shot has certainly influenced my career quite a bit. First off, I landed on the show right after I graduated from the Art Institute. Although I had learned a ton in school, I was unsure how it would translate to the world of professional photography. I was truly tested on many levels over the course of the month long filming. We had the amazing opportunity to shoot supermodels at exotics locations, deadly animals, kids, underwater subjects, shoot while suspended from cliffs, and more—all while being filmed 24/7. Even though I didn't win the show, the experience was priceless for me, as it proved that I belong in the world of commercial photography.
Being watched 24/7 has to be nerve-wracking. Were you nervous while filming the show?
I had some jitters at the very first shoot, but after that, it was just another day at the office. I came up with very strong series of images by the end of the show. It was a fantastic experience overall.
What was it like to work with subjects as well-known as the Victoria Secret Angels Alessandra Ambrosio, Marisa Miller, and Miranda Kerr?
At first it was somewhat intimidating working with top models—especially since I was fresh out of photography school. That said, it's always easier to work with seasoned and experienced talent. Miranda Kerr was especially helpful and understanding of my inexperience at the time.
Are you still friends with anyone from The Shot?
I stay in touch with Maria—the winner of The Shot—and I'm also in contact with some of the other contestants via social networks. I do exchange messages with the judge, Russell James, on occasion. He's a hard one to catch. :)
How much of a part has social media played in your career?
Social media has played a tremendous role in my career. I actually got some first major clients via referrals that came through Facebook. As the matter of fact, the vast majority of my clients are acquired through either social media or word-of-mouth recommendations.
You do regular workshops around the world. Do you feel it's important to pass on your knowledge to other photographers?
I truly enjoy teaching. Not only is giving back important to me, but I also draw inspiration from fellow photographers. Everyone brings their own vision and talent to the table.
What's the one piece of advice you would give to someone starting out in the commercial photography industry?
It's crucial to remain driven and be prepared to overcome all the obstacles to becoming a professional photographer.
The market has been pretty tough, and it's not getting any easier with the expansion of digital photography. There is ton of information and inexpensive equipment out there, so the learning curve has never been easier. One thing that can't be acquired, though, is talent. It's crucial to remain driven and be prepared to overcome all the obstacles on the road to becoming a professional photographer. That said, being business-savvy and smart with money is just as important.
I understand that you've taken some tough hits in your life. While living in Bosnia, you were shot at in a war zone and you were also hit by a car traveling 90 miles per hour. How have these events impacted your work?
I think overcoming adversity more than once in my life certainly helps me deal with anything that can disrupt my shoot. From weather, to people, to equipment malfunctions, I just don't let it get to me. I keep my composure, which is exactly what clients expect and want—especially on a high-end location shoot with a larger production at stake.
Last one: What's the craziest moment you've experienced on a shoot?
Well, it is probably a tough call between stepping into ant's nest on a remote location shoot in Kenya and a large sandstorm sweeping through a high-end commercial shoot on a golf course in Nevada. Actually, doing a fashion shoot with a beautiful model in a coastal village in Ghana, with intoxicated fisherman all around, was up there too.
Check out more of Dean Zulich's work at his website.
Related Video