Cameras
Sigma CP+ 2013 Booth Tour
Though it's not quite as massive as the booths of heavy hitters like Nikon, Canon, and Sony, Sigma's compound here at CP+ 2013 is still impressive.
Sigma CP+ 2013 Booth Tour
A gleaming white fortress of optical goodness, it's chock full of the company's latest and greatest lens technology. Oh, and a few cool cameras, too.
Like most of the other booths at the show, Sigma's highlights both their lenses and their cameras. The majority of the floor space is given over to long, gleaming white countertops dotted with SD1 Merrills and DPs of all stripes, along with all the APS-C, full-frame, NEX, and Micro Four Thirds lenses you could hope for. Visiting the booth just after the show floor had opened, I found the DP3 Merrill table already mobbed with curious onlookers.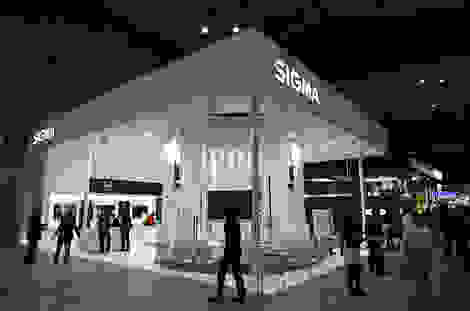 Atop twin staircases is an elevated platform equipped with Sigma's most exotic telephotos, including the new 120–300mm f/2.8 and the legendarily massive 200–500mm f/2.8. Two examples of this tanklike optical construction (MSRP $32,000) are on display, each supported by a huge fixed tripod head (thank goodness… they weigh almost 35 pounds each). Aside from the DP3Ms, they're easily the most trafficked part of the entire display.
At the back of the booth is possibly the coolest thing I've seen at the whole show: a quiet, sealed-off room containing a long glass-enclosed jewelry case. Inside the case, Sigma has presented the disassembled parts of one of its lenses, arraying the hundreds of individual components in groups and labeling each and every one.
Lots of companies here at CP+ have cut-away lenses and cameras, or exploded lenses showing sequential assembly, but Sigma's approach provides a far more impactful reminder of exactly how much design, precision, and work goes into such a small piece of technology. Above the case, HDTVs loop a documentary on the making of Sigma's lenses, all of which are manufactured at their Aizu factory in Japan.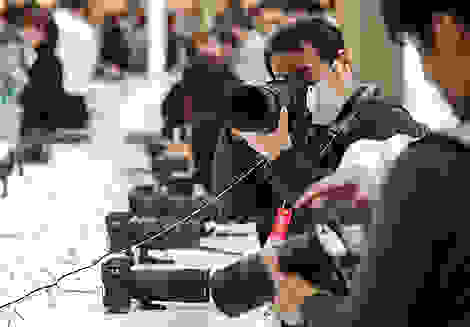 Just like at Olympus's booth, Sigma also has a counter where visitors can bring their own cameras and try out the company's lens selection. That counter was quite busy from the word go—not so surprising given the attractive young female employees outnumbered the older male assistants four to two.
In the past, Sigma has been seen as a cheap alternative to the established name brands, but the company is making a big push this year to recast itself as an affordable luxury brand. Along with the enthusiast-targeted DP Merrill APS-C compacts, Sigma has released updated versions of many of its mainstream lenses.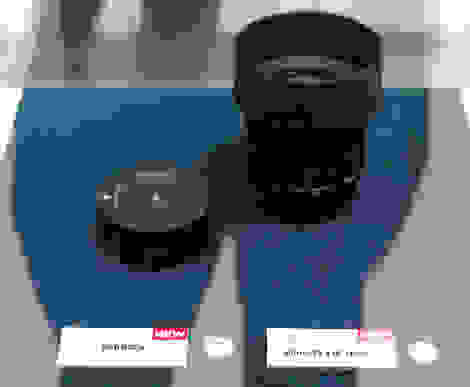 These new designs ditch the slightly cut-rate EX-series aesthetic (including its infamously flaky paint) in favor of beautifully machined metal and world-class build quality. Really, these lenses feel amazingly good—right up there with Canon's L lenses and not too far off Zeiss primes or Pentax Limiteds.
That high-end approach is visible everywhere at their booth, with clean, elegant presentations, dramatic black and white prints hung on the walls, and, well, the obviously improving quality of their products. One only has to compare the new 30mm f/1.4 to the older version, or handle any of the new DN (Digital Neo) mirrorless lenses to see how far Sigma has come in a very short time. Compared to the Kenko-Tokina booth next door, it feels like Leica-land.