Cameras
Sony Highlights Innovative Camera Tech at IFA Berlin 2013
NEX mirrorless cameras and A-mount DSLRs are on display, but the emphasis is on emerging form factors.


Credit:
The first thing you notice when you walk into Sony's cavernous domain at IFA Berlin is that it's all white. Sony has long been synonymous with sleek black design, so the sudden switch to the polar opposite comes as a shock. The second thing you notice is that the floor layout on the map near the door looks a whole lot like a blueprint of the Millennium Falcon.
Ok, maybe that's just us.
But Sony's attention to design is definitely unusual at a show where most manufacturers content themselves with boxy, utilitarian layouts. Not only is the Japanese megacorp's booth more visually interesting—with its subtly morphing pastel colors and curving walkways—but it's also a lot more pleasant to walk around. Though it's just as mobbed as Samsung's and Panasonic's camps, Sony's space has better flow and thus feels less crowded.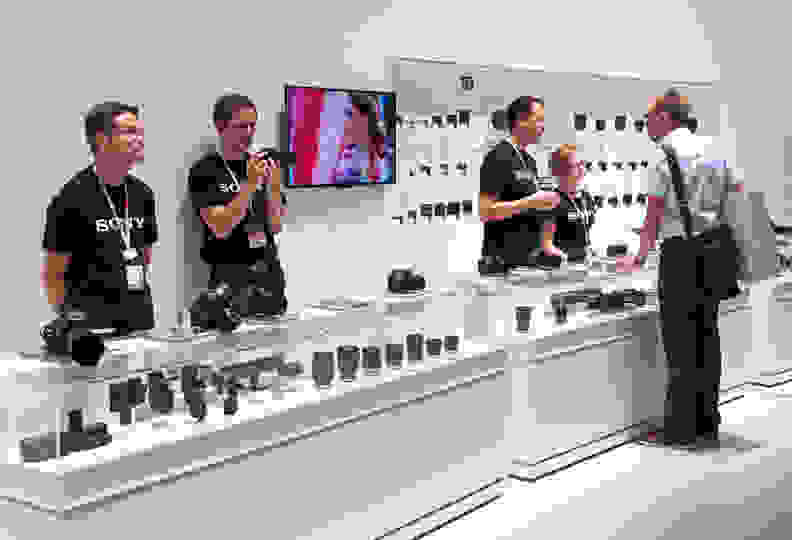 A broad, circular walkway serves as the main drag, with various product lines arrayed along its inside and outside edges. Sony's imaging department gets a hefty chunk of the circumference, encompassing everything from NEX and Alpha cameras to more specialized gadgets like the new 4K camcorder and music video recorder.
-->
The exciting new QX smartphone attachment cameras are getting a lot of love, both from Sony itself and booth visitors. Along with a full wall covered with Xperia Z smartphones and QXes (in matching black and white options), there are tabletop stations manned by Sony-shirted helpers who are happy to walk potential customers through the ins and outs of operating these unusual devices.
Curiously, there's also a display case with a prototype body attachment that can turn any QX "lensor" into a complete digital camera. Seems to us like it kind of defeats the point, but Sony has never been one to shy away from crazy product concepts. (In case you were wondering, no... the body attachment doesn't include an LCD. Instead, there's a wrist-mounted remote viewfinder—the same one recently announced for the Action Cam.)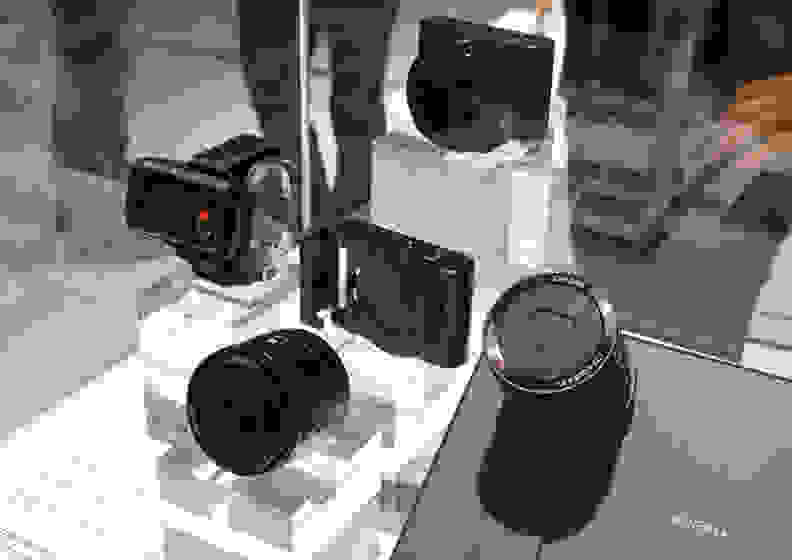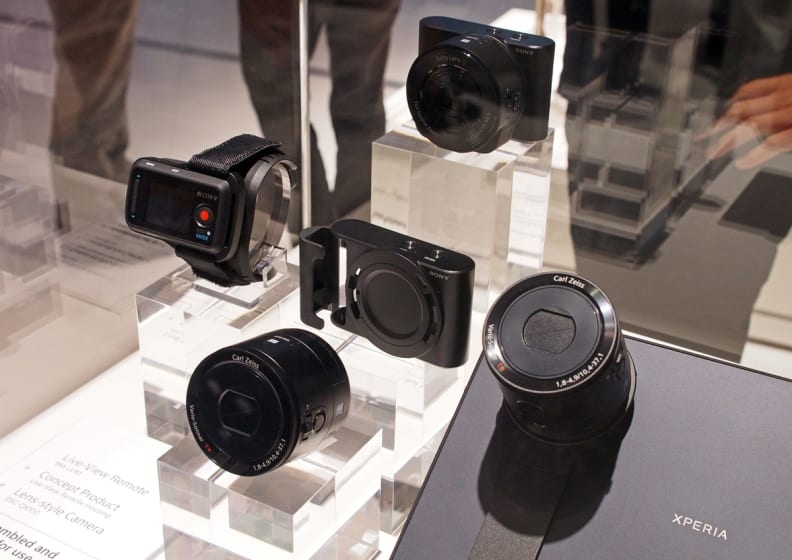 Speaking of the Action Cam, the newly updated model is also on prominent display alongside a surprising number of optional accessories. Sony has even brought along the much-beloved Dog Harness, though we're a bit disappointed that there's no dog to try it out on.
-->
The brand spankin' new 4K camcorder is getting lots of oohs and aahs, even though few will likely buy one at the $4,499 introductory price. Sony has wisely set up a pair of the new ultra-high-def units and attached them to a couple monitors, so you can shoot and see the results in real time. Though it's a serious bit of kit marketed toward the pros, the most interested parties during our time at the booth were a pair of young brothers. Were they unusually young professionals or just tech fans who couldn't be peeled away?
Other oddities? There's an exploded Alpha A99, with all its magnesium alloy and silicon guts hanging out for the world to see. Sony has also cut a huge telephoto lens in half, giving us an uncensored glimpse of all the exotic glass hiding within. And then there's the strange diorama of cardboard cutout figures holding Xperia Zs and QXes. No idea what the theme is supposed to be on this one, but it's definitely something that made us do a double-take.
Up next
Get Reviewed email alerts.
Sign up for our newsletter to get real advice from real experts.