Cameras
Taking the Plunge: Can a Sony RX1 Truly Replace Your DSLR?
After a week with the RX1 in Japan, does Sony's precocious $2800 compact camera justify its massive price tag?

Credit:
The Sony RX1 is an attempt to achieve the impossible: the image quality and flexibility of a 35mm DSLR in the palm of your hand. With a remarkable fixed 35mm f/2 Carl Zeiss lens, 24.3-megapixel full frame sensor, and a jaw-dropping $2800 price tag, the RX1 has certainly settled all doubts about who makes the best compact digital camera on the market.
Just prior to leaving for CP+ in Yokohama, Japan, I was fortunate enough to have the chance to pick up a Sony RX1 and decided to engage in my own field test: Could the RX1 replace a full-frame DSLR for a week of trade show shooting? For background, I've shot three trade shows in the last six months with the Nikon D800 and 24-120mm f/4 lens, impressed with that camera's overwhelming capability, but sick of carrying that much weight around.
Trade shows are fun, but they can be tricky to cover—especially shows like CP+ that are open to the public. With thousands of people grappling to get hold of the latest products, getting some alone time with a new camera can be difficult. The moment you put a camera down to line up a photo, someone will pick it up and pull it right out of frame. Add to that show floor lighting that can charitably be described as "hostile" and you have an idea of what a camera has to cope with.
After seeing some early reports I knew the RX1 was certainly up to the task, but I wanted to see what I'd miss about the Nikon D800. While my aching shoulders certainly made my choice easier, could the RX1 do everything I needed it to do as my sole camera—personally and professionally—for a week in Japan?
While we'll have a full review of the RX1 up soon, I can talk a bit about my experience using this unique camera as a DSLR replacement. After seven days of using the camera in and around Yokohama, I can unequivocally state that I don't miss the bulky, heavy load of a DSLR. In terms of design, compactness, and capability, Sony has a winner on its hands.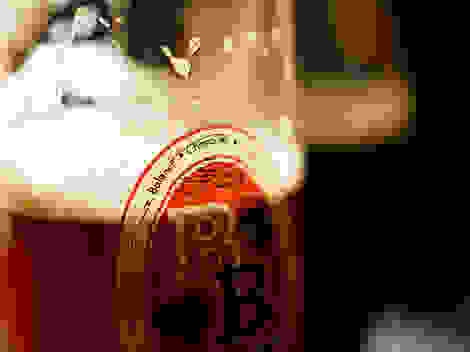 The RX1 is remarkably flexible, handles even extreme low-light shooting with ease, and most importantly takes some absolutely beautiful photos. The lens is remarkably sharp in the center, with lovely bokeh. Furthermore, the responsiveness and smart physical design make it the best camera for street shooting this side of a Leica M. Even black and white shots look great straight from the camera, with rich tonality and very low noise through most of the ISO range.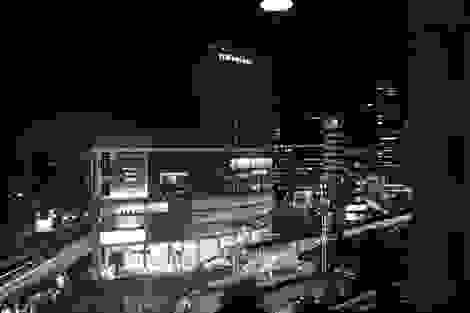 Lighting at any trade show is a nightmare, and CP+ is no exception. The Pacifico Yokohama expo center is essentially an enormous airplane hangar, lit by the sort of large, caged off floodlights you may remember pinging with errant dodgeballs in elementary school gym class. It's not as bad as Photokina, but you frequently have to ratchet up the ISO. This made the RX1's f/2 lens particularly useful, helped substantially by the same 24.3-megapixel CMOS sensor and BIONZ processor found in the Sony A99.
There's no denying that the RX1's sensor is amazing, but the lens is the star of this show. It's hard to overstate just how superb the RX1's 35mm Sonnar T* Zeiss lens really is. It's extremely sharp across most of the frame, and the built-in macro focusing ring is a welcome tool. The option to simply turn a lens ring and focus as close as 0.2m makes everything easier, especially since you have to keep your hands glued to a product. The only real downside of the Zeiss glass for trade show work is that f/2 produces depth of field too shallow for many product shots, and it's just so tempting to shoot the RX1 wide open.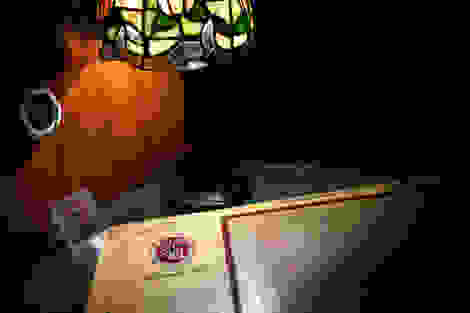 Being limited to 35mm can indeed be a little inhibiting. On a full-frame sensor it's a perfectly good angle of view for product shots, but capturing entire booths can be a real challenge. While my colleague Ben Keough was able to capture excellent full-booth shots with his 15mm Pentax ED AL Limited from just a few feet away, I needed to walk down the hall to make them fit in the frame. The RX1's lens obviously doesn't provide a telephoto perspective, either, but this was less of a concern since the 24-megapixel sensor left me plenty of room for cropping.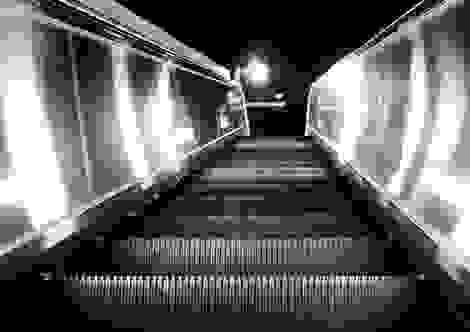 The RX1 autofocused quickly when it had something to lock onto; like all contrast-detect AF systems, it had trouble with low-contrast subjects and occasionally in very dim light. That said, it was perfectly functional with normal dinner lighting (somewhere in the realm of 80 lux, if I had to guess). In the rare moments when the camera simply didn't want to cooperate, either the touch-based autofocus or manual focus ring usually prevailed. The EV compensation dial was also very convenient, while having a dedicated aperture dial was a nice change from the 24-120mm f/4 I used on the D800.
The RX1 more than impressed me as a professional tool, but it's also a remarkably good travel partner. The camera body is about the size of a Nikon V1, or other similarly svelte mirrorless camera body. The camera charges via standard micro-USB, usually within a few hours. Since my phone charges with the same cable, it's just one less thing I had to pack.
The battery life was relatively poor, however—I got about 750 photos with a full recharge somewhere in the middle. At the trade show I had access to power when needed, but I can see the short life being troublesome if you're out just traveling with the camera for the day. That said, the battery packs are small—about the same size as you find in any other point-and-shoot—and it shouldn't be difficult to carry an extra battery or two with you just in case.
While I had the option of using the optional electronic viewfinder, I never once felt the need to pull it out, thanks to the beautiful LCD. While the camera turned plenty of heads at a show full of photography nuts like CP+, its low-key design meant I could take more intimate street shots without intimidating less camera-savvy pedestrians. It also slips into a jacket pocket, which is ideal when you're traveling on public transportation or if you have to cut through a shadier part of town.
Altogether, the RX1 is a fantastic piece of kit, and I don't have the slightest regret over my decision to bring it. While the asking price is certainly very steep, the quality you get in return is immense, and the shots I got from the RX1 easily match the output I got from three shows with the Nikon D800. Should everyone dump their DSLR forever and go pick one up? Of course not. It's a great camera, but it's expensive for a backup and obviously being married to one focal length isn't for everyone.
We'll have a full technical review up (with full resolution samples) as soon as we can put it through our full battery of lab tests, but the RX1 has already earned my trust as unquestionably the best compact camera I've ever used. As long as you pack an extra battery or two, it may just be the best travel shooter money can buy.
---
Up next
Get Reviewed email alerts.
Sign up for our newsletter to get real advice from real experts.