Cameras
The Biggest Little Booths at Photokina
Don't forget the little guys! We round-up the most compelling small booths at Photokina 2012.
We feel a certain kinship with the smaller companies exhibiting here at Photokina 2012. The ones whose booths are—you know—actual booths, in contrast to the sprawling neon cacophonies on display from the big players.
So on our last day of the show, we took a trip down to the Koelnmesse's lower decks, to see if we could dig up any hidden jewels. Here's what we found...
Impossibly cheap lenses from SLR Magic
SLR Magic announced five new lenses for Photokina ranging from about $200 to $500. So what's the big deal? Oh nothing much, except their apertures range from F1.7 to T0.95!
Available mounts include Micro Four-Thirds, Sony E-mount, Fuji X-mount, and even one for the Red Epic. SLR Magic will have more information available once the show's over, so remember to circle back with them at SLRMagic.com.
Lensbaby showing off the Spark
Lensbaby is an unusual manufacturer that designs lenses around the concept of "selective focus," meaning subjects in different degrees of focus, even if they're the same distance from the camera. Their latest idea is simply called the Spark, like "creative spark," get it?
The Spark is a bellows-style lens, so it's necessary to pull the second element back toward your camera to focus. But most importantly, the whole barrel swivels a little bit, so it's possible to "point" focus at a certain zone (like a person's eye) but keep the rest of their face out of focus. It definitely produces a very unique effect. The product comes in EF and F-mount versions, both for only $80, so it's worth a try for most anybody.

For more information, head over to Lensbaby.com.
Q-Yield and their waterproof picture frames
Right across from the SLR Magic booth, we found another gem. Chinese company Q-Yield is exhibiting waterproof picture frames, the purposes of which remain somewhat mysterious to us. Here's how the sales pitch went during our rather short visit.
"This frame is completely waterproof, huh?"
"Yes."
"So what are most people using them for?"
"Outside."
"Like…what, on the side of their house?"
"Yes."
There might've been a slight language barrier involved here. The water impenetrability is rated to level 7, which is apparently much better than level 6, though not quite as good as level 8. For more information visit their site at Madezg.com.
Serious frames from Fachcolor Buhler
For better framing results (sorry, Q-Yield), we trekked to the furthest reaches of Hall 9, which is sort of like the Alaska of Photokina. The exhibit is called "Art in New Dimension" and it combines glass mounts and panes of an incredible level of clarity and fanciness with large Prolab prints at a resolution of 4000 dpi, which is just totally unheard of.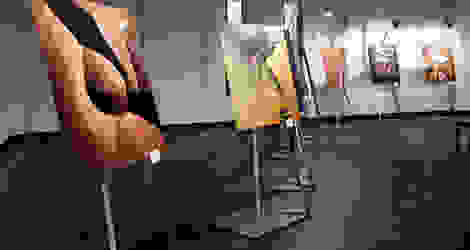 Panasonic's pit-stop
After the long march to Hall 9, we stumbled across what was absolutely the best booth of the whole show. Panasonic's "Just Relax" station has no attendant, no advertisement, just two really comfy massage chairs. We spent several hours gathering detailed impressions of this technology: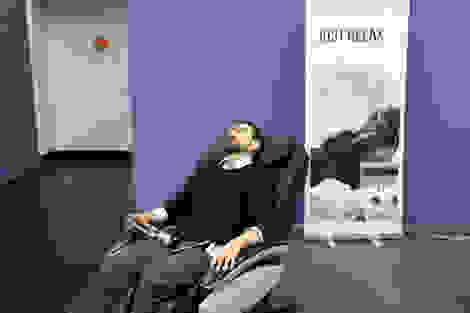 Camouflage by Martin Iglesias
For a company based around remaining hidden, Martin Iglesias' lineup stood way out. This Spanish retailer offers many of the accessories needed for hardcore wildlife photography, including camouflaged nests, tents, tripod enclosures, rangefinders, binoculars, and yes, even a Navy SEAL-style ghillie suit for blending in completely with the underbrush. Awesome.
High Drone's camera-copter!
We wanted to finish up this article with something really cool, but all we could find was this lame helicopter for your camera.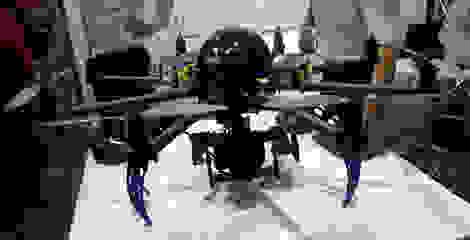 A company called High Drone is exhibiting an octo-copter capable of carrying your professional SLR—presuming it weighs no more than 5 kilograms—into the skies for aerial photography. The remote looks just like one you might find controlling an RC car, and it's capable of aiming the camera or releasing the shutter in midair, as well as piloting the drone of course. The whole vehicle is electric-powered, with no need for gasoline fuel. Pretty amazing right?
Well... there's more. Some models come with a pair of LCD virtual reality glasses that, when worn, connect with your camera wirelessly, like a remote viewfinder. You see what the camera sees, all from the safe comfort of sea level.

But. There's. More.
The glasses are also equipped with head tracking. Simply look around, and the camera will respond by rotating or tilting in the same direction as your head, seamlessly, and all in midair. Depending on options, the High Drone can be yours for between $5,000 and $25,000, but that's a small price to... ahem... elevate your photography career.
Up next
Get Reviewed email alerts.
Sign up for our newsletter to get real advice from real experts.