Cameras
ONA Brixton Camera Bag Review
$279.99 may seem obscene for a camera bag, but this one's built to last.

Credit:
Generally when we're discussing camera bags, we're looking at a host of padded, frumpy, utilitarian containers designed strictly to protect all that sweet, sweet camera gear. But in recent years camera bags have become more stylish, utilizing materials like leather, waxed canvas, and more buckles than you can shake a stick at.
One of the most talked about bags of this new stylish generation, the ONA Brixton (MSRP $279.99, ships free), doesn't come cheap. But its stylish looks belie an interior that can easily stash multiple DSLRs, lenses, a 13-inch laptop, tablet, and all the assorted gear you could need for a day's worth of shooting. This camera may be all about looks on the outside, but it's still a camera bag through-and-through—Velcro dividers and all.
Design
Like something your dad would've owned... in a good way.
Available in Smoke, Black, and "Ranger Tan" colorways, the Brixton is made primarily of a waterproof waxed canvas with leather accents. It's a classic design that looks like something Indiana Jones would carry around.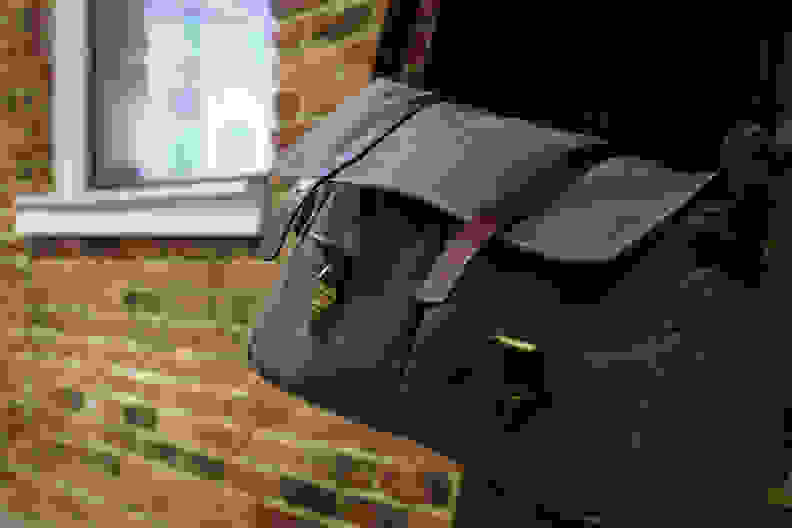 It looks like something Indiana Jones would carry around, if he ever got tired of his satchel.
All three colors feature leather straps, which slot through brass hardware buckles to keep the main flap closed. The flap covers the central storage area as well as two front exterior pockets. To our delight, the flap has small wings that fold in for extra protection against the elements. It's not a design feature all messenger bags have, and it shows an attention to detail on behalf of the designer.
The Brixton's exterior measures about 16.5 inches wide by about 11 inches tall, with five inches of depth. The bag is a good size overall—neither obnoxiously large or uselessly small—and the strap can be shortened or extended as needed.
The padded shoulder strap is made of what appears to be nylon, which is woven in a thick pattern that feels strong, with a smooth texture similar to a seat-belt. While comfortable, it was so smooth that it actually slipped off once or twice when casually slung over one shoulder. If you want to avoid the perils of casual shoulder usage, you can also use the sturdy leather handle.
Features
The stylish look highlights a camera bag that can still hold all of your stuff securely.
Of course, as stylish as the Brixton is, it still has to do its job: hold stuff and keep it safe from point A to point B. For that, the Brixton is as good as any other camera/laptop bag.
The main pocket is coated in a padded cloth material much like any other camera bag. A large cloth-over-cardboard divider runs the width of the bag, held in place with Velcro flaps. It affords just enough room for a laptop, leaving the rest of the bag for camera gear. ONA claims this space can hold up to a 13-inch laptop, but we found a 15.6-inch Macbook Pro (which has a body that's 17 inches diagonal) fit if you're willing to jam it into place and sacrifice most of the bag's protective powers. A smaller 15-inch laptop would certainly fit, but we found either a 13-inch Macbook Air or Ultrabook was just about perfect.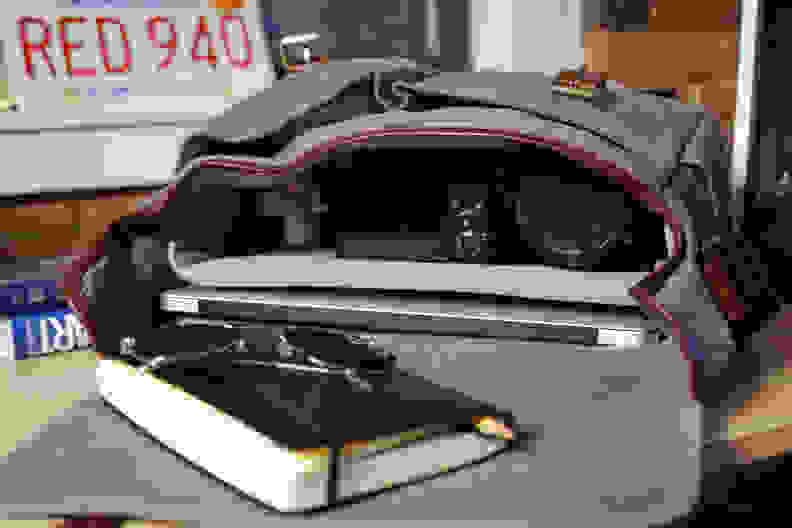 The main pocket also comes with four smaller padded cloth dividers that can segment off the rest of the internal space for cameras, lenses, or whatever else you need. The bag easily fit a Nikon D610, an Olympus E-M10, and a couple lenses, and we are confident you could get a pro-level camera like the Canon 1D X or Nikon D4 and a standard 24-70mm f/2.8 lens in there.
The Brixton also has five exterior pockets, including a large back pocket big enough to hold a medium-sized tablet. The rear pocket is about the same height and width of the bag, but it's not very deep, is too small for a laptop, and isn't padded. It has a stiff upper lip with enclosed magnets that help keep it shut, but it's not airtight. Even if you don't have a tablet, it's perfect for holding awkward extras like the thick extension cords for Mac power adapters. There are also two small pockets on either side of the bag and two larger pockets in front. We wish the side pockets had a little more give so that they could house a water bottle for easy access, but the front pockets are fine for extras like card readers, chargers, batteries, and the like.
Conclusion
With style to burn and plenty of space, the only question left is are you willing to pay almost $300?
While style is subjective and the ONA Brixton won't appeal to everyone, there wasn't a single person we polled who didn't find the bag attractive. That said, there's definitely an element of form over function, especially for street photographers who need quick access to their gear. While the leather accents and brass hardware look great, belt buckles are going to be bested by Velcro every time when it comes to quickly getting to the gear inside.
Still, not everyone needs immediate access to their camera all of the time. Some of us just want a great-looking bag that can safely hold your laptop, camera gear, and a few other essentials. The Brixton is perfect for just that, with removable dividers for the times when you don't need to carry a camera or laptop at all.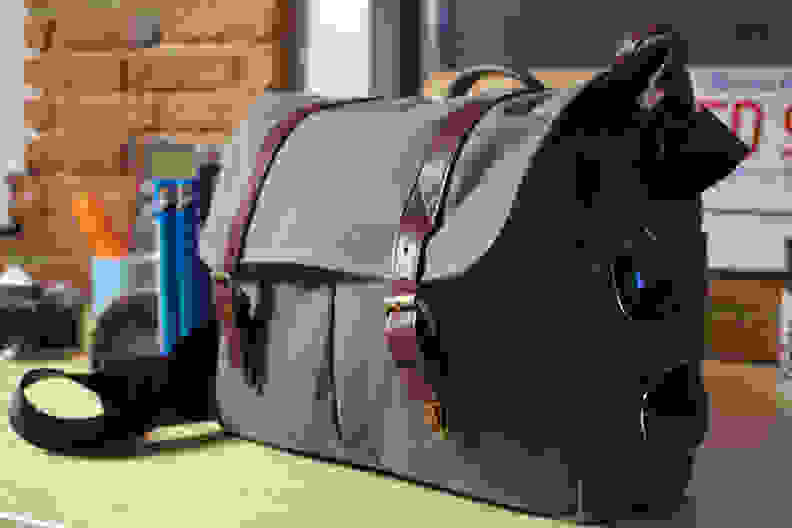 It's more purpose-built than general-use canvas messenger bags and it's better looking than the usual mishmash of nylon and Cordura that we see with your typical camera bag. From a durability perspective, its waxed canvas exterior is still waterproof, and we don't have any reason to believe a bag this well-built won't stand up to the normal abuse of everyday commuting.
Ultimately, the Brixton is a well-designed bag that prizes style over functionality. Of course, if you're looking for something purely utilitarian there are plenty of $100 messenger bags that do the job just fine for 1/3rd the price. But if you're even considering the Brixton it's likely because you want something a little more attractive, and in our opinion, you'll be hard-pressed to find a nicer looking camera bag on the market at any price.