Cameras
Why Doesn't Moscow Smile? Study Reveals Trends in Instagram Selfies
650,000 photos can tell you a lot about how people view themselves.
Credit:
Selfiecity, a new online study of Instagram photos from five major cities around the globe, is designed to analyze one of the most ubiquitous photo trends of the past decade: the selfie.
The study is the work of eight researchers from around the world, and it involved analyzing over 650,000 images randomly selected from Instagram users in Bangkok, Sau Paulo, Berlin, Moscow, and New York. The photos, which were scraped from the popular image-sharing service, were then pared down to include only photos people took of themselves.
The researchers looked at factors such as gender, apparent age, head tilt, and facial expression. The data was then analyzed and used to create some spectacular interactive visualizations, revealing all sorts of fascinating trends about selfie-takers in each of the five cities.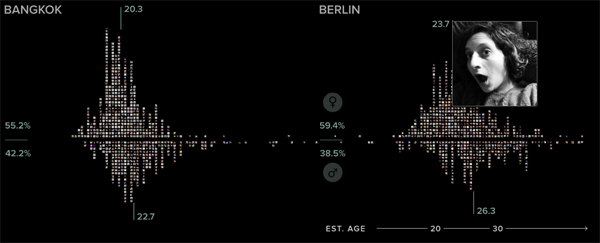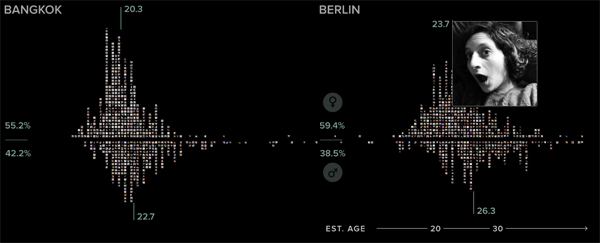 Some of the most interesting findings involved comparing trends from city to city. For instance, the researchers found that people in selfies smile less in Moscow than in Bangkok, and that selfie-takers in New York are on average several years older than those in other cities.
According to the study, there are far more women than men taking selfies, but men tend to be older on average. In Moscow, in particular, there were 4.6 times more selfies taken by women than men. Selfies themselves only make up about 4% of all photo on Instagram, however.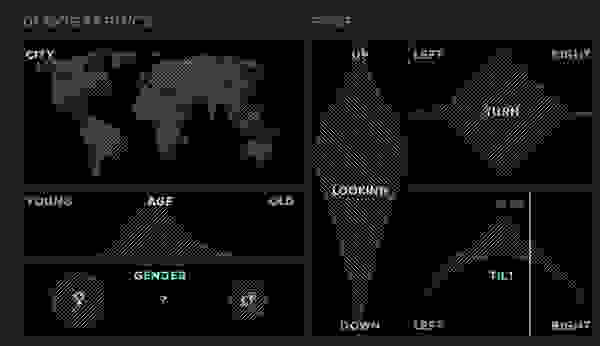 The project began with the work of Dr. Lev Manich and Jay Chow. They're the founders of Phototrails.net, which visualizes of over 21 million Instagram photos from 13 cities worldwide. This new project is the brainchild of Chow and freelance consultant Daniel Goddemeyer, who wanted to further analyze Instagram photo trends.
The photos themselves were analyzed both via software and using Amazon's Mechanical Turk marketplace, where people are paid to perform on-demand tasks that computers aren't well-suited for. While the people are responsible for estimating age and filtering out photos that were not selfies, the software analyzed things such as head tilt, expression, mood, and other factors.
You can check out the entire library of selfies by using the site's Selfiexplorer tool.