February 17, 2009 - In a flurry of Powershot introductions, Canon today announced US availability for the ultra-zoom SX1 IS (with 1080p video capability), its first waterproof digital camera, the D10, and the company's thinnest digital camera ever, the SD 780 IS, along with seven other models.
The SX1 IS raised eyebrows when it was introduced in September 2008. This is the first time Canon has incorporated a CMOS sensor in a compact camera, which combined with the DIGIC 4 processor enables full 1080p video recording and 4-frame-per-second burst shooting. The 10-megapixel camera offers a 20x zoom lens (28-560mm equivalent) with  maximum f2.8 aperture and optical image stabilization. Announced with December shipments in Europe, US enthusiasts were left in limbo until today, when Canon promised April availability at $599, along with one key additional feature: the ability to shoot RAW, absent from the first shipping models (though a firmware upgrade will be available).
Nine additional cameras were introduced today, four of which support 720p video recording (all with HDMI output): the SX200 IS, SD960 IS, SD960 IS and SD 780 IS.
Additional technologies bowing in the Canon line (though familiar from other vendors) include smart auto and blink detection. The Smart Auto feature, which adjusts camera settings automatically based on scene recognition, is found in eight of the new cameras, the SX1 IS and A480 being the only exceptions. Blink Detection makes its way into five models, the SX200 IS, D10, SD970, SD960 and SD 780.
An eye-catching addition to the Canon line is the company's first waterproof digital, the D10, which looks part-camera, part-submarine. This 12.1-megapixel model is waterproof down to 33 feet (10m), will withstand drops up to 4 feet (1.2m) and keep shooting down 14 degrees F (-10 degrees C). With a 3x zoom lens (35-105 equivalent) and 2.5-inch LCD, it's scheduled to ship in May for $329.
There are four additions to the Digital ELPH lineup. Three out of four provide 12-megapixel resolution and 720p video recording. Odd camera out is the $229 SD 1200 IS, a 10-megapixel, 3x zoom model with 2.5-inch screen and optical viewfinder, available in blue, grey, pink, green, orange and silver. It will sell for $229 when it ships in mid-February.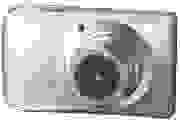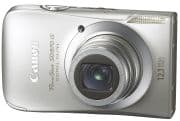 The other ELPH introductions start with the SD970 IS, priced at $379,  offering a 5x zoom (37-185mm equivalent) and a 3-inch LCD noteworthy for its 460,000-dot resolution.
The SD960 IS, with a rounded body that comes in four pastel colors, has a 4x optical zoom lens (28-112mm equivalent) and 2.8-inch LCD. It will ship in March for $329.
The SD 780 IS is the thinnest digital camera Canon has ever shipped; at 3.43 x 2.15 x 0.72 inches (87.1mm x 54.6mm x 18.3mm) it's slimmer than a pack of cigarettes. Available in gold, silver, black and red, the SD 780 IS features a 3x zoom (33-100mm equivalent) and 2.5-inch LCD plus optical viewfinder. It will sell for $279.
The SX200 IS is another 12-megapixel model, this one boasting a 12x ultra-zoom starting at 28mm. With a 3-inch LCD, the SX200 IS will ship at the end of March for $349.
The A2100 IS and A1100 IS are 12.1-megapixel cousins. The A2100 (shown), scheduled for April at $249, offers a 6x zoom and 3-inch LCD for $249, the A1100 IS provides a 4x zoom and 2.5-inch LCD, plus an optical viewfinder, for $199, with a February ship date.
Finally, we expect the A480, priced at $129, will be the last camera released with the aging DIGIC 3 processor. It's a 10-megapixel model with 2.5-inch LCD, 3.3x lens (37-122mm equivalent) and electronic-only image stabilization. It's due to ship at the end of February.