As the holiday season rolls around again, literally millions of people like you are thinking about buying digital cameras, either for their own use or as gifts.  We at DigitalCameraInfo.com heartily endorse that, and our only concern is that you get the best camera for your needs and budget.
We've put together a list of our favorite cameras this year to help you find the camera that's just right for you. We list them by price and by type of camera, and we describe the features that earned them their places on our list.
No camera is perfect, and none of these is right for everyone.  There are lots of cameras out there that can shoot great pictures. Just know that our top priority in making our picks is image quality – a longer zoom, cooler buttons, or even lower price don't matter as much as sharpness, good exposure, and smooth tones. So we believe you should go ahead and look for the special features you want, but we also believe you shouldn't compromise on the essentials.
**DigitalCameraInfo.com Selects by Price
---
The Canon 5D, a 12.8 megapixel full-frame digital SLR, came on the market in September with a suggested price of $3299. The camera's technology is excellent and impressive, but the real news is on the price tag.  Until now, cost made full-frame cameras seem like specialized equipment, tools for the studio or high-end magazine photographers. The 5D is not cheap, but it's less than half the cost of the other full-frame DSLR, the Canon 1Ds Mark II, and still cheaper than some top of the line DSLRs with APS-sized sensors.
Impressive specs wouldn't amount to much if the 5D's image quality weren't there to back it up. But the Canon 5D delivers excellent color, low noise, and superb resolution – all benefits of a large sensor.
Canon beefed up the 5D's processing power to accommodate its large files. While its 3 frames per second burst speed is typical of prosumer DSLRs, it's important to remember that it maintains that speed while processing images about twice as large as ones made by the Nikon D70s.
If money were no object, this category might belong to the Canon 1Ds Mark II or the Nikon D2X. But we think the 5D, at $3299, is an excellent value, and this caliber of performance at this price has raised the bar for other manufacturers. Now we just have to see how long it takes for them to respond.
When the Fujifilm FinePix S3 went on sale in early 2005, it broke new ground as the first DSLR to address dynamic range in an effective way. Simply put, the FinePix S3 handles scenes with extreme ranges of bright and dark better than any other DSLR.  Fujifilm promotes the 6.17 megapixel FinePix S3 as a professional camera, though it has been priced below the flagship "pro" cameras from Canon and Nikon. The S3 accepts Nikon-mount lenses and is compatible with Nikon dedicated flashes – in fact, Nikon supplies many key components of the S3. Fujifilm introduced the camera with an MSRP of $2499, but this fall saw the price drop to $1999. At the new price, this Fuji should be tough competition for the Canon 20D and the eventual Nikon D200 (set for retail in late December).
The FinePix S3's imaging chip uses two light sensors to create each pixel – a normal one, for most of the image, and a less sensitive one for highlights. This results in remarkably clean images; the S3's noise scores on our tests are unrivaled across its sensitivity range. At high ISO ratings, the S3 was as much as twice as good as other DSLRs. Though the S3's megapixel count is relatively low among leading DSLRs, we found that it made the most of the resolution it has, earning an "Excellent" rating in our test.
One of the tradeoffs with the Fujifilm FinePix S3 is its lack of speed; it's not the camera for fast action. Still, for shooters who put image quality first, and who shoot in challenging lighting, the Fujifilm FinePix S3 offers a unique set of advantages at a reasonable price. S3 users post lots of beautiful landscapes and portraits on websites and user groups, often highlighting wide dynamic range scenes. Wedding photography pros go for the S3 as well, to keep detail in both the bride's white lace and the groom's black tux.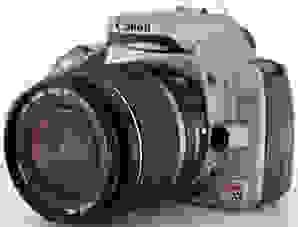 The Canon Digital Rebel XT was introduced in February 2005 as an 8 megapixel, $999 successor to the Canon Digital Rebel. The 6 megapixel Digital Rebel had been introduced at $899 only 18 months before, and had created a stir in its own right.
The Rebel XT not only improves on the Rebel with more resolution, it offers a significantly improved interface, expanded manual controls, and much faster performance speeds. For instance, the Rebel XT offers Canon's unusual and very flexible white balance fine tune control, which allows adjustment on both a Blue–Amber axis and a Green–Magenta axis.
The Rebel XT's image quality is excellent, with particularly good noise scores when the ISO is set manually, and very good resolution. Consumers should be aware of the Rebel XT's tendency to over-saturate colors. While this may present a significant drawback in many cases, it will probably lead to flattering snapshots for casual users.
Rebel XT owners might yearn for the more expensive Canon DSLRs – which have advantages like faster operation and more durable construction – but the Rebel XT does a great job. If you can't take good pictures with the Rebel XT, it's not the camera's fault.
The Nikon D50, which Pricegrabber tells us can be had for as little as $655 with an 18-55mm zoom lens, or $544 for the body only, is Nikon's least expensive DSLR. The D50 was introduced in April of 2005. Nikon stripped down the D50 compared to the D70s, dropping some features that make the D70s faster and more convenient to use. Still, the D50 delivers sharp, low-noise images and offers a range of manual and automatic image controls.
The most obvious advantage of a DSLR is its ability to accept interchangeable lenses. Nikon's lens selection is an impressive potential advantage for the D50, but few camera buyers plan to spend hundreds of dollars on new lenses – or even scores of dollars on used ones.
But the other advantages still tip the scale in this price category toward the Nikon D50, and away from the high-end ultra zoom cameras that are also in this price range. First, the D50 has excellent noise scores. The D50 turned in better noise scores than the original D70, and much better scores than the ultra zooms we've tested, with better in-camera image processing than the D70 and a larger image sensor than most ultra zooms. Second, the D50 is speedier than ultra zooms, with much less shutter lag than the higher-end compact models currently available. We measured the D50's lag at 0.02 seconds. This is quite a bit faster than the Panasonic FZ30's 0.38 seconds, or the Fuji S9000's 0.22 seconds. The difference is significant: almost no one could detect a 0.02-second lag, while anyone who's trying hard to capture motion will be limited by a 0.38-second lag. (I'm sure all you FZ30 lovers have snagged some wonderful action pictures, but trust me, it's easier with a faster camera.)
At its low price, we think the Nikon D50 relegates the $700 ultra zoom models to niche-product status – only people who need very long lenses on a tight budget are best served by them. For the majority of the situations that most enthusiastic amateurs find themselves in, the D50 is the better alternative.
The Kodak EasyShare-one breaks a few rules that we didn't even know existed. There's the rule than says you need to untangle a USB cord every time you want to print or download images – but with WiFi high speed wireless connectivity, the EasyShare-one doesn't need cords to print or download; it can even send email. And there's the rule that digital cameras come with pitifully small memory. With the EasyShare-one's 256 megabytes of internal memory, an extra SD card becomes a "nice-to-have" option instead of a "must-have" one.
The EasyShare-one features a 3-inch touch screen LCD and stylus-based controls. The screen swings and pivots in a remarkably versatile interface. The guts of the camera are a 3x zoom lens and a 4 megapixel imaging chip that together turn in good results. The colors are fine, and the EasyShare-one suppressed noise well. People are going to have fun using the EasyShare-one – or the imitations that are bound to pick up its many clever features.
Originally announced at $499, consumers can now get an SLR-shaped digital camera that is as easy to use as an automated compact model for under $400 online. The Sony Cyber-shot DSC-H1 begins the manufacturer's new "enthusiast series" with an ergonomically pleasing camera body, 5 megapixel resolution, and a 12x optical zoom lens with optical image stabilization.
Like many ultra zooms, the H1 offers the broad automatic options common on point-and-shoots, including a full automatic mode, scene modes, and a program mode. Catering to those who want to take more control, it also offers manual and priority modes. The wide maximum aperture of f/2.8 and the 30-1/2000th of a second shutter speed range make available-light shooting possible. 
The H1 performed well in our tests. It produced great colors, low noise levels, and was decent in low light. It can shoot VGA video at 30 fps, but oddly, only with Sony's premium Memory Stick Pro media.
Sony makes wide angle and telephoto conversion lenses for the H1, and they're probably very high quality, but they miss the point – the H1 is ideal for people who want to carry one do-it-all camera and who don't want to spend extra on lenses (and the conversion glass is not cheap, at $150 each).
Sony got the important stuff right with the H1. Backed by a strong image stabilization system, the long zoom lens works well, the image quality is very good, and at $400, it's a great price. It's much cheaper than the DSLRs that "enthusiasts" might also consider.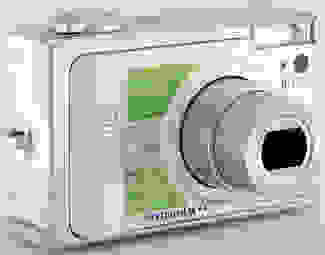 The Fujifilm FinePix F10 is, hands down, the best bargain for under $400. Listing for $399, but available online for over a hundred dollars less, the F10 has a 6.3 megapixel 1/1.7-inch CCD and Fuji's own Real Photo Processor. The FinePix F10 produced very low noise levels, decent colors, and great resolution – really, isn't that what it's all about?
The F10 has an impressive ISO range of 80-1600, and 1600 is actually very usable on the F10. The noise levels would look impressive even on much more expensive cameras.
Quick operation is pretty rare among compact cameras, but the F10 delivers here as well. It has a quick start-up time of 1.34 seconds, a burst mode that shoots almost 3 frames per second, and hardly any shutter lag at all. We also like the F10's durable body and its 2.5-inch LCD screen.
The manual mode doesn't let users control shutter speed and aperture, but rather allows access to features like metering and white balance. The five scene modes on the F10 include a flash-free Natural Light mode. The movie mode rounds out the options with VGA and QVGA movie sizes at 30 fps.
The Fuji F10 excels at the basics: it has great image quality, it's easy to use, there's very little shutter lag, and it has durable construction. Forget the frills and get an F10.
It's easy to get 30 picture modes and 27 different alert noises on an inexpensive camera. What's hard is getting an inexpensive camera with good image quality or convenient manual controls, and this is why we're so pleased with the Canon PowerShot A510.
The A510 did beautifully on our noise tests, providing the best performance ever by a point-and-shoot camera on our auto ISO test. Lack of noise is vitally important; low noise means smooth tones and gradations, and lots of noise means ugly, grainy-looking pictures. The A510's color performance and sharpness are more typical of compact cameras, with sharpness being the weaker score, but the A510 still receives a "Good" designation. Color is over-saturated, but because it punches up colors a bit it's likely to be popular with point-and-shooters.
The A510's manual controls are both complete and straightforward – it's relatively easy to set aperture from f/2.6 to f/8 and shutter speed from 15 seconds to 1/2000 of a second. There is a full manual mode. The A510 has the typical white balance presets, plus the ability to set a custom white balance.
Special Awards
Money isn't everything. Though we are confident that getting value for money is important to camera shoppers, we also know that many people shop for a specific type of camera – a little one, one with a long telephoto lens, one that shoots nice little video clips, or one that's versatile. It takes all kinds of cameras to fill consumers' needs, and we're here to recognize a few of the different types.
This digital camera began a new era for consumer digital photography, an era in which users can take pictures in their backyards and wirelessly send their pictures to printers. The concept of the camera is innovative as well as the design. The Kodak EasyShare-one has a large 3-inch touch-screen LCD with 230,000 pixels and a stylus. The LCD monitor can fold out from the camera body and rotate as well. The EasyShare-one has an unprecedented amount of internal memory with 256 MB; it can store and organize up to 1,500 pictures without ever needing an SD card, although it does have a slot for one.
The flagship feature on the EasyShare-one is its WiFi compatibility. The camera comes with a wireless card that enables the camera to send print orders, manage online albums, and send emails directly from the camera. This Kodak has 4 megapixels, a 3x optical zoom lens, 16 scene modes, and retails for $599. The EasyShare-one produced fairly accurate colors and suppressed noise quite well, so it has solid imaging technology behind the glitz of the wireless-happy marketing. While other models came out this year with wireless capabilities and another came out with a touch screen as well, the Kodak EasyShare-one's combination of the wireless ability, large touch screen, and vast amount of internal memory make this camera the year's best innovation.
Lots of slim digital cameras hit the market in 2005, but very few performed well. The 5 megapixel Sony Cyber-shot DSC-T5 wins our prize for best slim model of the year for its solid color reproduction, low noise levels, great resolution, and 3.69 x 2.36 x 0.8-inch measurements. This slim model is built for fashion-conscious consumers with its sleek body and flat pocket-friendly profile. The body is constructed from durable metal, so the T5 should be able to survive all the wear and tear of living in your pocket and clunking against your keys. And we couldn't pick a slim compact of the year that wasn't color-coordinated. The fashionable T5 is available in traditional silver, black, champagne gold, and red.
Its good looks continue with its comfortably spacious LCD screen at a nice clear resolution of 230,000 pixels. The Carl Zeiss 3x optical zoom lens does not extend from the camera body, but this keeps its profile slim and sexy. Since it's built for point-and-shooters, it comes with 10 scene modes and is very automatically oriented. Complete with 32 MB of internal memory (and of course, that slim compact je ne sais quoi), the Sony Cyber-shot DSC-T5 retails for $349.
Canon succeeded in merging a digital camera with a digital camcorder in this year's Canon PowerShot S2 IS. The S2 IS has 5 megapixels, a 1.8-inch LCD screen, and a 12x optical zoom lens in an SLR-shaped body. The LCD monitor is smaller than most screens on other cameras this year, but the Canon monitor folds out and rotates in typical camcorder fashion. The S2 produced accurate colors and had an impressive burst mode. It tirelessly takes two shots a second and has no limit to how long it can go.
Not only did the camera portion perform well, but the camcorder-like movie mode did too. With full VGA resolution and a 30 fps frame rate, the Canon S2 IS offered far more than most cameras' movie modes. The clincher is that users can use the optical zoom lens and image stabilization while recording movies for extremely smooth footage. Still images can be recorded simultaneously with movie clips while sound is recorded as well. And did we mention the sound? Most digital camera offer monaural audio recording with their movie modes, but the Canon PowerShot S2 IS offers stereo audio and even manual audio level adjustment. The wind cut function is definitely not offered on many digital cameras and the in-camera movie editing feature is also pretty rare. With a retail price of $499, the Canon PowerShot S2 IS is definitely the best performing hybrid of 2005.
The Fujifilm FinePix S9000's zoom range is notable for its wide end - it matches a 28mm lens on a 35mm camera, which is wide enough to take in groups in crowded rooms, and to shoot sweeping landscapes. The 10.7x zoom stretches out to a 300mm equivalent – not as long as some others, but it's plenty of magnification for many. With a 9 megapixel imaging chip and an online selling price around $560, the S9000 packs a lot into a single, compact package.
Fuji has been delivering excellent image quality in compact cameras for years, and the S9000 beats out the competition on this score: its noise ratings are significantly better than the other ultra zooms we looked at. The S9000's image quality is good enough such that Fuji could build in ISO ratings of 800 and 1600 – speeds other ultra zooms lack.
Fuji didn't build image stabilization into the S9000, which is surprising. It's the most impressive feature on many competing cameras. Good stabilization can allow users to shoot at shutter speeds as much as four times faster than they could without it. Of course, since the ultra zooms with image stabilization have really awful noise performance, they have to be shot at ISO 80 or 100 rather than 400. A tide of noise eats up the entire advantage of image stabilization, and effectively, you can get the same shots with the S9000 at ISO 400 that you can get with other ultra zooms at ISO 100.
As an all-in-one package, the S9000 offers solid wide angle views, plenty of telephoto capability, and image quality that beats comparable cameras. In the wide angle to normal zoom range, it's a capable camera for available-light shooting. For some folks, a camera bag full of a bunch of lenses and a DSLR is a nightmare – too heavy, too expensive, too much trouble. They should check out the Fuji S9000.
Top Performing Digital Cameras
While there were many strong performers in the ever-expanding DSLR category, the Canon EOS 5D earns the title of best overall performer in our books. With a good deal of hype surrounding the camera's full-frame CMOS sensor, there were significant expectations to live up to.
The camera's versatile design and stellar performance owes a lot to the implementation of Canon's new Picture Style configuration of image parameters. With "styles" optimized for color tone, saturation, sharpness, and contrast, users gain maximum flexibility and control over the image within the camera.  This helped the 5D earn a 9.0 overall color score on our color accuracy evaluation. Saturation ranged from 98 percent (2 percent under-saturated) to 126 percent based on alterations made using the in-camera parameter adjustments. When a realistic tonal rendering of the scene is sought, the 5D is equipped to provide it; the 5D displayed a 5.36 mean color error for the 24 tones of the GretagMacbeth color chart.  
We tested the 5D with a Canon 16-35mm and 20-70mm lens and garnered resolution results reaching 2281 LW/PH horizontally and 2182 LW/PH vertically.  This is quite high, as would be expected from a 12.8 megapixel imager. Equally as impressive though is the manner in which the camera's large 8.2 micron pixels controlled noise at high sensitivities, rendering usable images with strong definition at ISO speeds up to 1600.  
While the camera was criticized for its 3 fps continuous recording speed upon its announcement, we found its processing and write speeds to be remarkably quick. The camera is able to efficiently handle large streams of data, processing 71 12.8 megapixel JPEGs in less than 25 seconds and 17 RAW files in less than 22 seconds.  While the shot to shot rate is not made to accommodate professional sports or action photographers, the quick processor will help reduce waiting times and increase productivity. 
The Fujifilm FinePix S9000 packs 9 megapixels into a SLR-shaped, yet still compact, body. This digital camera is an ultra zoom model with its 10.7x optical zoom lens. The S9000 has flashy features: a 1.8-inch LCD monitor that folds out from the camera, a pop-up flash with a compensation adjustment, and slots for both xD-Picture and CompactFlash cards.
While these are great features, the S9000's real strengths lie elsewhere. The Fujifilm S9000's 1/1.6-inch CCD is paired with a quality Real Photo Processor for excellent performance and therefore quality pictures. In the camera's pictures, the colors were about average while the resolution was better. Still better was the S9000's ability to capture shots in low light. Some noise and grain entered the image – which is what happens to all images shot in low light – but as the exposure was pushed to keep the illumination consistent in the darkest of our tests (5 lux), there was not a large jump in noise. 
Perhaps the best performance feature of this FinePix is its ability to stamp out noise. It received an admirable 4.95 score when the ISO was selected automatically and did even better when the ISO was selected manually. The S9000 pulled out a 7.64 score even with its extensive 80-1600 manual ISO range. Rounding out the Fujifilm S9000's performance features is its speed. While its regular burst mode isn't incredible at a shot every 0.58 seconds for four shots, its unlimited burst lets users take all the shots they want at 1.1 fps. This ultra zoom can take its first shot in 1.22 seconds, which beats out many of the competing models. Retailing for $699.95, the Fujifilm FinePix S9000 has a lot of desirable features and even more desirable performance.
This point-and-shoot digital camera offers users a lot of options and great performance at a relatively low price of $399. With a simple auto mode and five scene modes, the F10 is easy to use. The Fujifilm FinePix F10 has a 3x optical zoom lens and a large 2.5-inch LCD screen. Inside of the compact body is a 6.3 megapixel Super CCD measuring 1/1.7 inches and a Real Photo Processor that produces decent colors but overexaggerates red tones.
The F10 had some of the best resolution scores we've seen in any digital camera, let alone a compact point-and-shoot model. Its noise levels were average when the ISO was automatically adjusted but improved very significantly when they were manually adjusted. The F10 has a very nice 80-1600 ISO range and still produced an impressive 11.42 manual ISO noise score. In low light, the Fujifilm F10 performed decently, except during the nearly dark 5 lux test. Still, the camera should take great pictures even in normal low light situations.
One of the F10's most notable performance features is its speed. A 1.34-second start-up time, 3 fps burst mode, and virtually nonexistent shutter lag make the F10 an all-around fast digital camera with speed comparable to low-end DSLRs. Better yet, the F10 can do all of this without exerting much energy; its rechargeable lithium-ion battery has a life of 500 shots. All of these great features come packed in a traditionally styled 1.1-inch thick camera body. The Fujifilm FinePix F10 looks and feels like a point-and-shoot, but behaves like a much more expensive digital camera.
We think a lot of people are going to buy the 5D. Its image quality is as good as it gets for cameras we've tested, and it's cheaper and smaller than other DSLRs in the over 12 megapixel range. Its full-frame sensor will appeal to those who like shooting wide angle images. And combining the 5D with Canon's range of EOS wide angle lenses yields the best available set of options for low light wide shots.
The 5D will be an influential camera, too. We won't guess whether other manufacturers will jump onto the full-frame bandwagon, but we do know that to compete they'll have to come up with the technology to match the performance improvement that the 5D offers. New wide angle lenses are only part of the challenge – its big sensor gives the 5D excellent color reproduction and low noise, even at high ISOs, and even with 12.8 megapixels.
Olympus, Pentax, and Konica Minolta haven't been marketing $3,000 DSLRs, so we don't expect them to compete head-to-head with Canon's 5D. Still, they have to respond to the 5D, because Canon has a habit of trickling technology down amongst its products. For example, even Canon's PowerShot line of point-and-shoots are now equipped with the DIGIC II image processing technology that runs up to the top of the line Canon DSLRs.  If other manufacturers don't get on board, they may find more than just Canon's DSLRs to worry about.