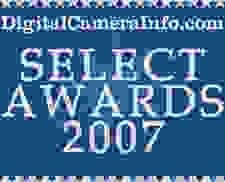 You've been mulling over a gift for months, and now the time has finally come to actually buy something. If a camera is on your gift recipients' list, there are plenty of options, from feature-packed ultra-zooms to waterproof models. More than 200 digital cameras have been released by major camera manufacturers in 2007. We've had the opportunity to test many of them and handpicked a few standouts to help guide you in your selection.
Best Camera under $500

Canon PowerShot G9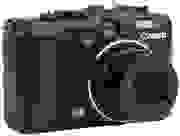 The G9 is the follow up to the G7, which we last year named Best Camera under $600. This year's model retails for $499, $100 less than the G7's introductory price. The G9 has 12.1 megapixels, the new high-bar in the "megapixel race." The G9 has a 6x optical zoom lens, optical image stabilization, and a 3-inch, 230,000-pixel LCD screen. It also has a flash that lights up to 13 feet in front of the camera and includes a hot shoe to attach Canon Speedlite flashes. It has a full set of manual exposure modes and controls that will satisfy seasoned photographers. They will also appreciate the ISO 80 to 1600 range that enables the camera to capture images in dim light. The camera can simultaneously shoot RAW and JPEG files, which is also a nice touch for these users. Beginners and budding photographers will appreciate the ease of use, 16 Scene modes, and quick and effective face detection that can track subjects even when their heads are turned. With features that cater to both beginner and advanced photographers and quality images, the Canon PowerShot G9 sets the benchmark for compact digital cameras.
Best Camera under $400

Sony Cyber-shot DSC-H7


This year, Sony contributed a handful of cameras to the growing ultra-zoom market, including the H9 and H7, which both have 15x optical zoom lenses. The main difference between these two cameras is their LCD screens; the H9 has a 3-inch rotating LCD with good resolution and the H7 has a 2.5-inch screen with only 115,000 pixels, a subpar resolution by current standards. The H9's large LCD contributes to its $479 price tag. For about $180 less, the 8.1-megapixel Sony H7 offers many of the same features including mechanical image stabilization, a full range of manual and automatic exposure modes, face detection, and high-definition output and slideshows with customizable music. The cameras also share an "Advanced Sports mode" that combines a 9-point tracking autofocus system and a 2.2 frame per second (fps) Burst mode. A strong feature set combined with accurate colors, low noise, and commendable low light performance put the H7 at the top of this category.
Best Camera under $300

Canon PowerShot A720 IS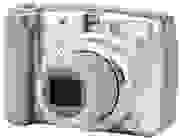 Canon's A-series digital cameras are considered less sexy and more functional when compared to the trendier SD-series models. The 8-megapixel A720 IS has Manual, Shutter Speed Priority, Aperture Priority, and Program modes, along with a handful of Scene modes and a Movie mode that records television-quality 640 x 480-pixel videos for up to an hour at a time. The Canon PowerShot A720 IS gets the last two letters of its title from its headlining feature: optical image stabilization. Image stabilization reduces blurry pictures and jumpy movies caused by shaky hands and is a great inclusion at this price point. The A720 has a 6x optical zoom lens and a 2.5-inch LCD screen with 115,000 pixels. It has a face detection system that reportedly recognizes, focuses on, and sets the proper exposure for up to 35 faces at a time. The Canon A720's images have very accurate colors and effective resolution – two aspects of image quality that are hard to find for $249.
Best Camera under $200

Panasonic Lumix DMC-LZ7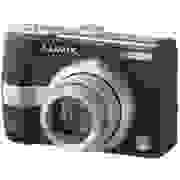 The Panasonic LZ7 proves digital cameras that cost less than $200 don't have to be featureless. The 7.2-megapixel camera has Program, Auto, Movie, and 21 Scene modes, and nice components such as a 6x optical zoom lens. The lens has an optical image stabilization system – a valuable feature at this price point. The LZ7 has a 2.5-inch LCD screen that doesn't have the best resolution at 115,000 pixels, but has a great flash that covers up to 17 feet. The ISO 100 to 1250 settings and basic Color modes like black and white and sepia all put the LZ7 a notch above its peers. It isn't the trendiest camera on the market, but its $199 price tag and full feature set make it a great value. 
Best Budget Camera

Panasonic Lumix DMC-LS70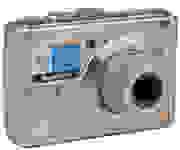 There are a large number of budget digital cameras on the market and of the cameras we've tested in this category, the Panasonic LS70 stands out. The camera's 7.2 megapixels are very effective at capturing detail, making it possible for users to print up to 11 x 17-inch prints. The LS70 produces excellent colors and offers manual controls like ISO, white balance, and exposure compensation for those who want to venture past the 18 Scene modes. This Lumix has a 3x optical zoom lens, optical image stabilization, and a 2-inch LCD screen. Its body may look very plain, but the Panasonic LS70's pictures look better than its budget competition. Its original retail price was $149, but it can be found online for about $130.
Best Hybrid Camera

Canon PowerShot S5 IS


The Canon S5 is the successor to the S3, which won this category last year. The 8-megapixel Canon PowerShot S5 IS is comfortable to hold and has a 12x optical zoom lens that works whether recording videos or snapping photos. There are separate buttons for taking pictures and recording movies, so pictures can be taken while recording a movie. The quality of the videos is the best we've seen from a digital camera. The optical image stabilization keeps the 640 x 480-pixel video steady, and the 30 fps frame rate keeps it smooth. Users can watch their videos on a 2.5-inch LCD monitor that has excellent resolution and can fold outward and rotate in true camcorder-style. The movies are sharp and the colors are excellent, even in low light. Add in selectable stereo audio sampling rates and a wind filter and the Canon S5 has the best Movie mode, hands down. Its great pictures, manual to automatic functionality, and stellar Movie mode give the S5 the edge. The Canon PowerShot S5 IS retails for $499.
Best Ultra-zoom Camera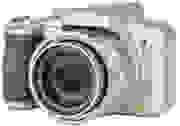 Panasonic Lumix DMC-FZ18
The FZ18's nice components, array of features, and solid camera body earned it a spot at the top of our rankings page. It costs only $399, which is a huge value considering all it offers. The 8.1-megapixel camera's 18x Leica optical zoom lens offers the most zoom of any ultra-zoom digital camera released this year. The FZ18's 28-504mm (35mm equivalent) lens isn't quite as wide as the 18x lenses on the Olympus SP-560 and Fujifilm S8000fd, but it zooms farther and its optics are superior. It has an optical image stabilization system that reduces the chance of blurry pictures and keeps videos stable. The FZ18 performs amazingly well in terms of color reproduction and dynamic range. It has a 2.5-inch LCD screen, a flash that lights up to 20 feet, and an electronic viewfinder that is handy when shooting in bright sunlight. Manual, Priority, Program, Auto, Scene, and Movie modes populate the mode dial, and users can shoot in RAW or JPEG. There is also a face detection system that can detect up to 15 faces in an image. The SLR-shaped body is comfortable to hold with strategically placed textured rubber grips. Excellent handling, features, and performance earn the FZ18 its spot at the top of the ultra-zoom market.
Best Ultra-thin Camera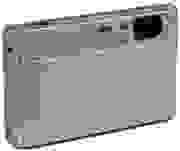 Sony Cyber-shot DSC-T100
The Sony T100 is only 0.88 inches thick, but size alone does not win this category. There are Casio Exilim digital cameras that are thinner, but they don't perform nearly as well as this Cyber-shot. The T100 proves it's possible to pack great features into and get good prints from a camera that can be stuffed into a pocket. It has flat surfaces and a sliding lens cover, which make the metal-bodied camera more durable than its competitors. The 8.1-megapixel camera has a solid set of components that include a 3-inch LCD screen, a 5x optical zoom lens, and image stabilization. Trendy face detection is included, as well as high definition output. This is a nice complement to the slide shows that can be played back with music. The best part of the tiny camera is its pictures: they have accurate colors and are sharp, detailed, and clear of noise. The Sony Cyber-shot DSC-T100 retails for $399, but can be found for $50 less now that it has been replaced by the T200.
Best Underwater Camera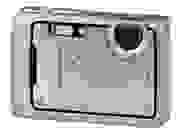 Olympus Stylus 770SW
There are only a handful of digital cameras that can go underwater without any special housing, and the 770SW can travel the farthest below the surface. Most underwater cameras can go as deep as 10 feet, but the Olympus Stylus 770SW can go up to 33 feet. It can also sustain 220 pounds, withstand the impact from a 5-foot fall, and tolerate temperatures to 14 degrees Fahrenheit. These specs make the Olympus 770SW a perfect choice for snorkeling, mountain climbing, and even everyday outings with toddlers. The 7.1-megapixel camera has a 3x optical zoom lens and a 2.5-inch LCD screen with 230,000 pixels. It is very compact and the 27 Shooting modes, including four underwater Scene modes, make it easy to use. The 770SW also has a built-in manometer that calculates air and water pressure and can record the elevation in the file info. There is also a flashlight and alarm clock. The Stylus 770SW retails for $379 but can be found for a little less now that its successor, the 790SW, is on the market. The newer version can only go to 10 feet underwater, though, so the Olympus Stylus 770SW takes the award.
Best Family/Child-Friendly Camera

Pentax Optio W30


If your last digital camera was ruined by your careless teenager or toddler, you'll understand the value of the Pentax Optio W30. This 7.1-megapixel digital camera can go underwater as deep as 10 feet – not enough to go scuba diving, but enough to ensure that a drop in the sink or a spill of lemonade won't damage it. The Pentax Optio W30 has a 3x optical zoom lens and a 2.5-inch LCD screen, along with face recognition and television-quality video recording to capture first steps, elementary school band concerts, and graduation. It measures 4.2 x 2.1 x 0.9 inches and its rectangular shape resembles a cell phone. Kids and teenagers will love the 20 Scene modes and interesting color effects, such as fish-eye and cartoon-like frames in the Playback mode. Parents will love that it is easy to use and doesn't easily damage. The W30 retails for $299.
Best Value


Panasonic Lumix DMC-TZ3

This camera has it all: resolution, zoom, trendy features, and a compact body. The 7.2-megapixel Panasonic Lumix DMC-TZ3 has an excellent 10x optical zoom lens, along with an optical image stabilization system. The compact camera departs from the chunky body of most cameras with similar zoom ranges, making it more portable than the competition. The smaller TZ3 handles great for its size and performs exceptionally well. Its colors are beautifully accurate, and it can snap great pictures, even in low light. There are 21 Scene modes, along with a Program mode that lets users control white balance, exposure compensation, autofocus, and ISO. Users can view their images on the high-resolution 3-inch LCD screen. The Panasonic TZ3 offers a lot of zoom in a convenient body for a relatively low price of $349. Better yet, the camera is selling online for an average of $50 less.
Best Innovation

4 GB of Built-in Memory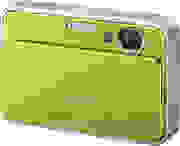 Last year saw new features such as touch screens, rotary dials, and wireless cameras. This year was the year for bigger and better, but not innovation. Every manufacturer increased the size of LCD screens, lengthened zoom lenses, and threw in juiced-up features like face detection – which was new last year, by the way. Though pickings were slim, we decided the Sony T2's massive amount of internal memory deserved the award. The trendy and thin 8-megapixel T2 has 4 GB of built-in memory, enough to hold 1,000 full-resolution images. The camera includes a few organizational features to manage all those photos, along with a slot for Memory Stick Duo and Duo Pro cards incase 4 GB is just not enough. Other Cyber-shot cameras can't record 30 fps videos to the internal memory, but the T2 allows this higher-quality recording. The Sony Cyber-shot T2 also has innovative "Sharemark" software that allows it to directly upload photos and videos to websites such as YouTube, Flickr, Photobucket, Shutterfly, and Crackle. The T2 completes its feature set with high-definition output, a 2.7-inch LCD screen with 230,000 pixels, and a nice range of Shooting modes and controls. The Sony T2 goes on sale in December for $349.