Cameras
4 New Nikons Include S1000pj with Built-in Projector and OLED-Equipped S70
4 New Nikons Include S1000pj with Built-in Projector and OLED-Equipped S70
August 4, 2009 – Nikon introduced four new Coolpix cameras today, including the first compact camera with a built-in projector, a model with a 3.5-inch OLED touch-screen, plus two more S-series additions, one of which is priced at under $200.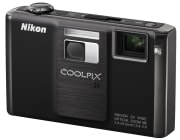 The Coolpix S1000pj is the first digital camera to incorporate a built-in projector, and comes complete with a projector stand and wireless remote for showing off your best shots hands-free. Nikon says the brightness measures up to 10 lumens, the image size from 5 to 40 inches, and the throw distance approximately 10 inches to 6 ft. (26cm to 2m), with output at VGA resolution. Even with this additional capability, the S1000pj is still reasonably small at approximately 4.0 x 2.5 x 0.9 inches (99.5 x 62.5 x 23mm) and 5.5 oz. (155g).
The camera shoots at 12.1 megapixels, with a 5x wide-angle Nikkor zoom lens (28-140mm equivalent, with a slow f/3.9-5.8 aperture spec) and a close focus distance of 1.2 inches. Standard ISOs range from 64 to 3200, with ISO 6400 available at reduced 3-megapixel resolution. The LCD is a routine 2.7-inch screen with 230,000-dot resolution. And bucking the recent trend to 720p, movie shooting on the S1000pj is limited to 640 x 480 resolution. The SJ1000pj will ship in basic black this September, priced at $429.95.
Also noteworthy among the new introductions is the Coolpix S70, offering the superior brightness and color saturation of an OLED display versus the usual LCD screen, and a 3.5-inch, 288,000-dot  touch-screen version at that. The capacitive screen (the same technology used on the iPhone) supports multi-touch gestures such as pinching to zoom in or out, but won't work with a stylus or gloved hands. Nikon has incorporated an interesting Touch Shutter feature which will not only autofocus on a spot you tap, but go ahead and take the picture as well.
Like the S1000pj, the S70 is a 12.1-megapixel model with a 5x wide-angle Nikkor lens, with the same zoom, aperture and ISO range but adding 720p HD movie recording. The S70 is a bit lighter and thinner than the S1000pj, at 3.8 x 2.4 x 0.8 inches (96.5 x 60.5 x 20mm) and 4.9 oz. (140g). It will be available in a two-tone design with four color schemes (red and red, black and black, champagne and beige and champagne and light brown), priced at $399.95 when it ships in September.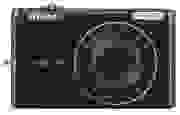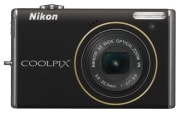 The other two Coolpix introductions, the S640 (left) and S570, are variations on a theme. Both offer 5x lenses with 28-140mm equivalent zoom range (f/2.7 - 6.6 maximum apertures) and 2.7-inch, 230,000-dot LCD screens in metal bodies. The S640 has slightly higher resolution (12.2 megapixels versus 12.0), and can shoot at full resolution up to ISO 6400,where the S570 tops out at ISO 3200. Neither camera can shoot in HD, though, offering a maximum video resolution of 640x480. The two cameras are nearly identical in size and weight: the S640 measures 3.6 x 2.2 x 0.8 inches (91 x 55 x 20.5mm) and weighs 3.9 oz. (110g), the tape of the tape on the S570 is 3.6 x 2.2 x 0.8 inches (92 x 56.5 x 21.5mm) and 4.2 oz. (120g).
Nikon is promoting the speed of the S640, claiming an 0.7 second start-up time and 'ultra-fast auto-focus.' The official names for the available S640 colors are Calm Black, Velour Red, Precious Pink and Pearl White. It's slated to ship in September for $249.95.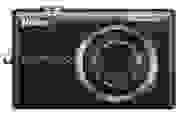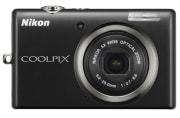 The S570 (right) hits the $199.95 sweet spot in the market, presumably by saving on a color naming consultant. The camera will be available in black, blue, red and pink in September.