Cameras
Adidas and Instagram Team to Put Your Photos on Shoes
Who said print is dead?

Credit:
Instagram is one of the most popular photo-sharing sites in the world, with over 200 million monthly active users and more than 20 billion photos uploaded as of April 2014. Aside from your phone and computer screen, those photos have appeared on polaroid-style prints, stickers, magnets, and even marshmallows.
Now Adidas is looking to bring your sepia-toned photos to a heretofore untapped product category: athletic shoes. Yep, you read that right. You can get some sick new kicks with the Instagram photo of your choice printed on them.
This August, Adidas is planning to launch a dedicated app called Photo Print (for Android and iOS devices) that will let you stamp your favorite shot onto a pair of the company's popular ZX Flux athletic shoes. The results are, well... exactly what you'd expect.
There's no word yet on exactly how this will play out, what the shoes will cost, or how long it'll be before they arrive on your doorstep. All we have to go on is the text accompanying Adidas' post:
ARE YOU READY? Take the #zxflux to the next level with the ultra innovative photo print app from #miadidas. Print your favourite photos straight on to one of 2014's hottest silhouettes and make a statement on your sneakers like never before. Rolling out on iPhone and Android from August 2014. The possibilities are limitless.
Rival shoemaker Nike had a similar offer a little while back that used your Instagram photos to create custom colorways of your favorite sneakers. But Nike's app never let you make shoes that looked like delicious burgers.
Adidas 1, Nike 0.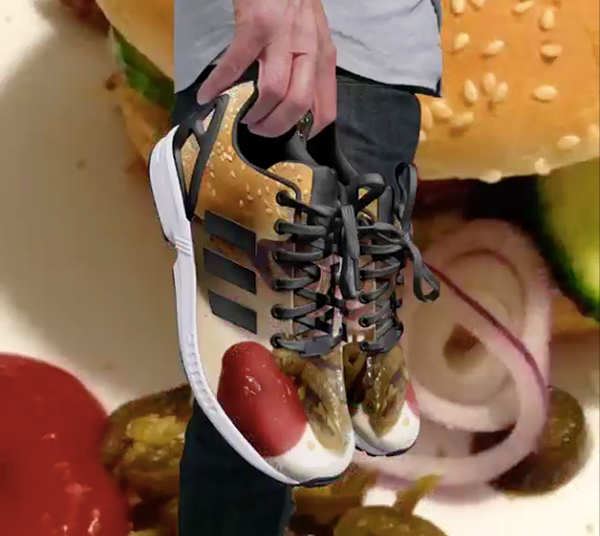 Responses on Adidas' official Instagram account included user bldun, who said, "So siiiiiiick!" and prebstardk who added, "Whooooaaa!!!!" But it was user kriikris who said what we're all thinking: "quiero la hamburguesa."
Quiero la hamburguesa, indeed.
Via: Pop Photo