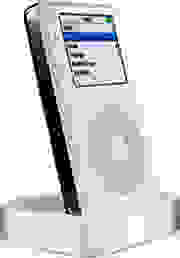 October 27, 2004 – The holiday season is approaching and Apple is preparing to make an appearance under your Christmas tree. Yesterday, Apple announced the iPod Photo, a data storage and viewing unit that can playback photos and music. The iPod Photo comes in two storage sizes, a 40GB model for $499 and a 60GB model for $599.
The iPod Photo can store up to 15,000 songs or up to 25,000 pictures, but most users will probably have a combination of the two. The device supports JPEG, BMP, GIF, TIFF, PNG and PSD image files. Apple is hoping to get its share of holiday sales by marketing the iPod Photo toward the mainstream consumer market, unlike Epson and Vosonic, who target serious traveling photographers. However, Epson and Vosonic's units both have memory card readers built in, while the iPod Photo requires an additional card reader to download photos. This key distinction should be clear to all potential iPod Photo consumers, additional chords or means will be necessary to import images to the iPod Photo.
"Having both your entire photo and music collections with you wherever you go is the next big thing," said Apple CEO Steve Jobs. "Everyone has a digital camera and wants to enjoy and share their growing library of digital photos wherever they are. Unlike video content, photo content is free and abundant, and there are no copyright issues to deal with." Although this is a fallacy and for the most part is untrue, photographs are definitely more accessible to intrigued viewers and can be viewed online for free but like all other media, permission is generally required when downloading images.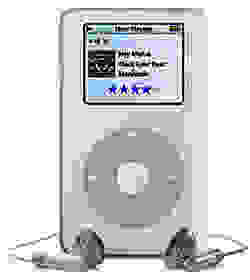 The 2-inch LCD monitor can display 25 thumbnails at a time or a single frame. The 220 x 176-pixel LCD screen has built-in backlighting and 65,536 colors. Users scroll through songs, albums and photos with the touch-sensitive Apple Click Wheel. If the LCD monitor proves too small for the audience, the iPod Photo can connect to televisions and projectors with its AV cable. Slideshows, with the optional music, can be viewed in standard 4:3 mode or 16:9 widescreen mode.
Photos can be downloaded through iTunes 4.7, iPhoto or Photoshop. However, the iPod Photo does not have a slot for direct reading from a memory card. The unit can play 15 straight hours of music or 5 hours of slideshows with music.
Apple's iPod Photo measures 4.1 x 2.4 x 0.75 inches, making it a potentially popular choice among consumers who need portability. At 6.4 ounces, the device packs in lots of extra features: text note reminders, games, alarm clock, calendars, to-do lists and contacts. The iPod Photo can also display album art and allow the user to rate songs adding a personalized element to the device.