Cameras
ArBa3d Updates its 3D Modeling Software
ArBa3d released an update to its 3D-modeling software. The 3D software renders 3D images by calibrating photos taken at different viewpoints.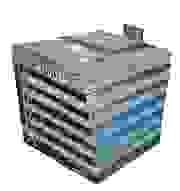 March 30, 2007 - ArBa3d this week announced an update to its 3-D-modeling software. The software renders 3-D images by calibrating photos taken at different viewpoints. ArBa3d version 3.0 improves upon the photo importing process, calibration, the user interface, and provides more efficient Web output.
'This is certainly a release which will allow anyone to build its proper model from the photos he will take with his digital camera. This evolution is a major step from the human stereoscopic vision that was used in version 2, which was limiting the model to 180º. Being able to create a full 3d-model, including the hidden face on the ground, is a major extension to ArBa3d.' said the founder of ArBa3d.com in a press release. 'This version of ArBa3d is the answer to a number of concerns expressed by our customers. It should give a more intuitive and effective modeling experience.'
According to the company website, the software's features include 2- and 3-D displays, 3-D tessellation, modeling with vertices/edges, JPEG and EXIF support, and OBJ, directX, and VRML output capabilities. Images can be saved locally or displayed on the Web via an ActiveX applet.
The software retails for $39. A 30-day trial version is available for download from the company's site.