*May 3, 2005 *- French photo-software developer DxO Labs is making available a beta version of its upcoming DxO Optics Pro Version 3.0 software, which will automatically enhance digital SLR images and offer three modes of user interface.
According to a DxO Labs' press release, the new software is "based on sophisticated models of camera and lens performance, [and the] DxO Optics Engine together with the associated lens correction modules automatically removes lens distortion, vignetting, lens softness and lateral chromatic aberration. Corrections can be accomplished automatically with no user interaction required even though the corrections required can differ greatly from one image to the next." DxO has reportedly developed a set of "unique" algorithms that allows for new noise reduction of up to two stops of image noise. DxO also boasts that the noise canceling programming retains maximum detail. "For example, an image shot at 1600 ISO and processed by DxO Noise Engine will present a noise level equivalent to an image shot at 400 ISO," explained a DxO press release. Additionally, DxO has added a special Lighting Engine that brings out details in shadows, while maintaining highlights, textures, colors and the natural look of the photograph. DxO describes it as replicating dark room tactics known as "dodging and burning." Within DxO Optics Pro V3.0 there are choices among three operating modes--fully automatic, key control mode, and expert control mode. In fully automatic mode, each image (JPEG or RAW) is automatically processed with the DxO Optics Pro technology. In Key Control Mode users can utilize the Optics Pro built-in corrections, while allowing for quick "fine-tuning" of the image. It provides a limited range of choices and is the middle step between auto and expert control. Expert Control Mode allows the maximum of user interface with Optic Pro and is of particular use when processing of a RAW file.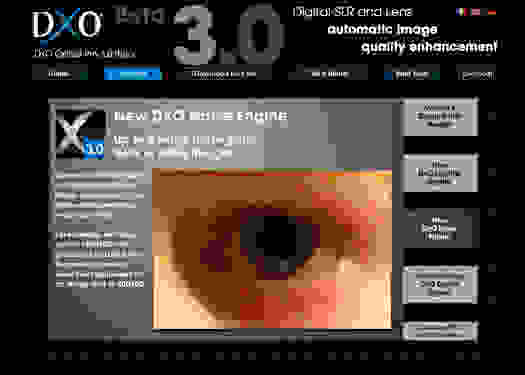 Luc Marin, Vice President of the Photography Business unit at DxO Labs, commented on the software. "I'm delighted that DxO Optics Pro software has won the praise of photographers and journalists worldwide since it was originally introduced in May 2004," said Marin. "Now, less than one year later with the announcement of Version 3.0, we are also adding significant new image enhancement technologies to benefit even more Digital-SLR photographers around the world. The public beta version of the DxO Optics Pro Version 3.0 is now currently available for download from the company's website." A blog has also been set up on the DxO website for user feedback on the product, which Marin hopes will be useful.
Once formally released, the Optic Pro Version 3.0 for most prosumer and digital SLRs will retail for $159. The Optic Pro Version 3.0 Elite, geared to professionals, will sell for $249.