Cameras
Camera Analysis Software Imatest Suite Released
Imatest LLC announced this month the release of Imatest API/EXE, a suite package that includes major updates to the image analysis software program used by digital camera and camera phone manufacturers, along with review websites including DigitalCameraIn
July 2, 2007 – Imatest LLC recently announced the release of Imatest API/EXE, a suite package of image analysis software that includes major updates. The software is used by digital camera and camera phone manufacturers and review publications including DigitalCameraInfo.com. The latest version of Imatest API (Application Program Interface)/EXE (Windows executable) promises improved ease-of-use.
The updated API/EXE bundle consists of five program modules to help automate testing: Spatial Frequency Response (SFR) to measure sharpness, Colorcheck for white balance and color accuracy, Distortion for lens testing, Stepchart for dynamic range, and Uniformity for light falloff.
"[It is] a lot easier to use the automated version," said Imatest founder and president Norman Koren in an interview with DigitalCameraInfo.com. "The API version runs more reliably. It is far more robust."
Called an "industrial automation version," according to Koren, Imatest provides image analysis to test camera, lens, and printer performance.
With a client list that includes Canon Europe, Fuji France, Hewlett Packard, Kodak, and Polaroid, Imatest is geared for manufacturers, reviewers, and consumers to test imaging equipment. The camera phone industry – from chip makers to handset manufacturers - has also recently shown interest in Imatest, according to Koren.
"Lots of people are using Imatest in development labs," said Koren.
Improvements to Imatest include a new Distortion module that allows users to be less precise when framing a Region of Interest (ROI), or a section of the photo to be tested for lens distortion. Imatest also adds new Structure Vector Graphics (SVG) charts so that users can print smaller test charts at maximum quality, allowing sharpness testing on a printed chart of any size.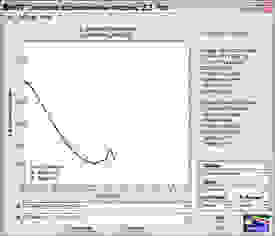 Other recent enhancements include a Modulation Transfer Function (MTF) Compare module that allows for side-by-side comparisons of sharpness or SFR results. Imatest API also has a new Veiling Glare measurement to detect lens flare and improved Multicharts for color response.
In future versions of Imatest, Koren said that more emphasis will be placed on complete automation including modules for Region of Interest (ROI) selection. A later edition will also show the amount of detail and texture lost in an image by testing the amount of low contrast at high spatial frequencies.
"Imatest is continuously improving," said Koren, who makes changes to Imatest based primarily on customer feedback. "It's a never-ending process."
Imatest runs on Windows 2000 or higher and Mac system with Virtual PC 6 or 7. The Imatest API/EXE suite is currently priced at $4000. Imatest Light is available for $129 and Imatest Pro for $499. Click here for more information about and to download Imatest.
**DigitalCameraInfo.com uses Imatest to test and review digital cameras.*