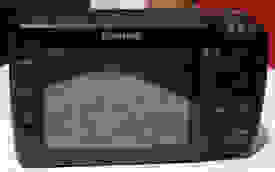 Cologne, Germany, October 2, 2006 – Epson, an already established brand in the relatively recent photo viewer market, now faces some competition with Canon introducing two Media Storage prototypes at this year's Photokina exhibition. Canon's M80 (with 80GB storage space) will retail for 700 euros (nearly $900) and the M30 (30GB) will retail for 400 euros (approximately $500) when they become available. Canon's M80 and M30 will compete with the Epson P-5000 and P-3000 at relatively the same price points. The 80GB Epson P-5000 (available in black) will retail for 699 euros (nearly $900), and the 40GB Epson P-3000 (available in silver) will sell for 499 euros (a little over $600). Besides the 10-megabyte storage space difference between the two smaller storage devices, Canon and Epson's media devices look relatively the same.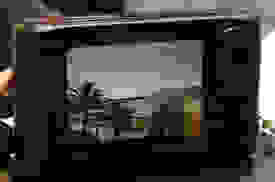 Both brands display photos and play videos, along with MP3s. The Canon M80 and M30 are being marketed primarily as a "professional solution to backup photos for photojournalists on the road," according to Canon's European Professional Imaging Coordinator Paul Lewis at Photokina. With a dedicated back- up button, users can automatically upload their images, eliminating the need for a computer. Users can then check for sharpness and focus.
Epson's P-5000 and P-3000 on the other hand, are marketed as entertainment tools, according to Media Marketing representative for Epson Jochen Schmid Liebich. "Older people prefer to eliminate the computer as the middle-man, and younger people prefer the portability, just like an iPod," according to Liebich. The Epson photo viewer is ideal for travelers or people sans laptops, he said.
Aside from the targeted consumer groups, one of the major differences between the Canon and Epson photo viewers is the compatible battery. The Canon M80 and M30 both take Canon BP-511A batteries, which also power its EOS 5D, 20D, and 30D DLSR bodies, thereby, providing additional convenience for Canon shooters. The Epson P-5000 and P-3000, while also running on lithium ion cells, do not double as an additional power supply for a particular camera model.
Canon Viewer and BP-511A battery
*Epson P-5000 with lithium ion battery * 
Both brands are compatible with SD and CF memory cards, although the Canon media storage device slots are on the bottom, while the Epson slots are on the top.
To further distinguish themselves, Canon promises their first photo viewer is faster than Epson, although the representative did not have the specifications to further this claim. Epson boasts their 4-inch LCD quality has four colors for each pixel, over the standard three.