February 17, 2005 – Canon announced two new digital cameras to its compact Digital ELPH line today. The Canon PowerShot SD400 and SD500 are both compact with their 3x optical zoom lenses, 2-inch LCD screens, and dramatically improved movie modes. The SD400 will be available in April for $399.99 and the SD500 will retail for $499.99 when it makes its first appearance on store shelves in March.
"The Digital ELPH series remains the epitome of high-quality camera design in the consumer camera market, often imitated but never equaled," said Yukiaki Hashimoto, senior vice president and general manager of the consumer imaging group at Canon. "We know that though their sleek and slim styling consistently captures consumers' attention and affection, their fashionable form most assuredly follows one primary function: excellence in imaging."
Canon aims for this imaging excellence with its Digic II Imaging Processor. The new processor cuts startup time from two seconds to one, reduces shutter lag time, chops auto focusing time, and reads and writes to the SD card faster. To match the processor, the 7.1-megapixel SD500 has a 1/1.8-inch CCD and the SD400 has 5 megapixels on its 1/2.5-inch CCD. Both cameras have an ISO range from 50-400, a custom white balance mode in its white balance selections, custom self-timers that can be adjusted from 1-30 seconds, and automatic rotation of images in playback mode. Another interesting feature included on the Digital ELPH models is a sleep mode that awakens when the cameras sense movement.
The movie mode in the new SD500 and SD400 has three image size options, shooting at 30 frames per second. While this is becoming more and more normal in compact digital cameras, these ELPHs employ a digital zoom function, which is fairly rare. The cameras continually adjust exposure settings while shooting in movie mode too. Perhaps the most intriguing feature of the new cameras' movie modes is the Fast Frame option, which captures 60 frames per second at 320 x 240 resolution. Movies can be viewed in slow motion or at regular speed within the camera, as both models have built-in speakers and microphones.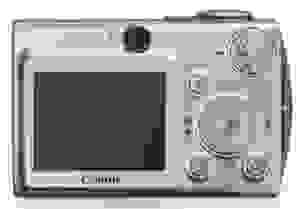 Because of the larger 7.1-megapixel 1/1.8-inch CCD in the Canon PowerShot SD500, the camera has a slightly larger 37-111mm equivalent zoom lens than the SD400's 35-105mm. The 3x optical zoom lens highlights the stainless steel body, which looks different than most Digital ELPH cameras. The "Perpetual Curve Design," so it is called by Canon engineers, departs from the more linear form and sharp lines of previous ELPH models and rounds the edges slightly. The body is slightly larger, with a thicker right-hand grip, which Canon claims is more comfortable to hold.
The Canon PowerShot SD400 has 5 megapixels and a slightly smaller lens. This model has the same 2-inch LCD screen with 118,000 pixels as the SD500. Both cameras' screens are backlit with an LED and have a brightness function. This camera comes with a 16 MB Secure Digital card, while the SD500 comes with a 32 MB card.