Cameras
Canon Announces Additions to PowerShot Line: SD200 and SD300 Bring Advanced Movie Mode and larger LCD Screens to Slight Frame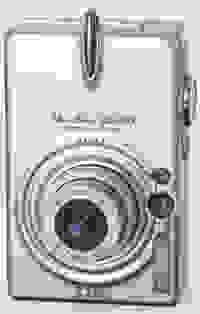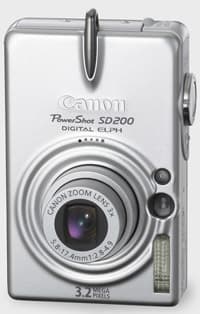 September 21
st
, 2004 - Canon adds two thin cameras to its PowerShot series, bringing revolutionary movie speed and expanded LCD size with a reduced frame. The SD200 and SD300 mix portability, style, and shooting flexibility to augment the digital ELPH line. Yukiaki Hashimoto, senior vice president and general manager of the Consumer Imaging Group at Canon, describes the additions as embodying "the basic principles of the ELPH line — ultra compact, lightweight, and highly elegant — while striving to produce the best image quality possible." The SD200 and SD300 both utilize Canon's UA lens technology, DIGIC II processor, and innovative 60 frames-per-second movie mode. Each has a 2" LCD monitor contained on a slender frame crafted for portability. There are a few distinguishing variances between the two models; among them, the Canon PowerShot SD200 contains a 35-105mm (equivalent) lens, leading to its 3.2 megapixel imager. There is a 3x optical zoom and additional 3.2x digital zoom included within its slight, aluminum frame. The PowerShot SD300 contains the same 35-105mm (equivalent) lens with a larger, 4.0 megapixel CCD. The SD300 provides 3x optical zoom, and 3.6x digital zoom in a stainless steel body.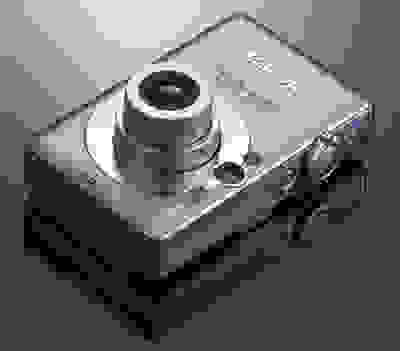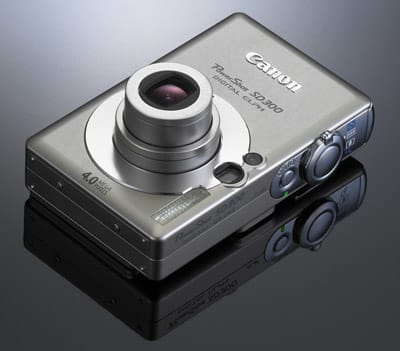 The key advancement on both of these new PowerShot models is the revolutionary 60 frames-per-second shooting speed available in movie mode. This rate exceeds anything currently on the market for digital still cameras and surpasses many camcorders, often limited to 30 frames per second, as well. This will put these two PowerShot cameras into an elite "hybrid" category, capable of recording fluid motion video at exceptional speeds. The 60 frames-per-second rate enables the SD200 and SD300 user to record full-frame coverage of rapidly moving vehicles or record a full range of motion from a sports or action scene.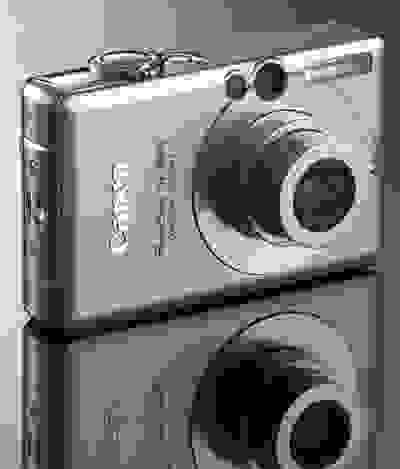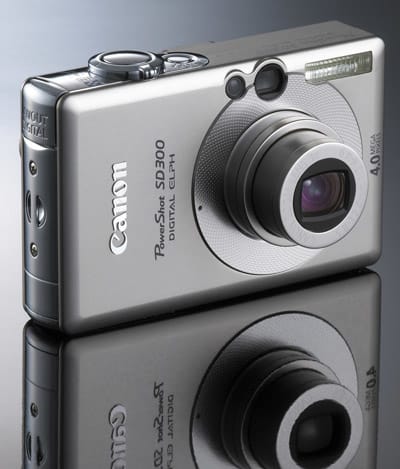 The SD200 and SD300 are the first PowerShot models to feature Canon's DIGIC 2 image processor, specifically designed to provide rapid start-up time and automatic focusing as well as reduce shutter lag speed. The DIGIC II processor also aids automatic white balance precision, a recurring ailment in many point-and-shoot imagers. Enhanced color reproduction also results from the DIGIC II processor, helping tonal production in bright, blown-out shooting situations, along with granting a wider dynamic range to provide the user with more flexible depth of field and shooting speeds.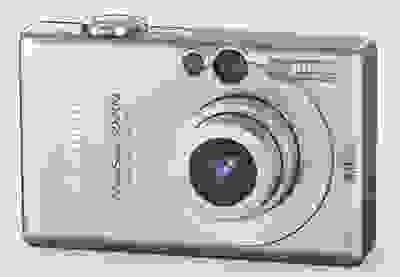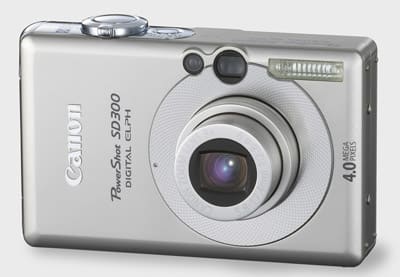 Canon has also included a new lens on both the SD200 and SD300 that incorporates Canon's exclusive UA lens elements, known among the industry as Ultra High Refractive Index Aspherical technology. Deborah Szajngarten, Public Relations Manager of Canon's Corporate Communications Division, acknowledges that "using our UA lens technology allows us to incorporate Aspherical lens elements into a very small camera." The result of the higher quality glass is advanced sharpness and clarity in a small frame. According to Szajngarten, the "most impressive spec on the cameras is their 2" LCD screen." A screen of this size on a body that fits comfortably in the palms of your hands is only matched by some of the Sony Cyber-shot cameras. The Cyber-shot models also look to combine sleek style, compact size and exceptional viewing with advanced recording capabilities on a compact point-and-shoot camera. Movie mode is also in high regard on the Cyber-shot models; however, none of them have a recording rate that exceeds 30 frames-per-second. Szajngarten explains that the aspect that "sets these PowerShots apart from the competition is advanced image quality, much better glass, and DIGIC 2 image processor."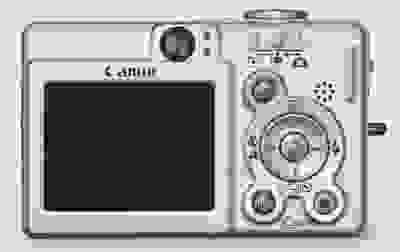 Each model contains a 9-point TTL (Through The Lens) AiAF automatic focusing method with an AF assist beam. There are 13 preset shooting modes included, intended to orient the camera to a variety of shooting scenarios. Continuous shooting modes are also provided, allowing the user to shoot at a constant rate of 2.4 frames-per-second until the card is full.
The new PowerShot cameras have a mechanical and electronic shutter with speeds ranging from 15 seconds to 1/1500 of a second. This will grant the point-and-shoot user some flexibility in the light needed to make a proper exposure. However, in those instances when a tripod is not accessible, both cameras are equipped with a fixed stock flash that features six modes (Auto, Auto / Red-Eye Reduction, Flash On, Flash On with Red-Eye Reduction, Off, and Slow-Synchro.) The flash units have been positioned away from the lens to alleviate red-eye.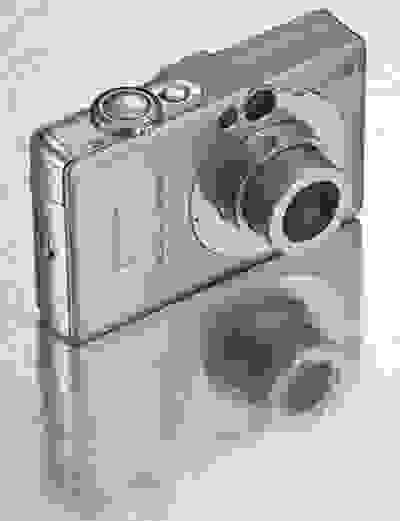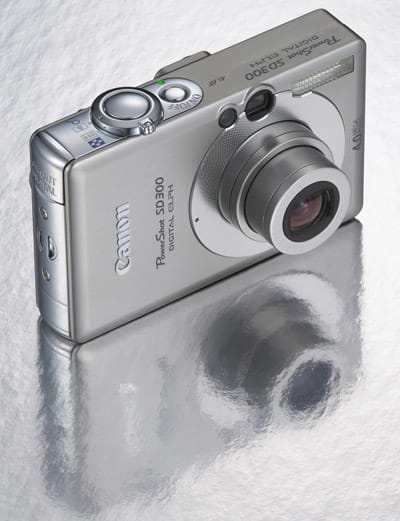 There is a Print and Share button designed to accommodate instantaneous printing, as well as an ID Photo Print mode that will enable users to print passport-sized photos. A movie print feature is also available to print a selection of frame captures from recorded video. Standard PictBridge printing is also available from compatible printers. Some can create paper composites in as fast as 85 seconds.
The SD200 is set to arrive in retail stores in October at an estimated price of US$299.99. Consumers will have to wait until November for the SD300, opening at US$399.99.