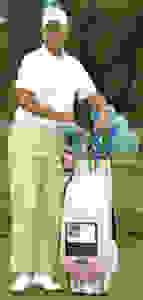 February 11, 2005 – Canon is sponsoring LPGA golfer Michelle McGann for the second year in a row, it announced yesterday. This isn't any ordinary sponsorship; McGann works with Canon4Kids, a program that generates awareness and raises money for the National Center for Missing and Exploited Children (NCMEC). As part of the deal, Canon will post digital images of missing children on McGann's golf bag throughout her 2005 LPGA tour.
Canon will also donate to NCMEC $100 for a birdie, $250 for an eagle, and $1,000 for a hole-in-one by McGann. In 2004, McGann raised more than $12,000 for the organization.
"This is just a small way the LPGA can create awareness and involve our fans and supporters to help find the children and bring them home," McGann said. The children featured in the Canon4Kids program are selected by NCMEC. The two organizations have collaborated since 1997. Canon remains supportive of the cause by encouraging parents to keep updated digital photographs of their children. The digital camera manufacturer also donated $100,000 worth of digital cameras and printing supplies to law enforcement officials in 2004 to assist them in combating crimes that affect children. Canon expects to donate twice that amount in 2005.