Cameras
Canon Unveils EOS 7D, 18MP SLR with 1080p Video
Canon Unveils EOS 7D, 18MP SLR with 1080p Video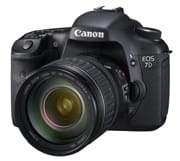 September 1, 2009 – Canon today introduced the EOS 7D, a video-enabled SLR with a new 18-megapixel APS-C-format CMOS sensor, that will shoot 1080p video at 30, 24 and 25 fps, and stills up to 5184 x 3456 resolution.
The 7D, featuring dual DIGIC 4 processors, will shoot JPEGs at a speedy 8 frames per second, up to 94 shots consecutively to a standard CompactFlash card or 126 to a UDMA card. In RAW mode, burst shooting up to 15 frames is possible. For enhanced shooting speed, the new sensor features an eight-channel readout, versus four channels on the 5D Mark II. And unlike the 5D, the 7D will come with a built-in flash, with built-in wireless flash control as well.
The magnesium alloy body is fully weather resistant, with extensive dust and water seals. The rotary magnet shutter design (the same type used in Canon's 1D line) promises 150,000-cycle durability. The viewfinder is a bright pentaprism design offering 100% coverage, the LCD a 3-inch 920,000-dot display.
The viewfinder autofocus system offers 19 cross-type AF points when shooting with an f/5.6 or faster lens. In addition to the standard evaluative, center-weighted and spot autofocus modes, the 7D supports a new Zone focus mode. Zone focus lets you select one of five clusters of AF points in different areas of the screen, useful for shooting off-center subjects.
The official ISO range is 100-6400, with an expanded Hi setting corresponding to ISO 12800. Exposure compensation spans a ±5 EV range.
The metering system reads 63 different zones, and adjusts for chromatic sensitivity, taking into account the fact that the meter is more sensitive to red light and less to blue.
A new feature for Canon is a dual-axis level, viewable in the viewfinder or the Live View screen, to indicate both horizontal and vertical tilt.
Movies shot with the 7D are stored in H.264 format. As with the 5D Mark II, there is a 4-gigabyte limit to individual clips (meaning a 12-minute maximum shooting in full HD). In addition to the 1080p shooting modes, 720p and standard-definition video can be shot in 60 fps or 50 fps speeds (to accommodate both NTSC and PAL standards). Manual aperture and shutter speed control are available along with program AE mode when shooting video, though continuous focus is still not available. The camera's ISO setting can also be controlled in video mode. And unlike the 5D Mark II, in-camera clip trimming is available.
The following video was shot with the camera in 1080p, 30fps mode in Times Square with a pre-production model of the 7D. Of course, it's been down-rezzed by YouTube, but looks good in the original, with smooth motion and accurate colors.
The Canon EOS 7D is slated to ship at the end of September. It will be priced at $1699 for the body alone or $1899 with a 28-135mm kit lens.
Today's introduction also includes three new lenses. The EF-S 15-85mm f/3.5-5.6 IS USM lens will sell for $799.99 when it ships in late October. The EF-S 18-135mm f/3.5-5.6 IS  is priced at $499.99 with a late September ship date. And the first lens incorporating Canon's new hybrid image stabilization system (covered in the news story here) is a EF 100mm f/2.8 macro priced at $1049, also slated for late September availability.
To see several sample images taken with a pre-production version of the Canon EOS 7D, click here or on the image at right.