August 19, 2009 - Canon unveiled six new PowerShot cameras today, including the new flagship G11 and the high-end S90, which offers an incredible f/2.0 lens. All the cameras use the DIGIC 4 processor and offer optical image stabilization.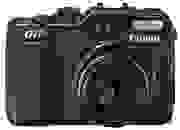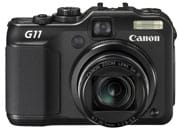 Surprisingly, Canon chose to actually reduce the resolution on the new G11, down from 15-megapixels to 10-megapixels on the previous G10 camera. With the sensor size unchanged, you can expect a reduction in the amount of noise. It also has an adjustable LCD (461,000-dots), optical viewfinder, a 28mm equivalent 5x zoom lens, with a maximum aperture of f/2.8. Manual control lovers will appreciate the dual control dials, as well as the option to shoot in RAW+JPEG. The one missing feature? HD video, the G11 is still mired in the world of standard definition. The ISO range of the camera runs 80-3200, and Canon claims their new noise reduction system will make significant improvements on the noise front. The G11 will be available in October for $499.99.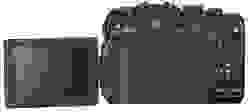 Canon have resurrected the S series with the PowerShot S90, another camera aimed at high-end users. It's smaller than the G11, has a 28mm wide-angle lens with 3.8x zoom, and a maximum aperture of f/2.0. This makes it the fastest lens on a current generation Canon point-and-shoot, and a feature that low-light shooters will love. Canon has also added an interesting new feature in a control ring, which loops around the lens. It can be used to adjust zoom (to preset focal lengths), ISO, shutter, aperture, focus and exposure compensation. This is a concept we love, and hope to see roll out to other models. It has a 3-inch LCD (461,000-dots), and full manual controls including RAW+JPEG, though unfortunately no HD video. It will be available in October for $429.99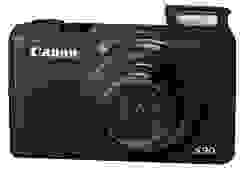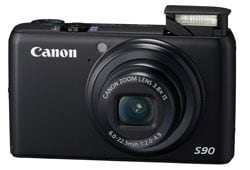 The PowerShot SX20 IS and SX120 IS are both ultra-zoom cameras that have articulated LCDs, rely on AA batteries as a power source, and will be available in September. The SX20 (below left) shoots 12-megapixel images, 720p HD videos, and has a 20x zoom. It will have a pricetag of $399.99. The SX120 (below right) records 10-megapixel images and has 10x optical zoom, but in a smaller body than the SX20. It also has a 3-inch LCD, compared to the SX20's 2.5-inches. It will set you back $249.99.


Canon has also announced two new additions to their eminently pocketable ELPH line: the Powershot SD980 IS and SD940 IS. The SD980 is the first of the ELPH line to have a touchscreen LCD, though no word on if it's capacative or inductive. It shoots 12-megapixel stills and 720p HD video, with a 5x zoom on the 24mm wide-angle lens. It comes in silver, blue, purple and gold, and will cost $329.99 when it lands in October.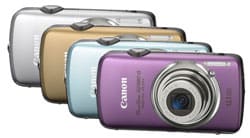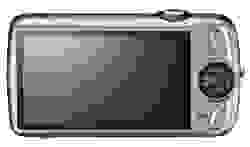 The slightly more pedestrian SD940 IS will cost $299.99 at its September release, and like the SD980 it shoots 12-megapixel images and 720p HD video. It has a 28mm wide-angle lens, 4x optical zoom, and a 2.7-inch LCD. It will be available in blue, black, silver and brown (pictured).