Cameras
Casio Announces EX-Z450 & EX-Z90 With New Intelligent AF system
Casio has just announced two new cameras called the EX-z450 and EX-Z90
August 18th 2009 - Pet lovers and alien hunters, rejoice: Casio has just announced two new cameras that they claim will be able to detect non-human faces, and focus and expose for them appropriately. Casio claims that their new Intelligent AF feature can detect pet faces and 'even a non-human photographic subject'. The company did not specify if this would include bug-eyed aliens from beyond the stars, instead claiming that the new system will detect pet faces and scenes such as landscapes, and focus and meter appropriately.
Casio also claims that the new Dynamic Photo system will allow users to extract a moving object from a photo (as long as they are shot against a plain background) and paste it into another photo. This extracted object (such as a small child, pet or alien spacecraft zipping across the skies above Area 51) can then be pasted onto another image, so you could create a family portrait even of one of the subjects refuses to stay still. The cropped object can also be resized and moved before pasting, and you can also create a movie of the object zipping across the frame for possible sale to the Fox network.
*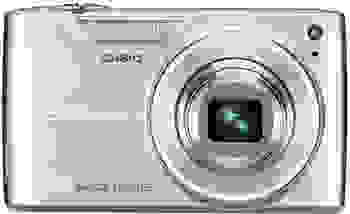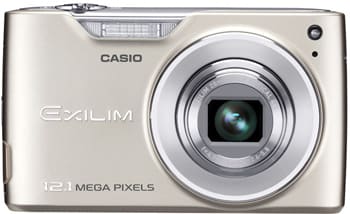 The EX-Z450

*
The Exilim Zoom EX-Z450 shoots 12.1 megapixel images, and includes a 4X optical zoom and a 3-inch LCD screen. It also includes sensor-shift image stabilization and has a claimed battery life of 550 shots. An enhanced handheld night scene is also included, which takes a sequence of images, then chooses the one with the least camera shake to save. The EX-Z450 measures 3.8 by 2.2. by 0.84 inches.
The Exilim EX-Z90 also shoots 12.1 megapixel images, but has a shorter 3x zoom without image stabilization, with a 35mm film camera equivalent range of 35 to 105mm. It measures 3.53 by 2.03 by 0.76 inches and will be available in pink and black.
Both cameras can also capture HD movies at resolutions of up to 1280 by 720 pixels with mono sound. The EX-Z450 will cost $199.99, and the EX-Z90 will cost $149.99. Both will be available in October.