*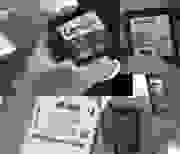 Las Vegas, Nevada, January 9, 2007 *– Memory card manufacturers released a host of new memory cards this week, particularly SD media cards. While some manufacturers continue to market less common media, many of the new flash memory media released this week were Secure Digital and Secure Digital High Capacity memory cards. Consumers can expect the usual upgrade features including higher capacity and faster write speeds. Read on for a round up of memory cards released at CES.
"SD will gain a little more ground in the middle-tier cameras," said Lexar sales representative Jerry Murphy in an interview with DigitalCameraInfo.com at CES. As for the future of Compact Flash, the traditional media card will most likely remain on professional cameras. "CF will still have a place with high-end cameras," said Murphy. 
Another trend among the new cards is more use of the class standardization, in accordance with the SD Card Association. Currently there are three classes for memory cards: Class 2, 4, and the highest at 6. Each Class represents the minimum write speed the card is capable of. The SD Card Association class standards are a replacement for the "X" amount of speed label on cards. Multiple manufacturers, although not all of them, use the class specification with the intention to help consumers make quick decisions for purchasing memory cards with standardized categories.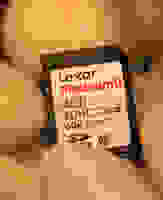 Here is a round up of new memory cards announced at CES this year:
**Lexar **

Lexar Platinum II 4GB SDHC - As part of their middle-of-the-line the Platinum II series, Lexar's 4GB SDHC card totes a 60x speed rate and writes at a minimum of 6 MB per second, according to SD Card Association Class 6 standards. The Lexar card comes with a free starter edition of Corel Photo Album 6 and a limited lifetime warranty. The Platinum II 4GB SDHC card will retail for $99.99 when it debuts in February.
Lexar Standard 4GB SDHC– As a Class 2, the new standard Lexar 4GB card writes at a minimum speed of 2 MB per second. This Standard Lexar card comes with a starter edition of Corel Photo Album 6 and a 5-year warranty. The Lexar Standard 4GB SDHC memory card will retail for $79.99 when it becomes available next month.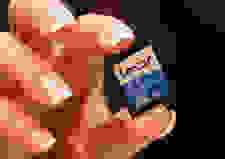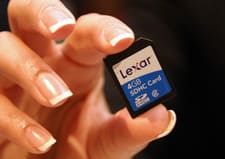 Lexar also plans to release the 8GB SDHC later this year, according to company representatives.
**Memorex

***Memorex TravelCardSD 512MB, 1GB, 2GB
Memorex TravelCardSDHigh Speed 512MB, 1GB, 2GB
Memorex TravelCard SDHC 512 MB, 1GB, 2GB 4GB –* Memorex announced that the company is introducing an entire new product line that combines SD storage with USB connectivity. It allows users to upload images to a computer without the use of an additional card reader. The Memorex cards, come in both SD and SDHC format, ranging from 512 MB to 4GB and include a Dual-Interface developed by Imation. The Memorex TravelCards will begin shipment in the second half of 2007 at "market-competitive prices," stated a company press release.
**Panasonic

***Panasonic Pro High Speed 1GB SD Card Class 6 –* The second largest SD manufacturer Panasonic launched a new line of Pro High Speed Class 6 cards, the highest class by SD Card Association standards. Marked by its golden color, the new Panasonic Pro High Speed cards are their flagship memory cards. The Pro High Speed cards come in 1GB, 2GB, and 4GB capacity and transfer data at 20MB per second. The 1GB card can capture 195 10-megapixel images, according to a Panasonic news release.
Panasonic Pro High Speed 2GB SD Class 6 – This Panasonic card can record 390 still images at 10 megapixels each, according to the release.
Panasonic Pro High Speed 4GB SDHC Class 6 – The 4GB SDHC is designed to be used for high definition camcorders as well as still cameras and can capture 770 10-megapixel still photos, stated the release.
All the new Panasonic cards will be available in February.
Panasonic plans to introduce an 8GB and 16GB SDHC card in the later half of 2007, stated a company press release. By 2008, Panasonic plans to release a 32GB SD card, according to Panasonic Product Category Specialist Michael Amico in the Optical Division.
**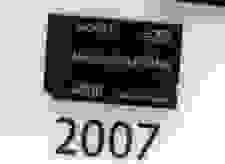 Sony

***Sony Memory Stick Pro Duo 8GB -* With partner SanDisk Corp., Sony announced the 8GB Memory Stick Pro Duo media card. The Memory Stick stores a generous 1576 10-megapixel photos on one card, according to Sony representatives. While other manufacturers have elected to classify their cards using the SD Class system, Sony maintains its current unclassified cards are of equal high-performing quality with differences only in storage capacity, said Sony technician Kay Pekan-Kijima. The 8GB Memory Stick Pro Duo will retail for $300 when it debuts next month.
Sony plans to later introduce a new line of higher performing New Format cards, a 16GB Memory Stick in 2008, and a 32 GB card in 2009.
**Toshiba

***Toshiba 4GB Class 6 SDHC –* The new Toshiba high class 4GB card is geared for "the broadband era," stated a company press release. Like other Class 6 cards, the Toshiba 4B card has a sustained minimum write speed of 6 MB per second with a maximum speed of 20 MB per second, according to Toshiba. The Toshiba 4GB Class 6 SDHC card will begin mass production in March.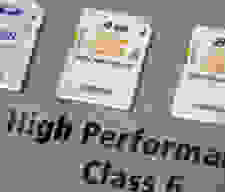 Toshiba also announced a 4GB Class 4 miniSDHC card and 2GB microSD card for use in mobile camera phones.