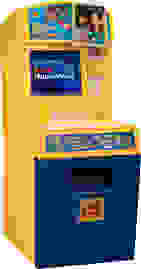 October 26, 2004 – Fuji is still the leader in the digital minilab market, according to an InfoTrends/CAP Ventures study released today. The survey analyzed 13 vendors and also found Kodak leading the photo kiosk vendors in terms of market share of the installed base. This is good for Kodak because photo kiosk sales are expected to grow 12 percent by 2008.
Currently, 80 percent of photo finishing retailers offer digital print services. 85 percent of retailers plan to replace or install a digital minilab within the next few years. 50 percent of all minilabs installed in the United States are expected to be digital in the next two months.
"Major retail digital photofinishers such as Wal-Mart, Costco, and Walgreens are now either fully equipped with digital minilabs and photo kiosks or plan to be by the end of 2004," said Kerry Flatley, a consultant at InfoTrends/CAP Ventures. "As advertising generates awareness and knowledge of retail digital print solutions, consumers will look to outsource printing to a retailer because of time, resource, quality, or cost issues, and this is a winning proposition for minilab and kiosk vendors."
Another survey found that 22.8 million digital cameras will be sold in the United States this year, 42 percent more than 2003. 59 percent of internet households had digital cameras, up from the 45 percent that owned them in 2003. People with moderate incomes are purchasing digital cameras and women are increasingly more likely to own them. Those who own digital cameras are more likely to acquire new technology; 26 percent of digital camera owners have a wireless home network, compared with 16 percent of non-owners.
Of the households with digital cameras, one-third of them are expected to be members of an online photo service in 2004. Most photographers use the online services primarily to share the pictures, but increasing numbers are using the sites to print. And for good reason too. Online print prices have dropped 50 percent in the last two years, causing photo finishing revenues to jump 34 percent.