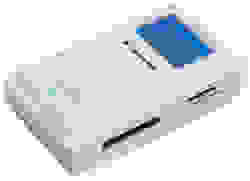 October 13, 2004 — In 2000, a company called Minds at Work made what they called "digital wallets": hard drives with a viewing screen and playback functions. With these, users can store and view photos, create slide shows and connect to the printer, computer or television. Minds at Work made dozens of models before going out of business earlier this year. At about the same time the digital wallets disappeared, several digital imaging manufacturers came out with their versions of the multimedia device. Today, Vosonic announced the release of three data storage and photo viewing units: the Vosonic MMV VP6300, the Vosonic XS Drive Super VP6210 and the Vosonic X'S-Drive Pro VP3310. Both the MMV and XS Drive Super have similar features and 2-inch LCD displays. Both support JPEG, MPEG and MP3 files. The main difference between the two is the amount of data storage. The MMV is designed to be more compact with 20 GB, while the XS Super Drive can hold from 20 to 80 GB. The Vosonic X'S-Drive Pro VP3310 ups the competition with ports for most memory cards. No adaptor is needed for CompactFlash, IBM Microdrive, SmartMedia, Memory Stick, Memory Stick Pro, Secure Digital, MultiMediaCard and the xD Picture card. The X'S-Drive Pro also comes with 40 GB of disk space and a 2.5-inch LCD screen. These models are available online at [www.xs-drive.com](../../www.xs-drive.com).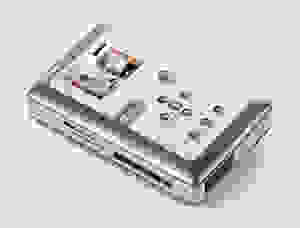 Yesterday, Epson announced another stand-alone data storage and photo viewer unit: the Epson P-2000. The 2000 succeeds the Epson P-1000, which was released in January 2004. The newest model improves upon its predecessor in several ways. The Epson P-1000 had 10 GB of storage; the Epson P-2000 comes with 40 GB. Besides having more storage, the Epson press release says, "The Epson P-2000 is approximately twice as fast as its predecessor when viewing photos." Both models have the same 3.8-inch LCD monitor.
"[The Epson P-2000] offers digital photographers and lovers of gadgets a compact solution for downloading and storing their photos, whether at home, in the studio or on the move," said Richard Baylis, the sales and marketing manager at Epson UK. The Epson P-2000 plays photos, movies and music. It has ports for CompactFlash and SD memory cards and can support other cards with a CF adaptor. The Epson P-2000 will be available in November for $599US.
Nikon's version of the data storage and photo viewer is the Nikon Coolwalker MSV-01. With 30 GB, the Coolwalker can store 10,000 six-megapixel images shot in JPEG Fine mode. Images are viewed on a 2.5-inch LCD monitor. The Nikon Coolwalker MSV-01 supports CompactFlash and Microdrive cards directly. This model was announced in January 2004, but hasn't hit store shelves yet.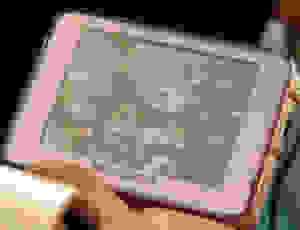 At the Photokina Imaging Fair in Germany last month, Fujifilm provided a sneak peek into their data storage project, temporarily called F-Next Viewer. Fujifilm showed a 2 MB electronic album that directly reads CompactFlash cards and has a 3.6-inch screen. While the Epson P-2000 wins the bigger-is-better battle with its 3.8-inch screen and whopping 40 GB of storage, Fujifilm wins the prize for innovative technology. Fujifilm introduced brand new face recognition technology. The electronic album allows the user to group photographs by a specified person. For example, if the user selects one picture of a person, the album can pull up every picture of that person in its memory. According to Tim Shay, the director of corporate communications at Fujifilm, this product is still in development, so prices are not available at this time.
The emergence of electronic photo viewers or albums provides consumers the opportunity to carry around an abundance of images in a condensed package. Future users will have the ability to sort through thousands of images in relatively no time. This is an ideal compliment to any digital photographer on the move or accumulating snapshoter who enjoys constant exhibition. More products of this nature are sure to follow and with the inclusion of advanced technology, this may just be an introduction to a new realm of digital accessories.